Renowned Spanish mountaineer falls to death on the 'savage mountain'
News Desk
Ten climbers from Nepal set a new world record on Saturday by becoming the first to reach the summit of K2, the world's second highest mountain, in winter.
On the same day a Spanish climber from a separate expedition to the savage mountain fell to his death. Sergi Mingote, 49, fell more than 500 meters (1,640 feet) while descending.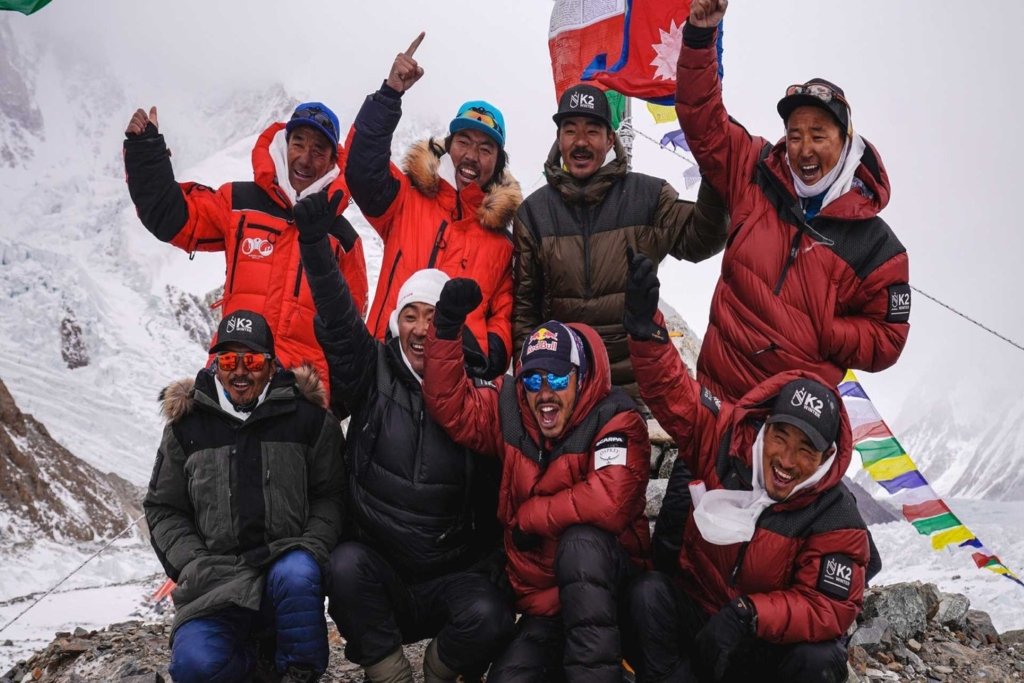 "The impossible is made possible! K2 Winter – History made for mankind, History made for Nepal!" Nirmal Purja wrote on his micro social media handler Twitter after reaching the top along with fellow Nepali climbers.
As news of their success broke, it was also confirmed that another climber, Spaniard Sergi Mingote, died after experiencing a severe fall.
Mr Mingote, 49, was based with another team and had been descending to K2's base camp when he slipped and fell.
An experienced mountaineer, Mr Mingote had previously climbed seven of the world's so-called "8000ers", including Everest.
He had been attempting to summit K2 without oxygen but became severely fatigued, forcing him to abandon the expedition.
Mountaineer Nirmal Purja, a member of the group, said they reached the peak at 5pm local time (12GMT).
Dozens of climbers have been on the 8,611m (28,251ft) mountain this winter hoping to achieve the same feat.
The Nepali climbers were initially spread across three of four competing teams – in all, totalling 60 people. But the 10 Nepalis later formed into a single group to claim the historic achievement in Nepal's name.
Mountaineer Nirmal Purja – a former member of the UK's Special Boat Service – shared an image of the group celebrating their achievement, which was confirmed by expedition organiser Seven Summit Treks.
"We are proud to have been a part of history for humankind and to show that collaboration, teamwork and a positive mental attitude can push limits to what we feel might be possible," said Mr Purja.
K2 is the last of the world's 14 tallest mountains, all higher than 8,000 meters, to be scaled in winter. It is known as the world's most dangerous, technically challenging and the most demanding of all peaks in winter.
The mountain, only 200m shorter than Everest, is part of the Karakoram Range that straddles the Pakistan-China border.
It has long been referred to as "the savage mountain", a name that stuck after US mountaineer George Bell said of his own attempt in 1953: "It is a savage mountain that tries to kill you."
Among the most treacherous sections is the notorious "bottleneck", a couloir liable to icefalls. Eleven climbers were killed there in an avalanche in 2008.
Since the first attempt in 1987-1988, just a handful of winter expeditions have been attempted on K2. Until now, none has reached higher than 7,650 metres.
Nepali guides, usually ethnic Sherpas, are considered the backbone of the climbing industry around the Himalayas, and regularly help foreign mountaineers on expeditions.
News of the group's success on Saturday has been praised on social media and sparked joy within the Nepalese climbing community – often left out of the spotlight.
"For decades, Nepalis have assisted foreigners to reach the summits of the Himalayas, but we've not been getting the recognition we deserve," said Kami Rita, speaking to AFP.
"It is wonderful that today on K2 10 Nepalis have made history and shown our bravery and strength," added Mr Rita, who has climbed Everest a record 24 times.
"The Karakoram's 'Savage Mountain' been summited in most dangerous season: winter. Nepalese climbers finally reached the summit of Mt K2 this afternoon at 17:00 local time," tweeted the organizing Seven Summit Treks company.
https://twitter.com/sst8848?ref_src=twsrc%5Etfw%7Ctwcamp%5Etweetembed%7Ctwterm%5E1350414261659394053%7Ctwgr%5E%7Ctwcon%5Es1_&ref_url=https%3A%2F%2Fwww.voanews.com%2Fsouth-central-asia%2Fnepali-climbers-make-historic-winter-ascent-pakistans-k2
The rocky mountain is also known as the deadliest of the five highest peaks in the world because about one person dies on K2 for every four who reach the summit.
This winter an unprecedented four teams totaling about 60 climbers arrived in Pakistan to converge on K2.
While the sheerness of the slopes and overall exposure create a technically challenging climb, mountaineers say weather is always "the great opponent" on K2 year-round.
"Summit winds reach hurricane force, still-air temperatures are well below -65 degrees and the winter's low barometric pressure means even less oxygen – so the margins of error are almost nonexistent, the smallest mistake can have catastrophic consequences," the Nepalese team wrote on its webpage before undertaking the mission.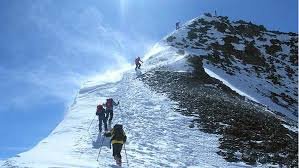 Speaking with Mpora, an online media outlet before his climb, in December, he said, "There is always fear, but it's how you manage those fears. It's about you controlling the fear, rather than the fear controlling you. That is the mindset I have."
"There is always fear, but it's how you manage those fears. It's about you controlling the fear, rather than the fear controlling you. That is the mindset I have"
The Nepalese mountain climber isn't a stranger to the spotlight. Last year, he summited all 14 of the highest mountains in the world in a total of six months and six days; obliterating the previous record, which was just shy of eight years.
https://twitter.com/nimsdai/status/1350424571632111618?ref_src=twsrc%5Etfw%7Ctwcamp%5Etweetembed%7Ctwterm%5E1350424571632111618%7Ctwgr%5E%7Ctwcon%5Es1_&ref_url=https%3A%2F%2Fwww.voanews.com%2Fsouth-central-asia%2Fnepali-climbers-make-historic-winter-ascent-pakistans-k2
This moment of mountain climbing history involved the team waiting 10m below the summit to form a group to climb up. They reportedly sang the Nepalese national anthem together as they did so. Every person on K2 during this climb has been part of history, and have achieved something that many thought couldn't be done.—BBC/VoA/AFP