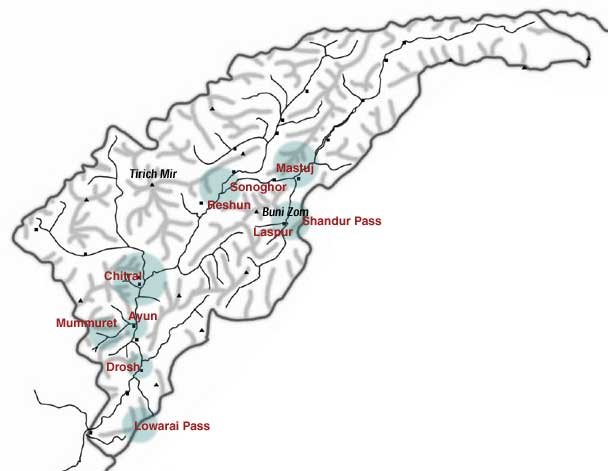 By Gul Hamaad Farooqi
CHITRAL: At least eight people died and 10 others injured when a passenger van fell into a deep ditch in Chitral on Wednesday, eyewitnesses and police told The High Asia Herald.
According to the Koghuzai police station SHO, a passenger coach on way to  Booni from Chitral collided with a sports car at Raghlasht village. The driver lost control over the steering of the van and it fell into a deep ravine.
Six passengers including an eight years old minor boy died on the spot while two died at a hospital. A woman was among the 10 injured who were shifted to District Headquarters Hospital Chitral.
The sources said the death toll might increase as some of the injured were in critical condition.
The hospital administration said the dead and the injured were brought to the emergency department of the hospital at 11am. Emergency was declared at the hospital and the doctors and paramedics provided medical help to the injured despite being on strike for the last three weeks.
Those died in the accident were identified as  Fazal Ali, a resident of Booni Teklasht,  Muhammad Younus, Ali Muhammad of Zizde, Sohail Mirza of Charoon, Sarfaraz Lal of Deewan Goal Yarkhon, Rehmat Hussain and his son Umar of yarkhun Phashak, and Farman Ali Khan of Snooghur.
The injured were identified as Sibghatullah, a resident of Khone Chitral town, Adnan, Punjab, Mir Hakim Khan of Sewaht, Taj Muhammad of Zazdi, Muhammad Ibrahim of Malkand, Jan Muhammad of Ayun Atani, Sajjadur Rehman of Torkho Sorwakht,  Nighat Khatoon of Reshun, Junaid Rehman of Koghuzai and Masud Anwar, a resident of Kujo.
Some of the injured, who's condition is stated to be serios were referred to Peshawar hospital.Precious lives are lost in frequent traffic accidents in Chitral mainly due to poor condition of roads and reckless driving by drivers.