YDA demands protection from hooligans and corona and provision of facilities at hospitals
---
Herald Report
---
GILGIT: Doctors and paramedical staff have threatened to suspend emergency services at the Provincial Headquarters (PHQ) Hospital in protest against rising incidents of violence against health workers as well as lack of facilities in hospitals.
We will not resume emergency services until and unless our demands are met and security for the doctors and health workers ensured, Young Doctors Association representatives said while addressing a news conference at the Gilgit Press Club on Saturday.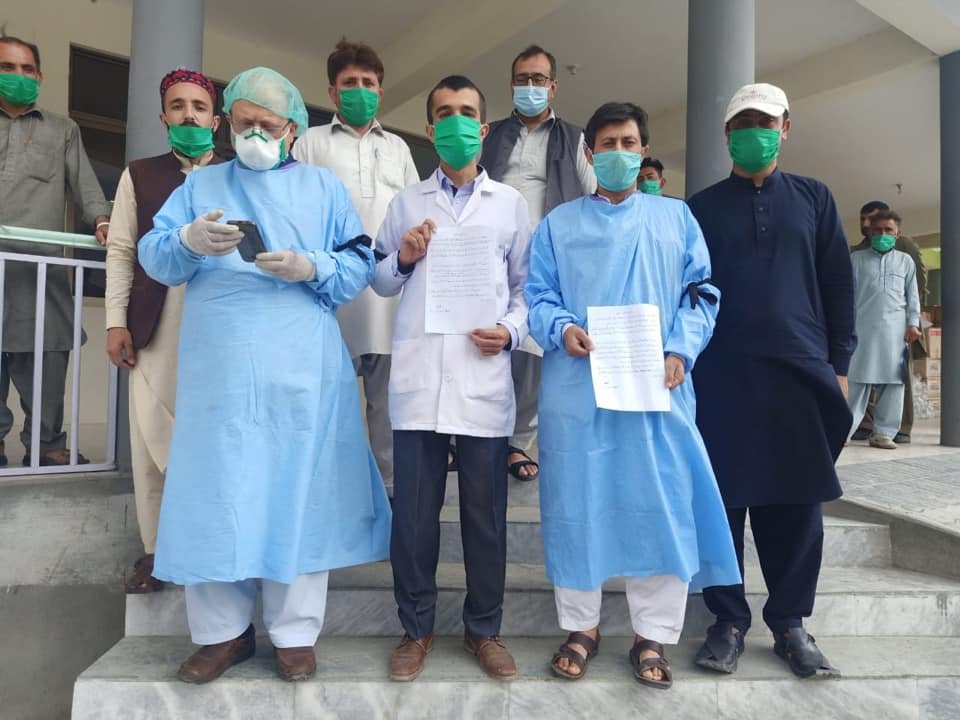 Flanked by office-bearers of the Young Doctors Association (YDA), Pakistan Medical Association (PMA) and Paramedical Staff Association (PSA), YDA President Dr Ejaz Ayub, general secretary Dr Hasnain Raza, and others said they have been working under constant fear and mental stress due to insecurity and lack of protective gears.
Citing an incident of violence against his colleagues that happened on Friday, Dr Ejaz said, there is no adequate security arrangement for the doctors.
On Friday more than a dozen people attacked Dr Zahir. Two hospital security personnel were also involved in the attack, he noted.
The doctors' lives are under constant danger from people and virus.
Narrating the incident, Dr Azhar said that when a patient was brought to the hospital, he was in critical condition and we tried our best to save his life with the available resources. However, the patient could not survive and his family members attacked me.  I narrowly escaped and ran out of the room.
He claimed that the person who died was suffering from a heart condition and once before the patient had a heart attack.
From behind, two security personnel attacked me in the room and beat me up, Dr Azhar said. During the attack, they also tore the kit worn for duty.
The YDA officials demanded that an FIR be registered against those involved in the attack under the Anti-Terrorism Act and the culprits including the security personnel should be arrested.
They said this was the fourth such incident during the last over two months and no action has been taken against any attacker.
The health department is doing nothing except issuing SOPs.
Talking about missing facilities, he said the main tertiary hospital is facing a shortage of health professionals. Due to which doctors are working under immense pressure and mental stress. One doctor looks after patients of the entire hospital including the emergency ward, Dr Ayub said.
Oxygen cylinders and ventilators are not available at the hospital. The only CT scan machine has been out of order for a long time, he added.
Dr Ayub said the makeshift hospitals set up at Mahmoodabad and Basin for Coronavirus patients have no facilities. When we ask for oxygen and other facilities the health department refuses to arrange these facilities consequently attendants of patients attack us.
He said a complaint has been lodged in the concerned police station for registering an FIR against the attackers.
He demanded that all health-related decision-making powers must be vested with doctors instead of bureaucracy.
On the one hand, health professionals are presented bouquets while on the other we are pelted with stones.
He demanded legislation on security of health professionals to avoid such incidents in future.
Meanwhile, paramedical staff of Ghizer district and Awami Workers Party Gilgit-Baltistan have expressed solidarity with the doctors and health workers and demanded foolproof security and facilities for them.
They demanded the immediate arrest of the culprits involved in yesterday's incident.