---
News Desk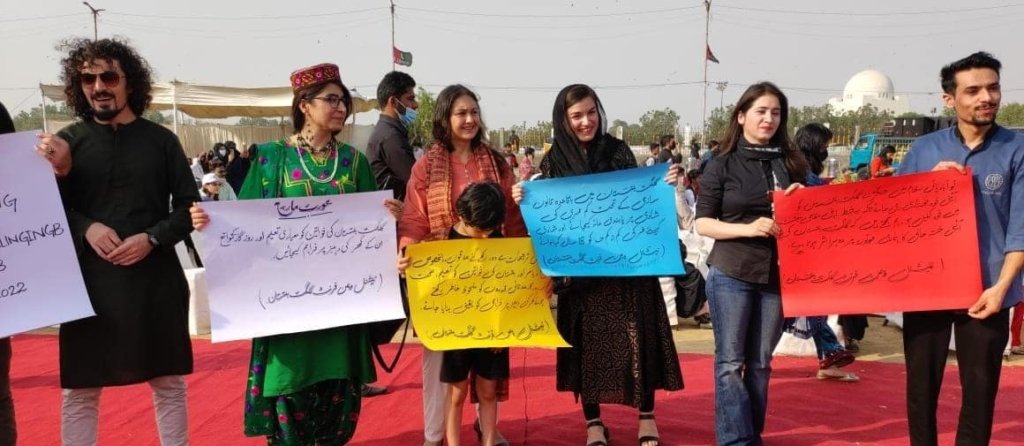 Like other parts of Pakistan, women in Gilgit-Baltistan (GB) are facing multiple problems, including gender-based dicrimination, domestic violence and harassment.
They are being deprived of their basic human rights including access to education, healthcare, right of expression, and employment.
This was said by Ghazala Nazir, an activist and member of the National Women Front (NWF) Gilgit-Baltistan Sindh Zone while speaking at the Aurat March rally at Karachi.
The Aurat March, organised on the 8th of March every year as part of the celebrations of the International Working Women's Day, was started in 2018 in Karachi, Lahore, and Islamabad.
She highlighted the high maternal mortality rate in Gilgit-Baltistan and said women were dying because of the lack of maternity healthcare facilities in the mountainous region.
Ms Nazir spotlighted the rising incidents of domestic violence, suicide and honour killings in the mountainous region and called upon the authorities to take stringent measures to curb the heinous crimes committed in the name of custom, tradition, culture and religion faith and ensure the implementation of existing laws.
Sharing her own experiences and that of her fellow women, she said that education and employment must be provided to the women of GB at their doorsteps in order to empower them.
National Women Front calls upon the women of GB to stand up for their rights and strive for the strengthening of their shared cause and demolish patriarchy and outdated anti-women mindset and traditions.
Lately, social awareness across the region has brought a number of issues to the fore among which honour crime, high ratio of maternal mortality rate, gender inequality, underage marriages, and gender-based violence are the most prevalent.
A good number of progressive young women and men from GB participated in the rally. They were carrying placards inscribed with slogans about honour killings, domestic violence. They also chanted slogans against the so-called provisional provincial status proposed for the disputed region.
One placard A number of activists, members of civil society, and advocacy organizations are calling for gender equality and empowerment of women through education and employment.
They are also speaking out against the systemic discrimination against women in the form of male-female differentiation and a gender-biased system.
Malnutrition among young and old women is also a matter of concern among other factors that are contributing to the overall deterioration of the situation.