---
by Muhammad Nafees
---
As the struggle for peace and nation-building in Pakistan was dominated by the male leadership, women are considered to have played only peripheral roles — thus their contribution in the process is not sufficiently covered. Most of the available literature on them is confined to the struggle for women's rights.
Despite all socio-cultural impediments, we still find women who fought bravely against all their odds and even sacrificed their lives for the causes they cherished the most.
This piece of writing is an effort to trace marks of brave Pakistani women in three fields: nation-building; women's rights (or Feminist Movement); and peacebuilding.
To build the nation on democratic lines, Pakistan had to wage a long struggle that has even cost the lives of two great political leaders – Zulfikar Ali Bhutto (ZAB) and his daughter Benazir Bhutto (BB). ZAB was deposed by the military dictator and later executed through a court judgment while BB, a woman and a great exponent of democracy, was removed from the political stage allegedly by illegal forces – Tehreek-e-Taliban Pakistan (TTP).
A decade after the demise of BB, another woman, Maryam Nawaz, daughter of Nawaz Sharif, has taken the centre stage of Pakistan's politics.
The participation of women in politics remains dwarfed because of the local traditions and the endemic wave of violence. Based on a report, women's participation in parliament from 1947 to date reflect a very marginal number of women who were elected from 1947 to 62. Later, no woman could be elected between 1965 and 1977 but they were accommodated through the reserved seat system. The highest number of elected women was recorded in 2008-13 but it subsequently declined significantly. However, the number of reserved seats that was raised to 60 in 2002-07 remains unchanged.
Despite all these so-called patriarchal manoeuvrings and other social barriers that keep women's participation in politics subservient to the dominant political parties, women's performance in the parliament is found to be more effective than men's. A report claimed: "women constituted about 20 percent (or one-fifth) of the total combined membership of both houses of parliament, they contributed 33 percent (or one-third) to the parliamentary business.
Other than the political fields, women have played significant roles in nation-building activities as well leaving their imprints in the history of Pakistan. A few of them are briefly introduced here for their outstanding work.
Perveen Rehman was one of the greatest women of Pakistan who played a significant role in building the largest squatter settlement in Karachi. She, being the Director of the Orangi Pilot Project, worked among marginalized people of the locality and fought for those poor and illiterate people whose lands were grabbed by the land mafia. She became the target of the land mafia on March 13, 2013. Four culprits, affiliated with a political party (ANP) and the militant outfit (TTP), were awarded double life imprisonment on December 16, 2021.
Soni Faisal, a polio vaccinator, was selected for the Presidential Pride of Performance award for extraordinary work in her field. The polio vaccination scheme in Pakistan has faced multiple life-threatening challenges in the country. From 2013 to 2021, 108 terror attacks targeted Polio teams, leaving 105 dead and 73 injured. 55 of them were women (23 dead and 22 injured). TTP, TTP-Jamat-ur-Ahrar, and Jundullah have reportedly claimed responsibility for some of these attacks.
For many years, Feminist Movement remained mostly confined to small groups of women activists who raised women's issues through their social or literary work. Social activists like Zohra Yusuf, Rubina Saigol, Amina Masood Janjua, Karima Baloch, Malala Yousufzai, and Sabeen Mehmud played their roles in creating awareness on human rights, women's education, and missing persons' issues. Of these five women, two were not lucky enough to carry on their work of social awareness for too long.
Karima Baloch from Kech district of Balochistan was found dead in Toronto Waterfront and Sabeen Mehmud lost her life the day she had organized a program at T2F in Karachi for the popular Baloch activist, Mama Qadeer. Saad Aziz and Ali Rehman were arrested for their alleged involvement in Sabeen Mahmud's murder and both of them had an affiliation with al-Qaeda and Islamic State.
Peacebuilding is a subject that has been seldom taken up by society as a concerning issue. There are basically two forms of threats to peace faced by the country – external and internal.
From October 2016 to February 2021, Pakistan and India continued having border skirmishes and lost 652 persons and 923 were injured on both sides of the border. All these years, no public reaction to these futile border conflicts came to the fore with the exception of some opinion-makers who seldom raised their concerns on this subject.
Internal threats to peace were posed by militancy, political rivalry and sectarianism. A recent press report claims: "After establishing Tehreek-e-Taliban Pakistan (TTP), India's notorious spy agency Research and Analysis Wing (RAW) is working on a new "project": Tehreek-e-Taliban India (TTI)." Irrespective of who really created the TTP in Pakistan, the modus operandi of this militant outfit in Pakistan was always against those who stood for liberalism, human rights, freedom of expression and inclusivity.
The involvement of militant groups like the TTP, AQ, and Islamic State in targeting the prominent women of Pakistan like Benazir Bhutto, Perween Rehman, and Sabeen Mehmud raises a question as to why they went after these women who never had any conflict with them except the ideological differences.
What it reveals is the dual barriers faced by women – socio-cultural taboos and terrorism. If the law allows women to play their role, the militant minds take the task into their own hands and use violence to discourage women from taking advantage of the legal freedom they have. What hurts more is the state policy that often appears to be on the side of those who want to keep these threats alive.
Last year, the TTP issued threats to the Aurat March. This year, the Minister for Religious Affairs, Noorul Haq Qadri, took a stand against the Aurat March. The JUI-F also followed suit and issued a warning against the Aurat March. It all happened at a time when the Indian extremists were forcing a ban on hijab while their counterparts in Pakistan were trying to enforce hijab – a stand that violates the basic human rights for freedom of choice.
These acts of extremism and terrorism leave little opportunity for women to play an effective role in peacebuilding in the country. The onus is on society as a whole and its leadership. If the society fails to provide freedom and opportunities to all citizens without any discrimination on gender, class, or ideological basis, the losers are not going to be the affected ones alone but the whole society as well. The countries making progress or staying behind can be a good example of how the societies collectively suffer when they ignore or discriminate against their own citizens.
This essay was first published in The Friday Times-Naya Daur.
---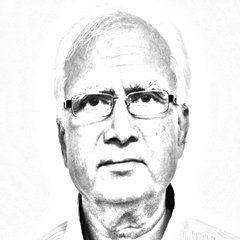 Muhammad Nafees is a playwright, freelance journalist and senior researcher for the Center for Research and Security Studies.