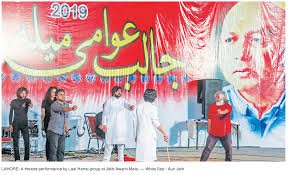 Laal Hartal pays tribute to the revolutionary poet at ILF-2019
The discourse generated by a rhythmic circle titled '22 Crore' by Laal Hartal has been able to create a ripple effect after receiving huge appreciation by academic and literary circles. The poem was presented at the inaugural session of the sixth edition of the Islamabad Literature Festival during the last week of September amid loud applause from the audience.  Laal Hartal is a Lahore-based theatre group associated with Left political activism whereas highlighting social issues through theatre, dance and songs always remain one of its core focuses.
Through a flashback, we see Imran Nafees, the director, emerging in front of the audience while starting the performance with his own poem, which was a tribute to the great revolutionary poet, Habib Jalib.
Umer Hayat, the lead singer then sang the famous poetry of Jalib Dastoor (Constitution) in the chorus in modern qawwali style. He was Accompanied by noted classical dancer and activist Amna Mowaz on percussion and ghoongru, Ammar Rashid on sitar, emerging rubabist Wasim Sakhi on rubab, Beenish Raza, Danish Ali, Muhammad Umer, Umar Zamran,  Arooj, AD and Obed As part of the chorus. Ambassador of France Dr Marc Barety, in his speech at the opening session also mentioned the Laal Hartal performance. "I am happy to know that there is a performance as a tribute to Habib Jalib, one of the greatest revolutionary poets of Pakistan. He also mentioned about the French existentialist philosopher Zhon Paul Sartre's contribution to literature.
"The response of the audience was amazing", Amna told The High Asia Herald.  Amna is currently working on a big mural in Lahore to depict the plight of the young doctors and the IMF-imposed so-called health insurance policy.
The group had earlier also performed a skit during Climate Change March in Lahore last month.
Also watch: https://youtu.be/mHXTyv6TL9E
Jalib's poetry
Habib Jalib was one of the foremost revolutionary poets of the subcontinent and most loved poets of Pakistan. Jalib remained committed to the ideology of Marxism and the cause of the working class and the oppressed people. He was very outspoken and raised his voice against dictatorships and oppressors for which he spent most of his life in jail. His poetry was very simple and the plebeian language of the streets. He wrote in plain language and highlighted the miseries of the common people. His conviction behind his words, his melodious voice with emotional energy made him the most loved poets and stirred political activists and common audience alike. That's why Faiz Ahmed Faiz very aptly declared him as the "poet of the people".
Jalib never reconciled with or compromised on his ideals and criticised the dictatorship of Ayub Khan.  When Ayub enforced his constitution in 1962, Jalib wrote his most famous poem Dastoor. The poem written by Jalib about six decades ago is as relevant in today's Pakistan as it was in 60s.
دستور
حبیب جالب
دیپ جس کا محلات ہی میں جلے
چند لوگوں کی خوشیوں کو لے کر چلے
وہ جو سائے میں ہر مصلحت کے پلے
ایسے دستور کو صبح بے نور کو
میں نہیں مانتا میں نہیں جانتا
میں بھی خائف نہیں تختۂ دار سے
میں بھی منصور ہوں کہہ دو اغیار سے
کیوں ڈراتے ہو زنداں کی دیوار سے
ظلم کی بات کو جہل کی رات کو
میں نہیں مانتا میں نہیں جانتا
پھول شاخوں پہ کھلنے لگے تم کہو
جام رندوں کو ملنے لگے تم کہو
چاک سینوں کے سلنے لگے تم کہو
اس کھلے جھوٹ کو ذہن کی لوٹ کو
میں نہیں مانتا میں نہیں جانتا
تم نے لوٹا ہے صدیوں ہمارا سکوں
اب نہ ہم پر چلے گا تمہارا فسوں
چارہ گر دردمندوں کے بنتے ہو کیوں
تم نہیں چارہ گر کوئی مانے مگر
میں نہیں مانتا میں نہیں جانتا
ا
The light which shines only in palaces
Burns up the joy of the people in the shadows
Derives its strength from others' weakness
That kind of system,
like dawn without light
I refuse to acknowledge, I refuse to accept
I am not afraid of execution,
Tell the world that I am the martyr
How can you frighten me with prison walls?
This overhanging doom,
this night of ignorance,
I refuse to acknowledge, I refuse to accept
"Flowers are budding on branches", that's what you say,
"Every cup overflows", that's what you say,
"Wounds are healing themselves", that's what you say,
These bare-faces lies,
this insult to the intelligence,
I refuse to acknowledge, I refuse to accept
For centuries you have all stolen our peace of mind
But your power over us is coming to an end
Why do you pretend you can cure pain?
Even if some claim that you've healed them,
I refuse to acknowledge, I refuse to accept.
Also watch: https://youtu.be/REoEMnyoMpc