In a letter, over 60 noted professors, researchers urge Punjab university admin, provincial authorities to ensure the protection of life to Dr Ammar Ali Jan, Islam Wazir
HAH Report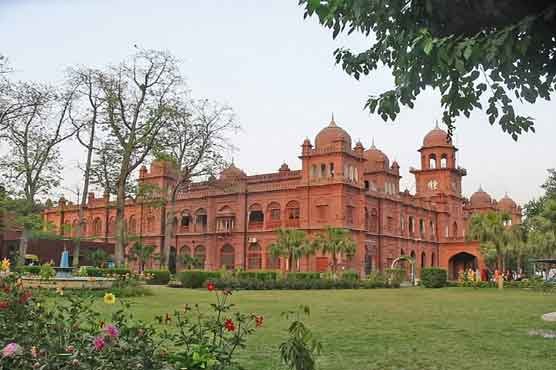 Islamabad: Prominent professors, researchers, and students of leading universities of the world and Pakistan have expressed concern at the "malicious" campaign launched against two faculty members of the Punjab University by the university administration and Islami Jamiat Tulaba, (IJT) a right-wing extremist student organization affiliated with Jamaat-e-Islami (JI), a radical Islamist party.
The PU administration on its Facebook page has accused Dr Ammar Ali Jan and Islam Wazir, one of his colleagues of "spreading violence and ethnic tensions on campus".
In a letter addressed to the Punjab University Vice-Chancellor and the Punjab government the members of the academic community from leading world, as well as Pakistani universities, have expressed solidarity with Dr Ammar Ali Jan and Islam Wazir and condemned the PU administration campaign.
The teachers from universities of Oxford, Leeds, London; Cambridge, Chicago, California, Germany, Canada as well as local universities — Lahore University of Management Sciences (LUMS); Habib University, Karachi; Institute of Business Administration (IBA), Karachi; Quaid-i-Azam University (QAU) Islamabad; Government College University Lahore (GCU), Beaconhouse National University (BNU), National College of Arts (NCA), Sindh University, Balochistan University and Punjab university, have asked the Punjab government to ensure safety of life of Dr Jan and Wazir, as according to reports they have started receiving threatening messages from extremist elements after the post.
Emanating from a Facebook page known for its links with IJT, the student wing of JI, the Islamist political party, the campaign, which is based purely on slander, endangers Dr Jan's life and academic integrity by falsely accusing him of instigating Pashtun students at the PU to take up violent agitation, the letter read.
There is absolutely no evidence for these claims. Rather, Dr Jan has continuously advocated the adoption of peaceful means in the pursuance of political demands. To this end, he has been organising reading groups among students to stimulate critical thinking and encouraging dialogue between ideologically polarized groups in order to promote a peaceful campus and society, the letter read.
"Dr Jan stands for a progressive and inclusive polity and strives for the rights of Pakistan's marginalised communities through peaceful political mobilization," it stated.
Apart from his contribution to Punjab University, Dr Jan is an accomplished academic who is known internationally for his pioneering work in the intellectual history of South Asia. He has been trained in some of the best universities in the world, with a master's degree from the University of Chicago and a PhD from the University of Cambridge.
Universities should serve as spaces where students and faculty can engage in intellectual inquiry and critical thought without fear
Rather than valuing him for his contributions to forging an academically rigorous environment at Punjab University, Dr Jan is, unfortunately, being condemned for these very activities.
They urged the PU administration and the Punjab government to probe the matter and punish those responsible for it.
"Universities should serve as spaces where students and faculty can engage in intellectual inquiry and critical thought without fear", they observed.
It is the responsibility of both the university and the government to ensure the safety of such spaces and to value the contributions of those like Dr Jan who are working tirelessly to make Pakistan a peaceful and inclusive society.
"PU has repeatedly witnessed violence at the hands of goons masquerading as students for the last 40 years, way before I was even born"–Dr Jan
Dr Jan in a statement on his Facebook page said: "They also accuse me of conducting a study circle where I allegedly asked Pashtun students to continue their protests against the vice-chancellor".
Putting the facts in perspective, he said: "PU has repeatedly witnessed violence at the hands of goons masquerading as students for the last 40 years, way before I was even born. The latest round of violence occurred when two student groups clashed earlier this year. As a result, a number of students were expelled, a decision I was never comfortable with."
Clarifying his position, Dr Jan said as a teacher, we need to increase our engagement with students to ensure that even if they become active politically, they do so in an ideological manner and not through violence. This is the reason why I allowed expelled IJT students to sit in exams and take supervision from me for their thesis.
He said three days ago, Pashtun students began a sit-in outside the VC office demanding the reinstatement of the expelled students. I worked with VC as a mediator between the administration and the students and persuaded them to end the sit-in and lectured them on the importance of non-violent and peaceful activism in politics.
"My main argument was that they have to learn to love their opponents, including students from Jamiat if they are to ever break the cycle of violence that has ruined our wonderful university," says Dr Jan
I have always emphasized non-violence and reconciliation, and will be delighted if students from different ideological backgrounds can learn to respect each other despite their political differences, he maintained.
"As a nation, we will succeed only if students from humble backgrounds are given an opportunity to succeed in life"–Dr Jan
About the 'Punjab University News Alert', he says, "it completely misrepresents my position and paints me as a violent person. This is infuriating, and poses a threat to my integrity and my life as I have started receiving death threats after this post was shared."
He warned that if anything happens to him, the PU administration's news alert will be responsible for it.
Dr Jan has contacted the FIA who have assured him of full cooperation and taking action against the administrators of the page and those who are sharing this false news.
"I have also spoken to the VC, who has assured me of his full cooperation in holding these criminals accountable.
Dr Jan after doing his PhD from the Cambridge University, England, started teaching at GCU and PU with a cause. "As a nation, we will succeed only if students from humble backgrounds are given an opportunity to succeed in life," he says.
"The pay I am receiving at PU is not comparable to anything being offered to me from LUMS or other private sector universities. But it is the joy of bringing smiles to the faces of my students, who are unable to afford an expensive education that makes the whole experience worthwhile. I remain committed to teaching at public sector universities, and request other scholars to join me so that we can truly build an educated and vibrant society."
Yet, if the life and respect of a teacher at a public university is not safe, then how can we ever guarantee the safety of our students, questions Dr Jan.
The government must act to ensure that our campuses become laboratories of frank discussions, rather than sites of fear and violence. The PU students are extremely bright, and they deserve much better than the extremism being imposed on them, he says.
"Whatever happens to me, I am sure one day Punjab University will become a peaceful place of learning and will compete with the best universities around the world," he says.
The academics and students who have signed the letter are: Associate Professor Nida Kirmani, Assistant Professor Tania Saeed, Ayaz Mallick, a visiting researcher at HU; Associate Professor Ali Usman Qasmi, Associate Professor Nausheen Anwar, Tabitha Spence, Teaching and Research Fellow, Assistant Professor Faiza Mushtaq, Assistant Professor, Ali Raza, Lecturer Aimen Bucha, Assistant Professor Amen Jaffer, Assistant Professor Hassan Javid, Assistant Professor Anushay Malik, Shahana Rajani, Ayaz Qureshi, Sarah Suhail, Associate Professor Aasim Sajjad, Tooba Syed, Associate Professor Sultan Sal, Rahma Muhammadmian, Associate Professor Nousheen Zaidi, Assistant Professor Adnan Khan, Assistant Professor Emad Ansari, Assistant Professor Hammal Aslam, Manzoor Ahmed, Gulruksar Mujahid, Zahra Malkani, Nighat Dad, Aisha Ahmad, Arfana Mallah, Shan Aman-Rana, Shakoor Rafay, Inayat Khaskheli, Maryam Wasif Khan, Raheemul Haque, Mahvish Ahmad, Nosheen Ali, Sara Kazmi, Shama Dossa, Babar Qureshi, Afiya Zia, Dr Riaz Sheikh, Amar Sindhu, Shabana Nisar, Sadaf Aziz, Amina Jamal, Aparna Sundar, Tariq Amin-Khan, Waqas H Butt, Sadia Toor, Chris Moffat, Bérénice Guyot-Réchard, Fawad Khan, Kim A Wagner, Simon Layton, Navtej K Purewal, Jesús Cháirez-Garza, Leverhulme Mark Condos, Elisabeth Leake, Farhad Mirza, Berlin, Germany, Eva Nanopoulos, Owen Holland, J Daniel Elam, Muhammad Azeem, Sara Shroff and Sameen Ali.