News Desk
World's football legend Diego Maradona, widely regarded as one of the game's greatest ever players, died of a heart attack at his home in San Andres neighbourhood, Buenos Aires, Argentina on Wednesday, his lawyer said.
Maradona, 60, the Latin American idol had recently battled health issues and underwent emergency surgery for a subdural haematoma several weeks ago.
He suffered a heart attack at his home in the outskirts of Buenos Aires, Argentinian media and acquaintances of the former player said.
Maradona won the World Cup with Argentina in 1986.
At the beginning of November, he was hospitalized in a Buenos Aires clinic for days due to anaemia, dehydration, and a low mood. During his check-ups, he was diagnosed with a subdural hematoma for which he was operated.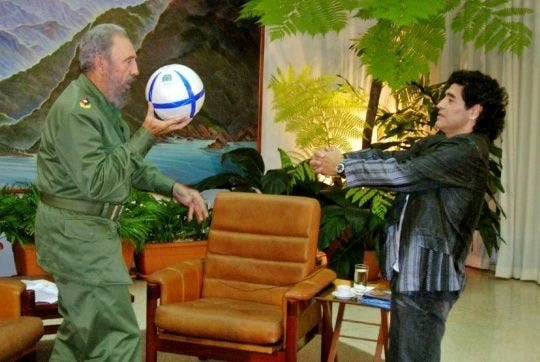 Maradona was recovering satisfactorily from the surgery despite suffering some episodes of confusion that doctors associated with abstinence.
Argentina's government decreed three days of national mourning. Tributes will be paid throughout the country to "the greatest Latin American soccer player of all times," according to experts.
"Maradona was the hand and often also the foot of God," German Foreign Affairs Minister Heiko Maas said alluding to what the football idol said after the Argentina-England match in 1986 when he scored two of the most famous goals in history.
In that match, he marked his first goal with his hand, but the central referee did not perceive it and validated it.
Latin American personalities have taken to social media to give their farewell to the man "who got on a train to stand face to face against US former President Bush and be a symbol of Latin American progressivism," as Clarin reported.
"Much sadness… A lot. A great one left us. Farewell Diego, we love you very much. Huge hug to your family and loved ones," Argentina's Vice-President Cristina Fernandez de Kirchner tweeted.
Argentina's President Alberto Fernandez tweeted also shared that, "Maradona took us to the top of the world. You made us immensely happy. You were the greatest of all. Thank you for having existed, Diego. We will miss you all our lives."
Support for anti-imperialism
Maradona was a strong supporter of social causes in Latin America following the steps of his compatriot Ernesto "Che" Guevara.
According to TeleSure channel, Maradona proved to be a strong supporter of the Latin American governments that stand against imperialism and fight for more equal, just societies in the region and abroad.
He had the famous portrait of Ernesto "Che" Guevara, tattooed on one of his arms, and the face of the Cuban revolutionary Fidel Castro on one of his legs. His love for Cuba was forged through years of visiting the island and speaking with Fidel Castro, making him a fierce critic of neoliberal policies in the continent he holds dear.
Even though his political stances have earned him critics, he remains firm on his ideals, as Fidel once told him: "ideas are not negotiated."
Diego Armando Maradona first visited Cuba in 1987, just a year after the Argentine team won its last world cup in Mexico. Since then, he established a strong friendship with commander in chief Fidel Castro, whom he deeply admired, and traveled frequently to the island.
Maradona would become a strong defender of Cuba and its policies, fascinated by the strong social convictions of Fidel and the revolution.
In 2000, Fidel invited the soccer superstar to La Pedrera clinic as he was struggling with drug addiction and needed rehabilitation. Five years later, Maradona was in much better shape and interviewed the commander on his TV Show. The interview was conducted in the Cuban Presidential Palace and it lasted, it's said, five hours.
News of Fidel's death reached Maradona in Croatia while he was supporting an Argentine team. He traveled to the island after the cup and paid his respects to the Commander. "He was like a father to me… He opened the doors to Cuba to me when Argentina was closing them on me," said Maradona at that time.
"When they told me last night, I cried like hell… today he's leaving but he will keep guiding us like Che, like Chavez. Someone who can guide us from heaven is arriving to heaven."
It was the same fight for social justice that Maradona saw in Cuba that attracted him to another Caribbean country.
Maradona was fascinated by Venezuela's Bolivarian revolution and visited the country several times, also meeting Evo Morales and Lula da Silva there. Even though his friendship with Hugo Chavez is not as well documented as that with Fidel, he was a great admirer of the commander and his project.
Once in 2010, Chavez surprised Maradona and joined him during a press conference. "One day we will defeat Argentina and Brazil," said Chavez, remembering the worst times of Venezuelan soccer, when teams wanted a match against the Caribbean country in order to get an easy victory.
When the commander died, Maradona visited his tomb along with President Nicolas Maduro, with whom he would later establish a friendship and go on to support unconditionally.
"What Hugo left me was a great friendship, an incredible political wisdom. Hugo Chavez changed the way Latin America thinks. We were bowed to the United States and he showed us that we can walk by ourselves," said Maradona after Chavez's death.
Maradona continued his support for the Bolivarian revolution through his support of President Maduro, whom he has accompanied in difficult moments.
"Don't give up. In soccer it doesn't matter if you lose three to zero, never give up. You never gave up and you're giving everything for Venezuelans. Long live Maduro!" he told the president, "we're soldiers of Nicolas, I came here to give him my support."
Maradona has visited Maduro multiple times and supported him in campaign events. His strong political stance, support of socialism and Latin American sovereignty, has earned him critics from the right every time.
Over the years Maradona has proven to be a strong supporter of the Latin American governments that stand against imperialism and fight for more equal, just societies in the region and abroad.
"A man whom I loved very much died. Maradona says goodbye to us. I have no use for my fingers to write anything," teleSUR President Patricia Villegas tweeted.
Brazilian football idol Pele also assured that "Certainly one day we'll kick a ball together in the sky above."