Asif Naji, Shakir and Dilshad Wazir were arrested on Tuesday for raising voice in support of women who were protesting against water shortage in Skardu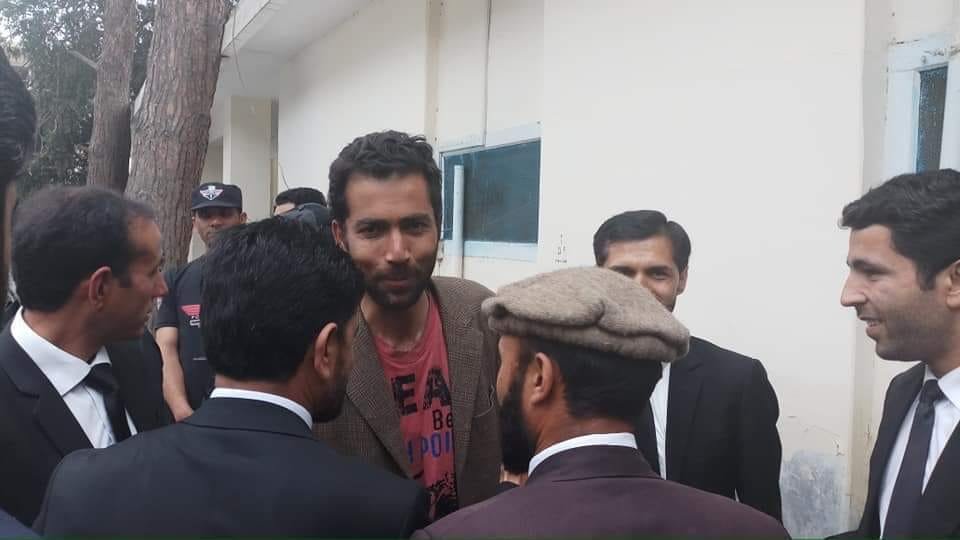 Gilgit: An anti-terrorism court (ATC) on Wednesday quashed cases registered against a young lawyer and political activist under Anti-Terrorism Act (ATA) at Skardu.
The ATC judge ordered the police to produce Naji before a District and Sessions judge at Skardu.
The young political activist of Gilgit-Baltistan was sent back to Skardu after a strong protest by young lawyers in Gilgit and Baltistan and reaction from political parties on social media.
Advocate Asif Naji, member District Bar Association Skardu, and leaders of Baltistan Action Committee was arrested on Tuesday along with others for raising their voice in support of women who were protesting shortage of water at the divisional headquarter for the last one week.
The police misbehaved with the women that prompted protest from the people and activists including Naji, Wazir Dilshad and other political activists outside Skardu police station.
The police overreacted and arrested Naji and others after registering a case against him under the Anti-Terrorism Act and brought him to Gilgit to present before the ATC.
However, the lawyers' bodies, including the young lawyers and members of District Bar Association of Gilgit staged a protest outside ATC against registering fake case against their comrade in false cases, boycotted court proceedings and staged a protest.
This forced the judge to quash the case registered against Naji under the provisions of ATA and ordered to send him back to Skardu.
Political and social media activists termed it a victory and vowed to continue struggle for rights.
Framing cases against lawyers and activists under ATA provisions for demanding basic right like water is ridiculous and condemnable, said Zulfiqar Hussain, secretary information District Bar Association Gilgit.
Talking to The High Asia Herald, he said, "It's a strange society where demanding water, electricity, jobs and compensation for land is considered terrorism."
He demanded immediate withdrawal of frivolous cases against Asif Naji and others.
He said that the young lawyers of Gilgit-Baltistan have always struggled for basic political and constitutional rights of Gilgit-Baltistan and justice for the people.
Wrong message
The Awami Workers Party, Gilgit-Baltistan (AWPGB), condemned the arrest of lawyers from Baltistan and said that this has sent a blow to the purported reports of efforts for 'reconciliation'.
The AWPGB leaders Ikram Jamal, Akhtar Amin, Zahoor Ilahi, Akhon Bai, Wajidullah Baig, Sher Afzal and others in a joint statement said that those activists are targeted who seek basic rights such as water and electricity.
This vindicates the fact that Gilgit-Baltistan is ruled like a colony of the corrupt capitalist ruling elite and their local cronies.
They said there has been an alarming increase in violation of basic human rights in Gilgit-Baltistan; people are being deprived of water, health, education, employment and other fundamental rights, and their land and resources.
They demanded release of Asif Naji Advocate and others immediately and withdrawal of the black laws from GB.
The AWP leaders warned that if Naji and other political workers were not released, the party along with other organizations will launch a protest movement.
They expressed solidarity with the Baltistan Students Federation.
Human rights organizations have alleged bureaucracy and the Pakistani rulers of using repressive laws in Gilgit-Baltistan against progressive and nationalist workers for raising voices for rights.
Baba Jan, one of the main leaders of the AWPGB, Karakoram National Movement leader Iftikhar Karbalai and 12 others have been languishing in Damas and Gilgit jails for the last six years.
An anti-terrorism court had sentenced them for raising voices against police brutality and killing a man and his son in Aliabad on Aug 11, 2011.
The two deceased among other disaster-affected people were peacefully protesting against delay in payment of compensation for their loss in the wake of Attabad disaster.
More than 200 political workers have been placed on the list of ATA's schedule 4.