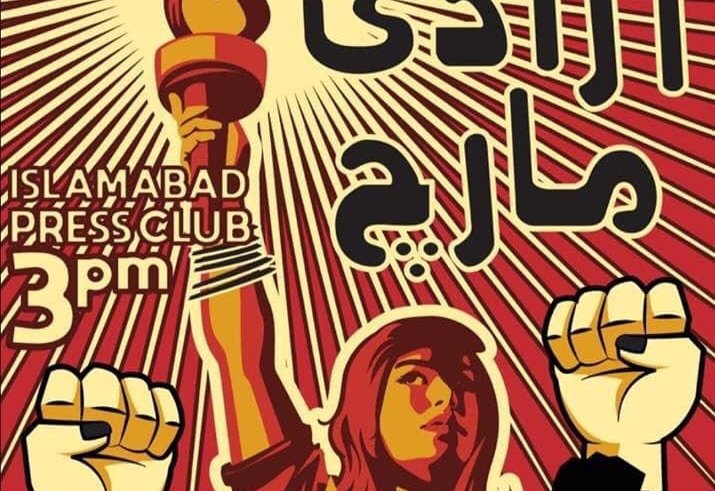 WDF, WAF, HKM, WC, PSC and Azaad Fankaar plan rallies in 10 cities to commemorate International Working Women Day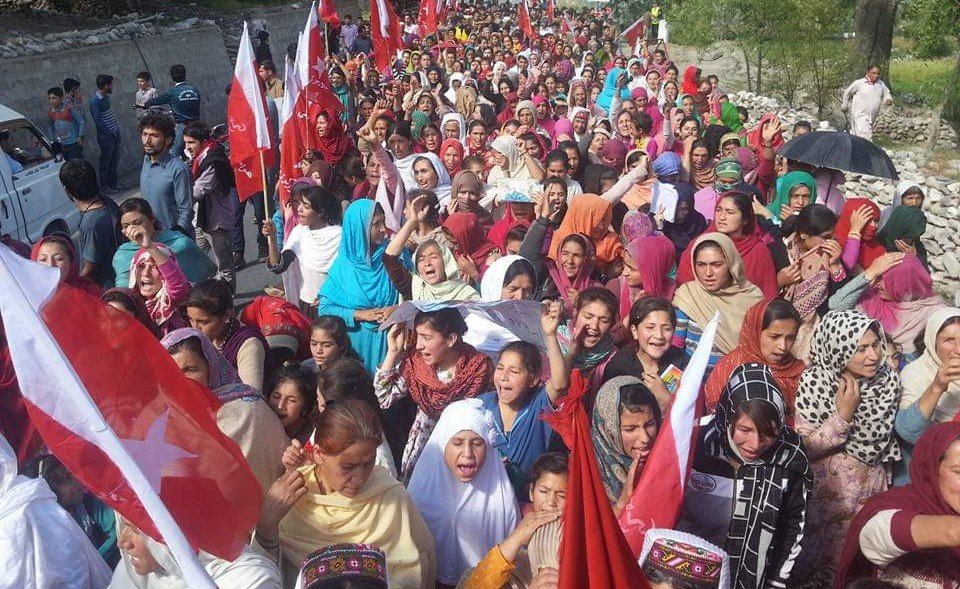 A host of programmes have been slated to mark the International Working Women's Day (IWWD) to reaffirm their commitment to fight against patriarchy, retrogressive norms, traditions, and exploitative socio-economic and political system in Pakistan.
The Women Democratic Front (WDF), Awami Workers Party (AWP), Women Action Forum, Women's Collective and Haqooq-e-Khalq Movement, Jammu and Kashmir Nationalist Students Front and other organizations have jointly or separately planned marches, rallies, and conferences in major cities of Pakistan and AJK.
Aurat Azadi marches (women liberation marches) will be held on Friday outside press clubs in Islamabad, Lahore, Faisalabad, Quetta and Shahbaz Building in Hyderabad. A conference on awareness about women rights and emancipation has been organised by the AWP Lahore at Hamdard Hall on Friday.
A public meeting of working women will be held at Al Savera Hotel, Malakand Road, Mardan on March 9. Two separate conferences have been planned at Nizamani Labour Hall Larkana and Dars Road, Moro in Sindh on March 10.
"Awami Workers Party on the eve of International Working Women's day reaffirms its commitment to the cause of working women and express solidarity with women rights organizations in their fight against patriarchy, exploitation," said Akhtar Hussain, federal secretary-general in his message.
The day reminds us of the sacrifices of women for the liberation from patriarchy, social, economic and political exploitation, he added.
He has directed all the party chapters and affiliated organizations to participate in and organize marches, rallies and conferences in collaboration with WDF, WAF, Sind
hiani Tehreek, Haqooq-e-Khalq Movement and other organizations to highlight the historic movement started on a proposal from German communist leader Clara Zetkin over a century ago.
"The party urges all comrades to fully participate in the IWWD-related events in their respective cities and town to highlight women issues in Pakistan."
"This year's preparations for the Aurat March are truly inspirational," writes Dr Ammar Ali Jan on his Facebook page.
The HKM stands in complete solidarity with the Aurat March happening on Friday around 3pm at Lahore Press Club, he added.
The participation of women in Mardan, Hyderabad, Lahore, Karachi, and Islamabad shows the commitment of the activists involved in organizing this march. We are lucky that many of our brilliant comrades, including Alya Bakhshal, Qurrat Mirza, Aabida Ali, Syma Jafri, Tooba Syed, Ismat Shahjahan, Rehana Shakeel, Aimen Bucha, Mohiba Ahmed, Zammon Saleem, and organizations as diverse as Aurat March, Women's Democratic Front, Women's Collective, AWP, HKM, PSC, WAF and Azaad Fankaar, are involved in organizing these events.
There is a concerted effort by activists to bring in women from different sections of society and rebuild a broad-based women's movement in the country, he pointed out.
"The emancipation of women from the shackles of a murderous patriarchal culture is essential if we are to build a decent society and remove violence from the most intimate relations in our lives," he urged. We will be a much better society to live in if these women succeed in their fight for equality. More power to them all, he observed.
WDF was set up two years ago with an objective to struggle for structural changes in governance and political system, economy, constitution, laws, patriarchal society and all kinds of anti-women traditions, culture, norms, oppression and suppression of women.
"We want to break the nexus between capitalism and patriarchy, religious orthodoxy and tribal and feudal mindset and establish a society based on equality, harmony and free from exploitation and discrimination on the basis of gender, class, culture, and religion," commented Ismat Shahjehan, founding president of WDF.
Working women's day history
The 8th of March has over a century of history and change behind it. Originally known as International Working Women's Day, its roots lie in the socialist, rather than feminist, the struggle of the early 20th century.
Although national days had been celebrated prior to 1911, the 8th March of that year marked the first international day, following a proposal from German communist Clara Zetkin, who had been involved with the socialist movement since the 1870s.
She was also a fervent campaigner for women's rights and universal suffrage. Zetkin believed socialism was the only movement that 'could truly serve the needs of working-class women' — and that feminism was the preserve of the upper and middle-classes.
However, as much as her political views were focused on class, rather than gender, divisions.She was renowned throughout her career for her passionate oratory skills. She represented the German Communist Party in the Reichstag from 1920 until 1933 when the party was banned by Hitler. Her election to the Reichstag in 1932 made her its oldest member, and tradition dictated she opened the parliamentary session. She did so with a 40-minute attack on Hitler and the Nazi party.
Clara Zetkin died in 1933. She was referred to as the 'grandmother of communism,' yet the legacy of International Women's Day and her contribution to it should also be recognized, and celebrated.