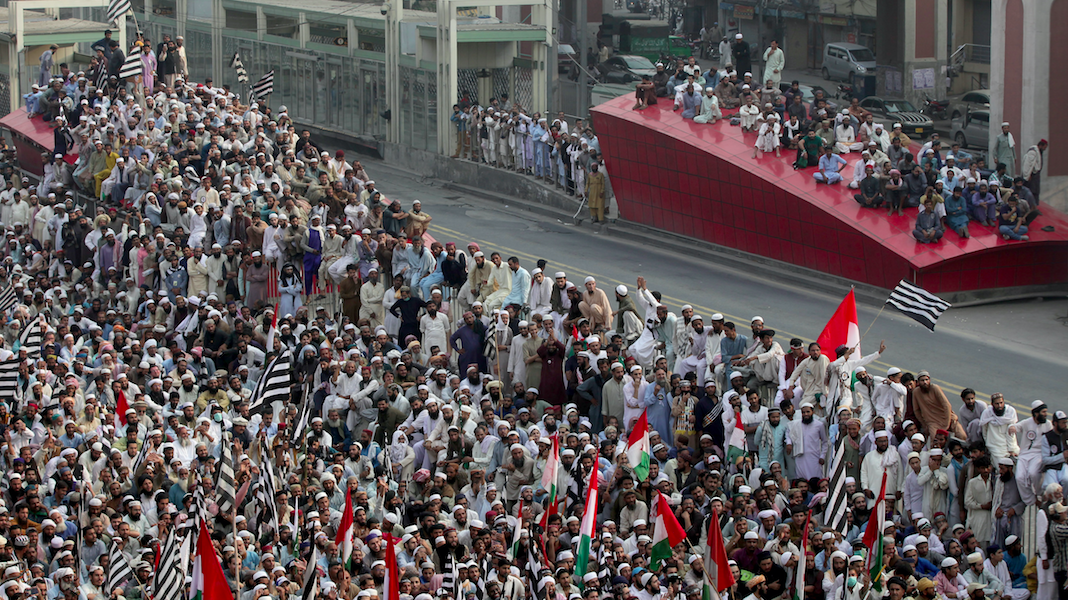 The Maulana has dared to challenge an authoritarian system, but the fate of democracy will remain in doldrums until all democratic forces mobilise the downtrodden people of Pakistan, writes senior journalist and political commentator Imtiaz Alam in an opinion article published in The Wire, an online news portal. This column written by him has been censored in Pakistan where news portals have refused to publish it. 
When Maulana Fazl-ur-Rehman created a stir after arriving in the capital of Islamabad by saying that the Azadi March had potential to enter the prime minister's house and arrest him, I recalled the plight of former prime minister Nawaz Sharif under the siege of the Imran Khan-Tahirul Qadri sit-in. I once asked him about his situation when rioters were knocking at the doors of PM House, and Nawaz Sharif told me how helplessly he was awaiting his own bloody demise. But, despite much greater numbers and motivation, the Azadi marchers had to stay put, away from the Red-Zone since Prime Minister Imran Khan still remained in safe hands.
Unlike Imran-Qadri's long sit-in, sponsored by those trying to destabilise the Sharif government, the Azadi March is a demonstration of the downtrodden people of the most backward regions —predominantly from Khyber Pakhtunkhwa and Baluchistan and partly from Sindh and southern Punjab — against their deprivations and the illusion of "false consciousness".
It could, however, become a catalyst for contradictory processes that might be different from what is contended by antagonists in a precarious civil-military equation. Regardless of religious overtones, it is the frustration of the toiling masses of deprived Pashtun regions that has fuelled the revolutionary sentiment into the moderate conservative sections of the Deobandi school and the Pashtun nationalists.
We see in the march, the struggle of frustrated Pashtun youth for their democratic rights. Annoyed with the populist mimicry of 'change', the secular Pashtun nationalists Mehmood Khan Achakzai (PKMAP) and Mian Iftikhar Hussain (ANP) and the motivated cadres of Jamiat Ulema-i-Hind's anti-colonial legacy have joined hands to challenge a Viceroy-type, semi-colonial authoritarian structure.
Surprisingly, a JUI activist from Baluchistan even told me that "the overthrow of Prime Minister Khan is not (their) ultimate aim; he should rather be pressurised to join hands in (their) struggle for civilian supremacy".
Due to the foot-dragging by the so-called liberal parties of the center-right and center-left, the Jamiat Ulema-e-Islam-F is not in a position to instantly overthrow the Imran Khan government alone. It could, however, cause a serious dent in the diarchy of quasi-civilian and authoritarian structures. Interestingly, ousted from power, heterogeneous forces should be rallying against an exclusionary hybrid political structure.