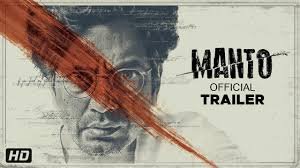 Official trailer of Manto
IN our corner of the world, prejudice and intolerance can sometimes follow a person well beyond his or her lifetime. The latest reminder comes in the form of the ban the state has placed on the screening of Indian director Nandita Das's biopic on subcontinental writer Saadat Hasan Manto, the title taken from his last name. Released in September, the film has played on cinema screens across the world, and earned accolades for the quality of its scripting, production, and other cinematic dimensions; in Bangladesh, it has won an award already, and there is a strong likelihood that it will win more at film festivals and award ceremonies in the future. But it will not be screened in Pakistan — apparently because of its 'controversial' content.
Controversy has dogged Manto and his work all through his life and beyond, especially in his own country that refuses to own one of the finest and most searing writers of the Urdu language. Regarding the ban on the film Manto, then, it is encouraging that on Monday, writers, journalists and civil society activists gathered outside the Lahore Press Club to protest, and point out the futility of the move. The ill treatment meted out to him in Pakistan during his lifetime was highlighted, including the fact that his work was censored, he was hounded by the state authorities, and even his entry into the building of Radio Pakistan — which was the iconic purveyor of cultural fare in an era when TV had yet to make its debut in the country — was disallowed. Decades have gone by but it is evident that the prejudice against Manto remains. The ban on the film must immediately be lifted, and, indeed, its screening across the country ought to be promoted so that younger generations are made aware of the life and work of this extraordinary writer. After all, the 2015 film Manto by Pakistani director Sarmad Khoosat was screened across cinemas here. There is no reason why the Indian version should not be.
This editorial was published in Dawn, January 17th, 2019