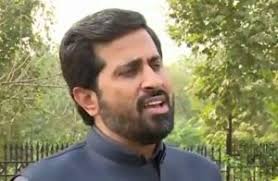 FAYYAZ Chohan, the improbably titled — now former — Punjab minister for information and culture, has once again demonstrated his boundless capacity for uncouthness and bigotry.
A video of him has emerged on social media that shows him making vile, derogatory remarks against Hindus in his trademark combative style. The occasion was an event in Lahore on Feb 24, and his words were ostensibly in response to India's aggressive anti-Pakistan rhetoric after the Pulwama attack about 10 days earlier.
The video unleashed a storm of condemnation on social media, with many calling for the minister to be sacked from his post. Very appropriately, senior PTI leaders — including among others Shireen Mazari, Naeem ul Haque and Asad Umar — sharply rebuked Mr Chohan for his diatribe, reminding him that Pakistani Hindus are part and parcel of the country. The minister apologised for his speech, saying that he was addressing Prime Minister Narendra Modi, the Indian armed forces and Indian media, not Hindus in Pakistan. That was not, however, enough to save his job and yesterday he was removed by the Punjab chief minister.
No one's religion should be used as a means to denounce or incite contempt against them; we know full well the kind of violence such words can instigate. Moreover, Mr Chohan cannot claim in his defence that he was only targeting certain Indian members of the Hindu community when adherents of that faith live within Pakistan as well. By his words, he has insulted our fellow Hindu citizens and embarrassed his government that has only recently reiterated its resolve to act against all forms of extremism.
Unfortunately, Mr Chohan's remarks are indicative of a particular mindset in Pakistan. Far too often here, national identity is conflated with religious identity, even by the representatives of the people — Muslims, Hindus, Christians, et al. As a result, minorities can be made to feel that their love for this country is not a given. Instead, they must prove it over and over again by meeting an exacting standard not required of the majority.
Not that we are alone in the region where bigotry is concerned: an even more extreme version of it is evolving in Modi's India, with Indian Muslims suffering the brunt of the country's 'saffronisation'. Thankfully, the government on this side of the border has come out strongly against Mr Chohan's faux 'patriotism' and demonstrated that it will not tolerate such noxious views.
This editorial piece was published in Dawn, March 6th, 2019