Mushahid Hussain showers praise on Chinese people, students for transformation
Islamabad: China and Pakistan have shared dreams of prosperity, peace, co-existence and development in the region and for the world.
These views were shared by Chinese ambassador Yao Jing and Pakistani Senator Mushahid Hussain at a degree awarding ceremony held at the Pakistan National Council of the Arts the other day.
In a first over 150 Chinese students have graduated from National University of Modern Languages (NUML) and International Islamic University (IIU) in various disciplines. They were awarded degrees and certificates.
Addressing the ceremony Ambassador Yao Jing congratulated the students for their outstanding performance during their stay in Pakistan.
He reminded the students of their responsibilities and challenges ahead.
"You might have a lot of dreams and you have a bright future ahead," ambassador Jing said, adding "I have also two dreams for China, the region and for the world".
Elaborating his dreams, Yao said, since China and Pakistan are part of the world and the region, both need peace and prosperity. "My two dreams to see are a prosperous region, a prosperous world, and peace which are very vital for co-existence and development".
He said the students were the future of China and during their stay in Pakistan they must have developed a friendship with Pakistani students and people. The envoy hoped that they will also be helpful and contribute in the development of Pakistan and China.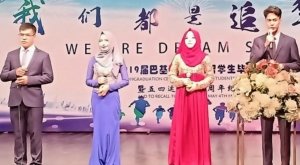 Mr Yao Jing termed the recent visit of Prime Minister Imran Khan to China highly important where he emphasized the people-to-people contacts and cultural exchanges.
Pak-China Institute Chairman Senator Mushahid Hussain advised the Chinese students that they are unofficial ambassadors of their country in Pakistan to carry not only the torch of knowledge but the message of friendship, harmony, and co-existence between Pakistan and China.
He also spoke about the importance of May Fourth Movement that was launched by students in 1919 against foreign hegemony, imperialism and feudalism.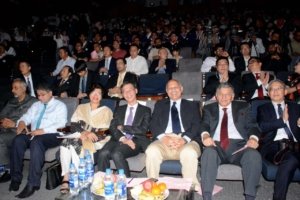 The senator said two years later the movement led to the founding of Chinese Communist Party in July 1921 that spearheaded the revolution in 1949. Mr Hussain noted that Quaid-e-Azam Muhammad Ali Jinnah also mobilised youth, students and women who also played a leading role and changed the course of history in the South Asia.
Senator Hussain shared his fond memories of China when he first visited the country 40 years ago for studies. At that time, he was a student of Government College Lahore and saw the China of Chairman Mao. He also saw the period of Prime Minister Chou En Lai, Deng Xiao Ping and today's China under the leadership of President Xi Jinping.
"There has been a tremendous transformation China has witnessed during the last four decades, Senator Hussain said and attributed it to the hard work, tenacity, and determination of the people of China.
He quoted President Xi's speech he made during the belt and road initiative forum at Beijing last week, saying "we stood up and are now masters of our own destiny".
I think that is the best tribute to the Chinese transformation, Senator Hussain said.
The first ever ceremony for all graduating Chinese students was organized by the Chinese Students Association in collaboration with the Chinese embassy where 156 students including four PhD scholars received their degrees with beaming eyes amid music and clapping.
Chinese students and children also presented songs and dance performances.
Former ambassador Riaz Khokhar, PNCA Director General Jamal Shah Noor Amna Malik, Adviser, MAD HEC, China Cultural Centre director Zhang Heqing, IIUI's Professor Dr Aqdas Naveed Malik, First Secretary of Chinese embassy Pan Yuqin, Pan Yuqin, head of Confucius Institute Engineer Waheed Ahmed Mangi, HEC director Dr Abubakar Bhutta along with other eminent guests were also present at the graduation ceremony.