---
Chitral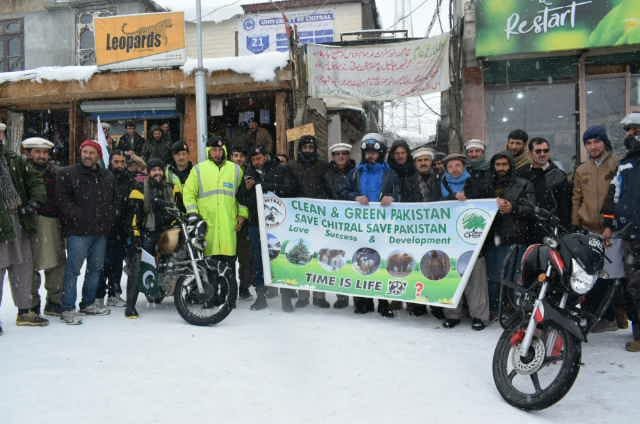 A bicycle rally to promote tourism potential of Chitral and to create awareness about environmental challenges to the Hindu Kush mountainous region kicked off here on Monday.
The rally has been jointly organized by Chitral Bikers Club (CBC) and Chitral Heritage and Environment Protection Society (CHEPS) to create awareness about the unique culture, beautiful landscape, tourist spots and people of Chitral in other areas of Pakistan and saving Chitral from the climate change effects.
CBC President Ikramullah, CHEPS Chairman Rahim Ali Johar Dost, are leading the 'Chitral Bachoa Pakistan Bachoa' (save Chitral, save Pakistan) rally, that will visit different towns and cities of and conclude at Gwadar, the port city of the restive Balochistan province.
Addressing the participants of rally, Mr Johar said that Chitral's share in Pakistan's water resources is 27 per cent but the former is affected by climate change. If corrective measures were not taken, the environmental degradation will affect the whole country.
He said that through the rally we want to convey the message of peace, love and brotherhood to the outside world and promote eco-friendly tourism.