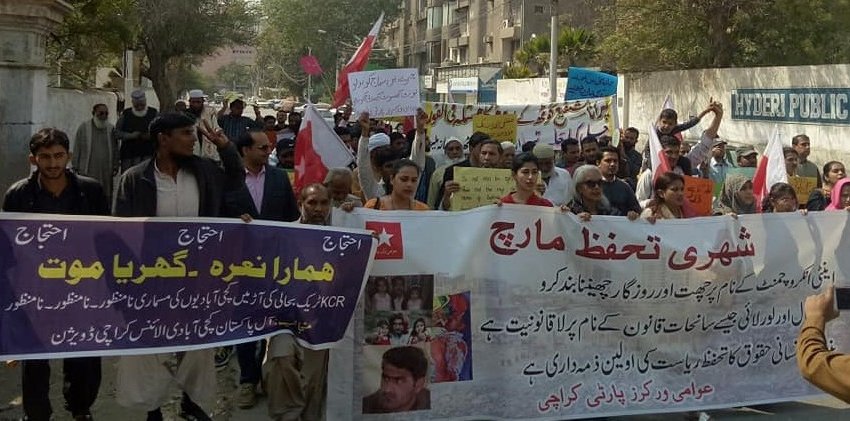 The #SheriThafuzMarch was organised by AWP-Karachi, Haqooq-e-Khalq Movement, PSC, RSF, NSF against Sahiwal,, Loralai and Karachi incidents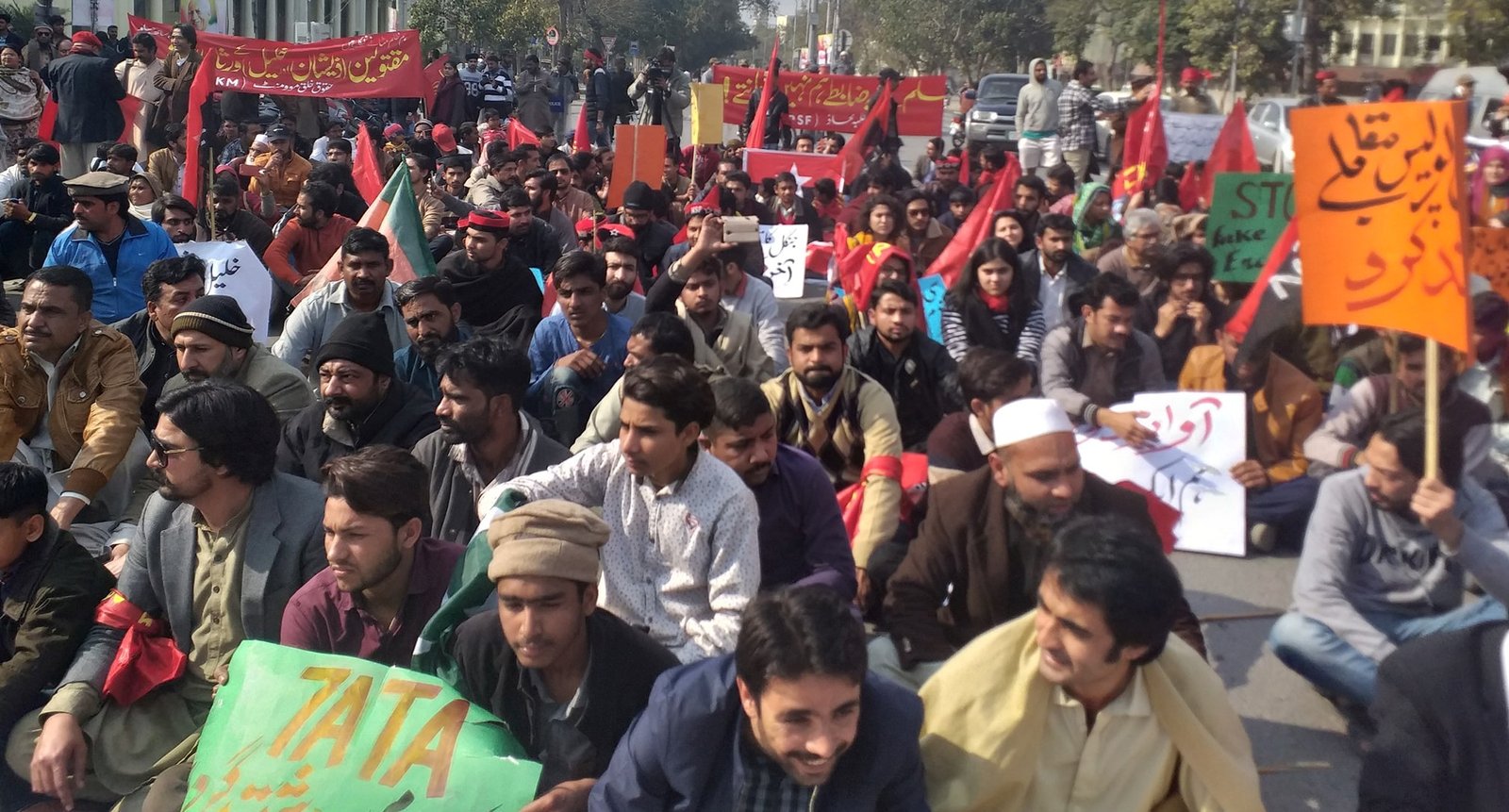 LAHORE/KARACHI
Citizens and political activists marched on the streets of Karachi and Lahore on Sunday to voice their concerns and anguish over the spike in tragic incidents of extrajudicial killings, state repression on dissenters and intimidation of political activists and academics as well as denial of fundamental civic and social rights to the common people.
In Karachi, the Shehri Tahaffuz March (citizen's safety march) was organised by the Awami Workers Party (AWP) while in Lahore, it was held under the aegis of Haqooq-e-Khalq Movement, (People's Rights Movement), the Progressive Students Collective (PSC) and the Revolutionary Students Front (RSF).
The marchers were carrying banners and placards inscribed with slogans and chanting slogans against violation of right to housing, education and employment in the name of anti-encroachment drives in major cities of Karachi, Lahore and Islamabad, dint on freedom of speech through censorship, various cyber cases, military courts, workers layoffs in media and other industries and inhumane working conditions in every sector.
In Lahore, scores of people including students, youth and women converged on Anarkali to participate in the march and express solidarity with the families of the victims of the Sahiwal incident.
The protesters marched towards the Punjab Assembly to express solidarity with the families of Khalil and Zeeshan (victims of the fake encounter).
The protesters led by the family members of Khalil and Zeeshan marched from Anarkali to Charing Cross chanting slogans and carrying banners and placards inscribed with slogans seeking justice for the victims of the fake encounter in Sahiwal.
The participants demanded the formation of a judicial commission to probe the Sahiwal incident, initiation of wide-ranging police reforms to avoid such tragedies and guarantee for protection to ordinary citizens.
This past Saturday, Professor Arman Loni, a civil and political rights activist and a college teacher died in Loralai, reportedly after being beaten up by the police.
Ironically, this happened at a peaceful protest by civil rights activists over a militant attack at the office of the DIG Zhob Range on January 29, which had resulted in the death of nine persons, including eight policemen.
"While the police maintain that their actions did not lead to Arman's death, it is difficult to assume that the victim chose this manner of death voluntarily," a statement issued by the organisers said.
Speaking on the occasion, former Senator Farhatullah Babar, an outspoken and upright politician, stated that it was essential to re-establish a relationship of trust between the state and citizenry.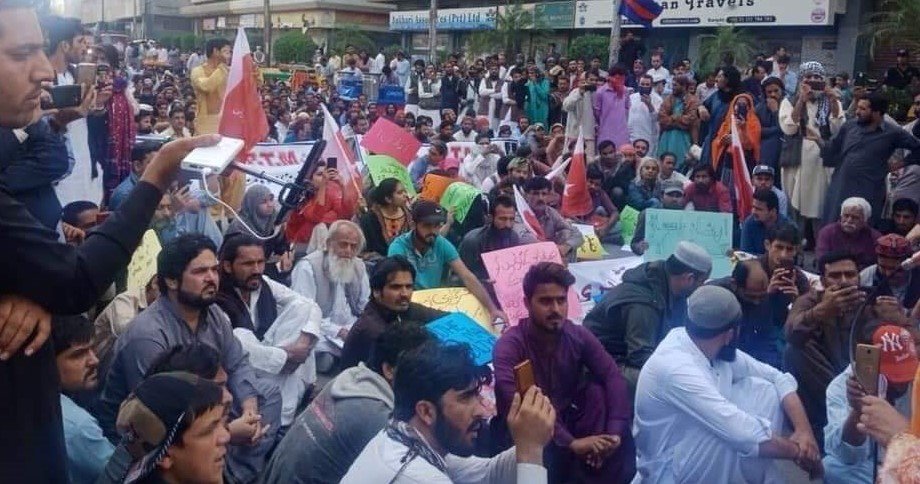 For that, it is imperative that there should be an immediate end to excesses of the state, including extrajudicial killings and the pervasive problem of enforced disappearances.
All people should be treated according to the law, rather than taking recourse to illegal use of force.
He also expressed solidarity with Professor Ammar Ali Jan, who was picked up by the Gulberg Police in the small hours of Saturday and released after hours.
He lambasted the Punjab police for harassing a law-abiding citizen.
Journalist and peace activist Imtiaz Alam denounced the increasing culture of fear and violence being spread in society throughout the country.
He asserted that only a grassroots movement can adequately respond to the rapid erosion of civil and social liberties in the country. He also condemned the raid at the house of Dr Jan.
Brother of Muhammad Khalil (killed in the fake encounter in Sahiwal) said that despite promises of swift justice, the government has failed to show seriousness in investigating the crime or instituting a judicial commission.
In the last three weeks, the government has been using delaying tactics to cover up the unspeakable crime committed against our family, he lamented.
"My brother, who was a law-abiding citizen, was brutally killed along with his wife and his 13-year-old daughter in broad daylight. However, his family including his three orphaned children will not be silenced until we gain justice," he said.
He threatened to organize bigger agitation if their demands were not met.
The mother Zeeshan, another victim in the Sahiwal massacre, said she has lost her most precious possession at the hands of the counter-Terrorism Department Police.
She said she was fighting for justice not only for her own son but for all others so that no mother ever has to go through the pain and agony that she is going through.
She criticized the current government, saying "it seems like it has no fear of accountability in this world or in the hereafter, but she has a firm belief that one day she will see justice".
Youth leaders Haider Butt, Mohiba Ahmed, Zahid Ali and Ahsan Bhatti reiterated their commitment to support the victims' families and to not only fight for justice for the Sahiwal victims but also for the long term struggle of building a fair and inclusive society.
PPP leaders Barrister Aamir Hassan and Faisal Mir also spoke on the occasion and announced their support to the HKM's campaign for social justice.
Representatives of the National Student Federation and the Young Doctor's Association also spoke on the occasion.
The event also involved a theatre performance by Arooj Aurangzeb and Daanish Khan depicting extrajudicial killings and police violence on citizens. The ended with revolutionary poems by poet Dr Khalid Javaid Jan.
The aim of the protest was to show the world that we as a society are no longer willing to stay silent in the face of unbearable injustice, said Dr Ammar Ali Jan in a statement on his Facebook page.
Karachi Shehri Tahafuz march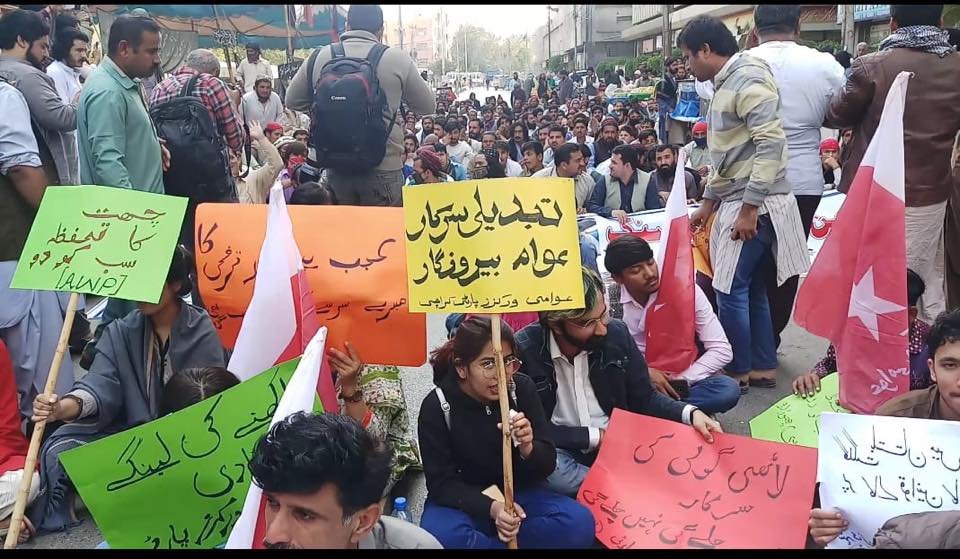 In Karachi, the march, led by AWP-Karachi, began from Arts Council and concluded at Karachi Press Club which was joined by various youth, human and social rights organisations.
AWP Karachi President Usman Baloch and secretary Shafi Shaikh expressed serious reservations over violation of civil rights in Pakistan and state's indifferent attitude towards the exploitation and injustices meted out with working class, downtrodden, powerless and peaceful citizens by the powerful influential ruling elite.
Mr Baloch also expressed grief over the brutal murder of a political worker Irshad Ranjhani by a Union Council Chairman Rahim Shah on Thursday last. The murderer threatened the public and stopped them from taking the dying man to the hospital.
AWP Karachi chapter leader Advocate Jamil Ahmed, Women Democratic Front representative Aabida Ali, NSF-GB Sindh President Aanayat Baig, Pashtun Tahafuz Movement, Awami Jamhoori Party and All-Pakistan Katchi Abadi Alliance leaders spoke on the occasion.
They said that the state which is responsible for the well-being of all its citizens is in fact behind every crime from extrajudicial killings to destroying the livelihood of workers and small traders and vendors.
They cited the recent anti-encroachment drive in Express Market and other areas of the city and described it the failure of the state in providing physical space for trade and work.
They blamed the government departments and influential people of being involved, directly or indirectly, in land grabbing and encroachments in which most of the lands were either reserved for public amenities and land.
They also cited a number of examples of land grabbing such as Generals Colony adjacent to National Stadium which is being built on a designated parking lot of the stadium; the Ocean Mall built on an amenity plot of Mideast Hospital; Bahria Icon Tower built on land of Aquarium and Qasim Park; Bilawal House built in violation of building codes and on encroached land. They demanded razing of these and scores of many other buildings built on encroached public land.
The speakers opposed privatisation of state entities and education, mass lay offs in media and other industries and demanded the construction of housing units for shelterless and the provision of jobs and education to the working class, proper medical treatment and release of AWP imprisoned leader Baba Jan and others.