Staff Correspondent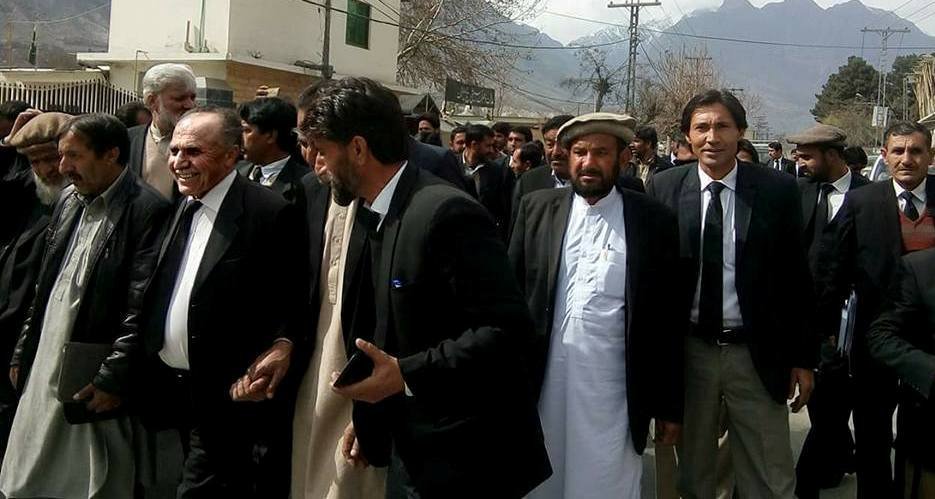 GILGIT (March 1): Lawyers of Gilgit-Baltistan launched a protest campaign in the capital city on Thursday for pressing their demands.
A large number of lawyers and office-bearers of Gilgit-Baltistan Bar Council, GB Supreme Appellate Court Bar Association (SACBA), High Court Bar Association, and District Bar Association including SACBA President Ehsan Ali Advocate, GB Bar Council Vice-Chairman Javed Ahmed Advocate, Asad Bilal Advocate and Shahbaz Advocate and Imtiaz Advocate led the protest that marched from GBHCB to Anti-Terrorism Court.
This was part of their collective decision to hold a symbolic protest on every Thursday.
A large number of young lawyers took part in the protest and chanted slogans in favour of their demands.
They demanded genu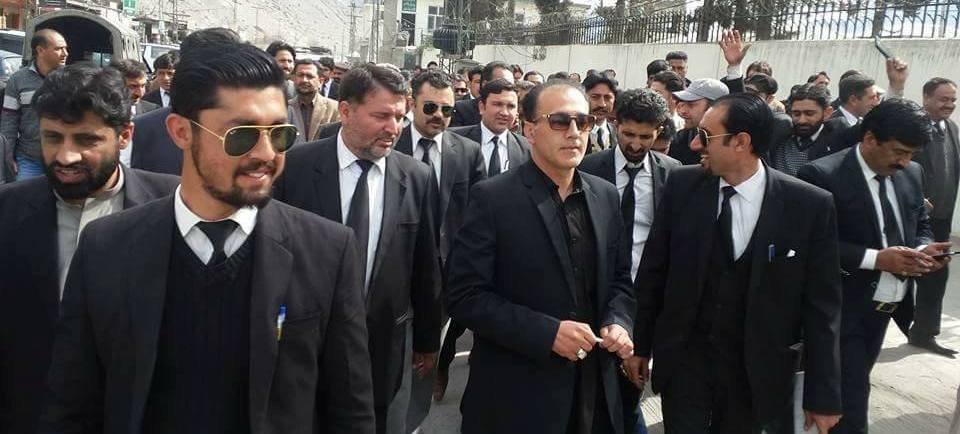 ine constitutional and democratic rights for the region, abolition of GB Council and transfer of powers to the GB Legislative Assembly, independence of judiciary, up-gradation of the Supreme Appellate Court (SAC) to a full-fledged supreme court, Chief Court to high court, increase in number of SAC judges to four and seven in high court.
They also demanded the appointment of judges to vacant posts in the SAC from lawyers and an end to corruption and appointments of law officers on the political basis.
The present PML-N government has appointed over 40 legal advisers in various government departments, mostly political activists of the ruling party in violation of merit and criteria.
They also said that as per Article 69(1) of the Governance Order, 1999, 60 percent quota fixed for lawyers in the appointments of judges in Chief Court and 40 percent in district and sessions courts should be implemented.
Lawyers should be appointed legal advisers in different government departments like other provinces of the country.
They also demanded announcement of a housing scheme for the lawyers.
They also demanded setting up of an independent judicial council with members from
the bar council and bar associations and legislative assembly to ensure transparency and merit in appointments of judges and law officers.
They also demanded internal autonomy to the region by abolishing GB Council and transfer of powers to the GB Legislative Assembly.
They demanded election for a constituent assembly to prepare a constitution for the region to protect the fundamental rights of the people and political setup.
The three representative bodies of GB lawyers have filed a petition in the Supreme Court of Pakistan against the GB Governance Order of 1999 and replacing it with genuine independent democratic and judicial systems in the disputed region.