High Asia herald Report
GILGIT: Pakistan's top anti-graft body has urged youth and artists to join forces in the fight against the virus of corruption which is more lethal and spreads faster than Coronavirus.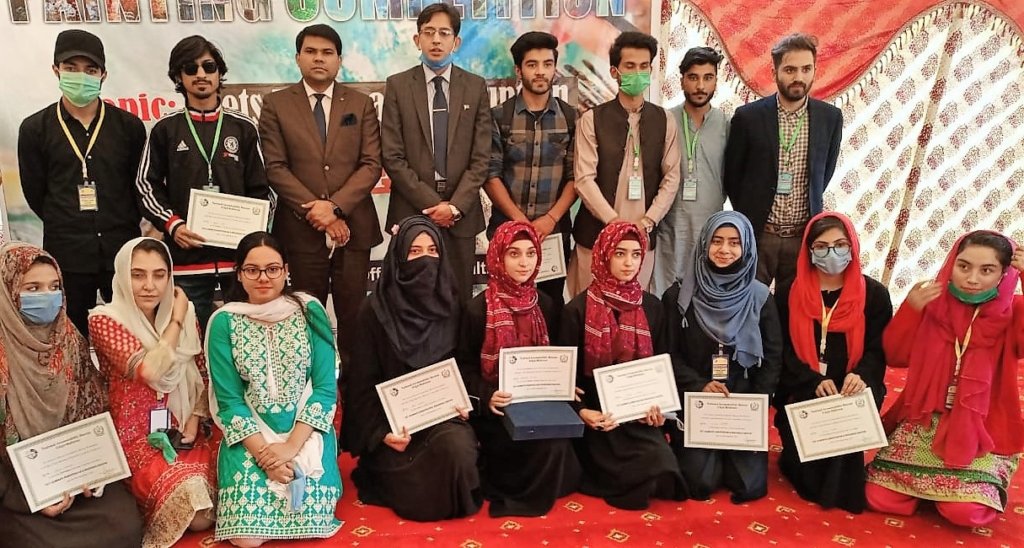 "Students should be part of the efforts in creating awareness about the ill-effects of the menace and making Pakistan a corruption-free country," National Accountability Bureau (NAB) Gilgit sub-office's Director Nasir Junejo while speaking at a prize distribution ceremony of paintings competition here on Tuesday.
He spoke about the ill-effects of corruption on the economy and society and likened it to Coronavirus pandemic.
"Both have similar effects. But I would say that corruption is more lethal and spreads faster than coronavirus," he commented.
He urged the students to play their role in identifying and exposing corrupt elements in society and join hands with government in weeding out the menace from the country.
About the objective of the contest, he said: "there is a famous adage that 'a picture is worth a thousand word' through which social problems can be highlighted effectively."
Mr Junejo appreciated the artistic skills, understanding of the students for using their creative and cognitive thinking to portray the social evils and their vision for a corruption-free society.
"He also advised them to pursue their dreams and achieve their goals in educational as well as professional life through hard work, dedication and honesty.
Wajid Hussain, chief coordinator Character Building Society, KIU, lauded the initiative of NAB in creating awareness about corruption among the students and youth.
Mir Anis, a student of the Environmental Sciences Department of the university said: "We can use technology and digital tools to monitor corruption in society".
"It was a good initiative to enhance our skills," Sureeesha Aslam of the Agriculture Department said.
The theme of the competition was "Let's eliminate corruption for a Prosperous Pakistan". NAB sub-office in collaboration with the Character Building Society (CBS) of the Karakorum International University (KIU) had organized the contest.
As many as 50 students attended the event. Of them 15 participated in the paintings/drawings contest.
The panel of judges was comprised of Dr Zubair from KIU, Professor Surraya Nisar and Amina Kausar from Fatima Jinnah Women University, Gilgit.
Hareem Ikhlas who was adjudged as the winner of the contest told The High Asia Herald was thankful to NAB for giving her such an opportunity to show her talent. "I am very excited to get the first position," Ms Ikhlas, a student of BS Forestry and an artist said.
She urged NAB to arrange more such events in future.
"Forestry is my profession and art is my passion," she said.
Ms Ikhlas termed corruption the major problem of Pakistan. It hampers the economic growth and sustainable development.
She was very optimistic about the revival of economy and vowed to work for making a corruption-free and stronger Pakistan.
About her future plans, she said: "being a forestry student I want to be a district forest officer (DFO) and weed out the forest department from corruption.
Sania Ghulam, a student of MSc Economics who grabbed third prize, while speaking to the High Asia Herald, said she was very thankful to CBS and NAB for organizing such a wonderful event.
Faculty of KIU and Fatima Jinnah Girls College Gilgit also appreciated the efforts of the organisers and the work of the students.
NAB has set up over 3,000 character-building societies in educational institutes to channelise creative energy of youth in the fight against corruption.
According to a NAB spokesman, the anti-graft body has been organizing seminars, declamation contests, essay writing, posters and painting contests in various universities, colleges of Pakistan to create awareness about the root causes of corruption.