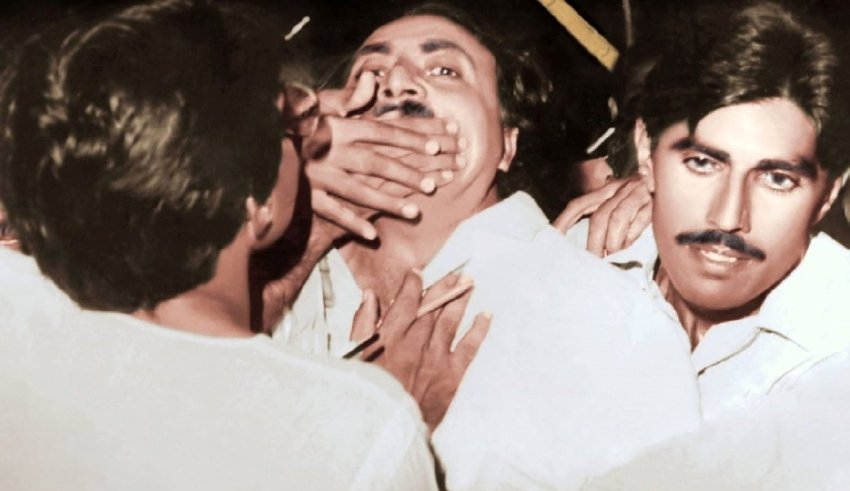 MHK being stopped from raising slogans and speaking to media at Regal Chowk lahore while courting arrest during the Movement for Restoration of Democracy in 1984
Abandoned by senior PPP leadership after BB's assassination, Malik Hakmeen Khan stood his ground for five long decades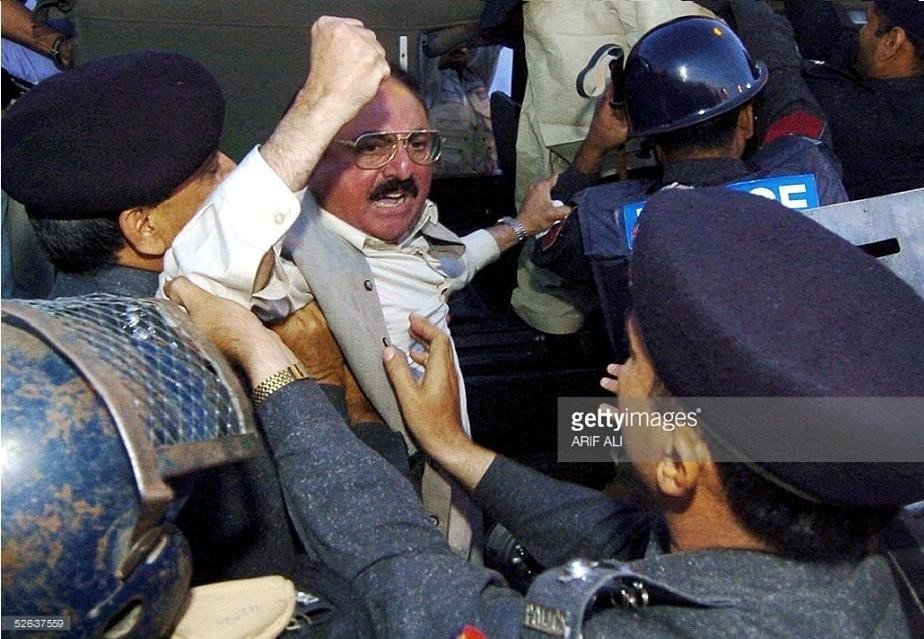 Malik Hakmeen Khan, reputed to be an old loyalist, having enjoyed a close association with its founding Chairman Zulfikar Ali Bhutto Shaheed, has kept his over half a century loyalty till his death.
Malik Hakmeen Khan passed away on January 4, 2019, the date of birth of former prime minister Zulfikar Ali Bhutto.
This unshakeable bound would always be remembered in the political history of thecountry in golden words.
But despite his remarkable and unforgettable loyalty, Hakmeen sb died with a deep sense of disappointment and was dejected as he was left neglected since the tragic assassination of Benazir Bhutto in a bomb and gun attack at Rawalpindi's Liaqat Bagh on December 27, 2007, his close associates and party workers believe.
The PPP leadership did not even bother to enquire after his health when he was critically ill in Lahore's Services Hospital, they regret.
After the tragic hanging of ZAB, Hakmeen sb enjoyed the same honour and close association with his illustrious daughter, Benazir Bhutto.
But soon after the assassination of BB, Hakmeen sb was gradually sidelined by the opportunist elements inside the party taking the opportunity of the careless attitude of the new leadership towards him.
Hakmeen sb appeared disconcerted over the political developments after the assassination of BB. His concerns were genuine as many old party workers have failed to find their bearings in a party headed by co-chairman Asif Ali Zardari.
Given my close association with him for the last about two decades, Hakmeen sb, expressed indirectly this factor to this scribe many times with a sense of great disappointment that continued till his death.
Hakmeen sb despite being one of the founding members and diehard jiyala of the party was not given due respect and any key role by the party leadership after Benazir's death. But he kept quiet and remained loyal to the party.
"Yes my father has been experiencing great psychological depression for being neglected by the party leadership", admitted former MPA Shahan Hakmeen Malik.
"I couldn't explain how badly my father felt a sense of deprivation in the last leg of his life despite the fact he remained loyal not only to his great leader Zulfikar Ali Bhutto but with Benazir Bhutto and Bilawal Bhutto," he quipped.
My father often used to share this feeling with me, Shahan said.
All this is stressful for me, other members of the family as well as sincere and like-minded party workers and friends, the former MPA lamented.
"I don't know how I will bear and sustain all this throughout my life," he said.
As per party record, some 52 years ago, Hakmeen sb joined hands with PPP founding chairman Zulfikar Ali Bhutto and was given the party's ticket for contesting polls from PP-12 Attock-1 ( now PP-15 Attock-I) in 1970 against stiff opposition of the feudals of the constituency.  Despite the odds, he won the elections.
Later, Hakmeen sb was given a portfolio of five provincial ministries by the first elected Prime Minister of the country ZAB and even after General Zia's coup he remained loyal to the party.
Later, he managed to earn the same respect of Benazir Bhutto Shaheed as she considered him among some of her father's most loyal workers.
Ms Benazir, despite strong opposition from some PPP leaders, offered Malik Shahan Khan PP-15 ticket for 2008 elections, during a party meeting in London in August 2007.
It was like compensation for all the troubles and jail time that Hakmeen had to endure for the PPP.
Like father like son, Shahan won PP-15 seat in 2008 election with a clear majority by defeating the rival PML-Q aspirant.
Earlier, Hakmeen sb had won the same PP-15 seat consecutively in three elections of 1970, 1977 and 1988, by defeating the rival feudal lords Sardar Shaukat Hayat, Sardar Mumtaz Tamman, and Sardar Sadiq Khan, respectively.
But after winning, his son was not considered for any portfolio in the Punjab cabinet nor was Hakmeen sb considered for a Senate ticket, as they had lost their support inside the party after the assassination of Ms Bhutto just before elections.
Hakmeen's major complaint was that junior and opportunists leaders were accommodated as heads of many federal government offices by the party leadership, but he was considered worthy for none.
His sacrifices for democracy and people's rights is unmatchable. He was arrested many times during military dictatorship of Ziaul Haq for leading the Movement for Restoration of Democracy as its convener.
"Except loyalty, sacrifice, bravery, and faithfulness, I have earned nothing in over five decades of affiliation with PPP, which is evident through the party history," Hakmeen sb shared with me many times.
"I have never betrayed my oath of faith, which I had given to the founder chairman of the party some 50 years ago nor did I change loyalty for any personal gains or pressure," he said, even though he claimed that he had been threatened with death sentence, during his detention at Rawalpindi's Adiala Jail during Gen Zia's Martial Law.
"I had informed the military dictator (Gen Zia) that I would accept the gallows but never betray my leader," he told me.
Mr Hakmeen was buried in a graveyard of his native village Sheenbagh village, Attock, where people of all walks of life have been visiting to offer prayers (Fateha) for the departed soul and also to pay their respect and homage to late Hakmeen Khan as symbol of commitment and loyalty that he maintained till his death, where 52 years old party flag is still waving on his house. He belonged to the political breed which is now becoming extinct in Pakistani political landscape.

---
Yaqoob Malik Awan is a freelance journalist based in Canada.