Nirmal 'Nims' Purja and Mingma David Sherpa at the base camp before heading for G1 and G2 summit. Photo Courtesy: Mingma David Sherpa
Around 120 climbers are currently making their way up K2, in 10 separate teams
Islamabad: Five Nepalis among seven climbers who reached on top of the 8,611 metres (28,251 feet) K2, the world's second-highest peak on Wednesday, media reports said.
Nirmal Purja and four others became the first climbers to stand atop the savage mountain at 7:50am Pakistan time opening a route to the summit point ahead of Adrian Ballinger and Carla Perez, climbing without oxygen.
"Purja, Gesman Tamang and Lakpa Dendi Sherpa from Project Possible team and Chhangba Sherpa and Lakpa Temba Sherpa from Seven Summit Treks opened the route becoming the season's first summiteers of the world's second-highest peak this year," Mingma Dawa Sherpa, Chairman at Seven Summit Treks and leader of the expedition, told the Himalayan Time from base camp.
"We will head for Broad Peak once the team descends to the base camp," Mingma, who also plans to complete his 13th eight-thousander this season, told HT. He added that at least 17 more climbers would attempt to climb K2 on Thursday morning.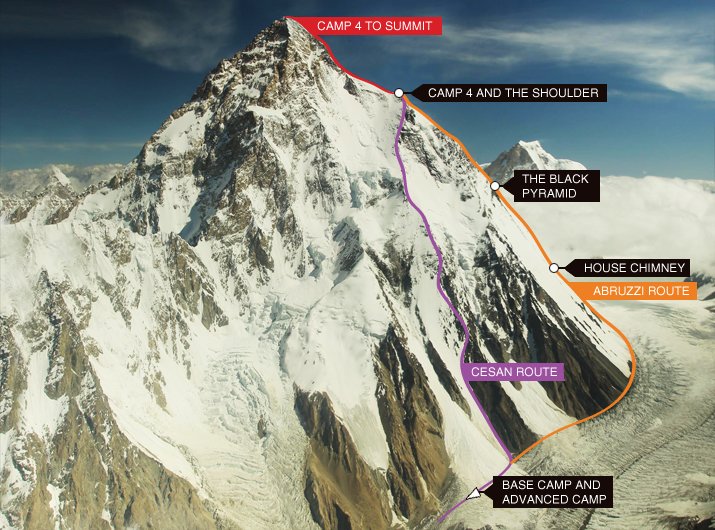 The four left camp four on the Abruzzi Spur route at 10:20pm on July 23 and spent eight hours fixing ropes to the top. K2 is Purja's 10th 8,000-metre summit in over three months.
Purja stood on the top of Annapurna on April 23. He is now headed to attempt Broad Peak. He hopes to climb all 14 peaks above 8,000 metres in only seven months.
Earlier, Purja, a former British Special Forces member, climbed Nanga Parbat on July 3 and Gasherbrum–I on July 15 and Gasherbrum–II on July 18 this season.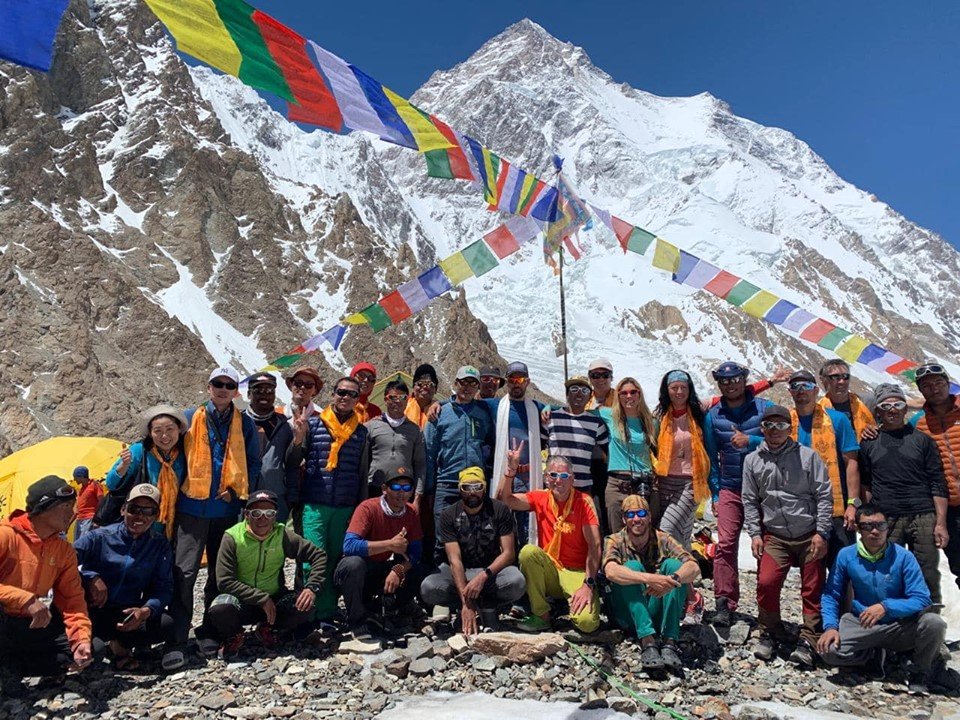 The owner of Elite Himalayan Adventure, Purja will complete his second phase by climbing Broad Peak in the next couple of days, Mingma Sherpa said."
According to Project Possible, his final attempt will begin in September with plans to climb the remaining three peaks – Manaslu, Cho Oyu and Sishapangma – by this November.
Purja and the team have returned to Base Camp, while Ballinger and Perez have descended to Camp 4.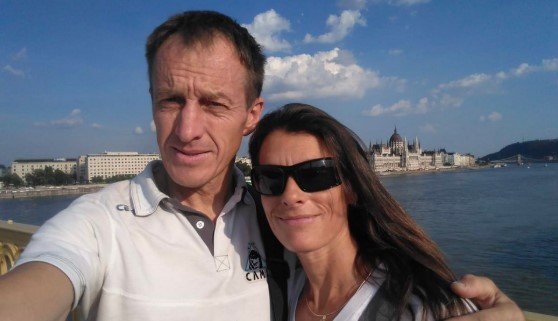 Last year, Montreal firefighter Serge Dessureault tragically fell to his death attempting K2.
A large number of climbers is currently on their way to Camp 4, aiming for the summit, reported K2Climb.net, a news portal of mountaineering. An international group of clients from Bulgaria, the Czech Republic, Germany, the United States, Poland, Austria and Brazil, with their personal Seven Summit Treks guides and porters, will follow on July 25.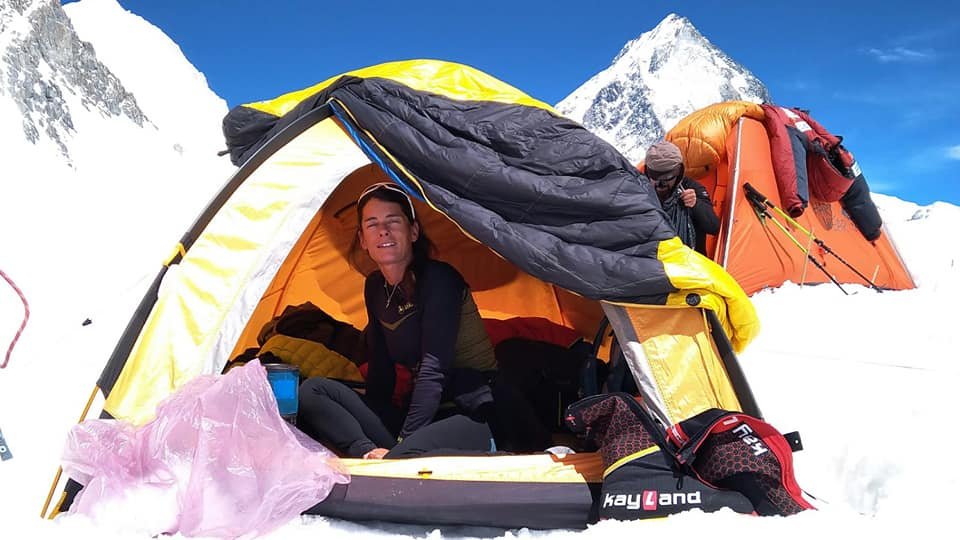 Around 120 climbers are currently making their way up K2, in 10 separate teams. Most of the big teams have called off their expedition because of the extreme avalanche danger near the summit. The end of the Savage Mountain could be at hand. By next year, K2 could become the 'tamed mountain', if Imagine Nepal carries out its plan to eliminate the most technical passages by installing ladders to the top.
American Adrian Ballinger and Ecuadorian Carla Perez reached the summit of K2 on July 24 without using supplemental oxygen. They were supported by Esteban Mena, Namgye and Pemba Gelje Sherpa. Ms Carla was the first Latin American woman to climb Everest without supplemental oxygen.
Mike Horn and Fred Roux, climbing without supplemental O2, have been forced to abandon their summit bid. Both are reportedly suffering minor frostbite on their faces and feet.
Climbers on K2 are heading up the Abruzzi Spur, the Cesen and Southeast Ridge.
"If you want K2 with less snow (and therefore more climbable), then you need high jet stream winds before a summit push, because that will swipe away all the fresh, soft snow above 8,000m," SST owner Mingma Sherpa said.
Fredrik Sträng of Sweden expressed his turmoil on Facebook: "It was my fourth attempt on K2 without supplemental O2: 12 years of training, 6 months on the mountain overall, unprecedented favourable weather, no wind on July 18's summit attempt, a full moon lit our way … and then waist to chest-deep snow on the last section — the traverse and the final 200m snow ramp – made it unpassable and furthermore dangerous. Several people got caught in small but destructive avalanches that could have sent them into oblivion but luckily stopped."
He went on: "We are all back down in BC now. Some are frustrated at having the best weather imaginable and still not making it, others are processing the experience of surviving an avalanche. I'm trying to recover from a devilish viral infection that simply won't let go."
Stairway to the summit?
The atmosphere is radically different on K2, where climbers are starting to suffer from bitter cold, long hours at high altitude and, seemingly, a lack of cooperation.
Imagine Nepal was one of the groups that called off their attempt on K2 because of safety concerns. As a Plan B, they have moved 10 climbers to Gasherbrum II, where they will launch a summit bid. Meanwhile, the outfitter has aired an idea to lessen future risk for its clients: Use ladders to turn the upper, most exposed sections of K2 into a sort of via ferrata.
"We will prepare with ladders, a drill machine and bolts to follow the rocky route which is almost 100% safe," the company enthusiastically states. Apparently, someone in "Garrett's team" (Madison Mountaineering) floated the idea, which has its origins after an old 1939 attempt.
The news quickly spread through social media and triggered an avalanche of responses, virtually none of them favorable.
Meanwhile, Sherpas are far from happy at the lack of collaboration. "Temba Bhote, Kasang Dawa, Chhangba Sherpa, Gesman Tamang and Lakpa Temba Sherpa fixed line above the Bottleneck up to 8,320m.
"We really got no support from the other agencies [on the Abruzzi Spur]. Our team did all the fixing … and I cannot understand why this trend goes on every year."
Many climbers arrived in K2 with no ropes to fix and no intention of helping.
"Going back to their country, they call themselves alpinists or they say in public that they never used oxygen or had any Sherpa or Pakistani support," said Mingma Sherpa. "All these parasites on K2 are sleeping in tents and monitoring the route but they have no courage to go out and help the fixing team."
Speaking of courage, Mingma remarked that some of the Sherpas who were caught in avalanche resumed their rope-fixing duties.
Not every foreign climber is sitting on his hands. Louis Rousseau of Canada and Rick Allen of Scotland did volunteered to help and fixed ropes from Camp 4 to 8,200-8,300m, together with 5 Sherpas, as Rousseau's wife told ExplorersWeb. Rousseau and Allen reported they had turned around at 8,200-8,300 due to excess of snow and returned to Camp 4).
Lina Quesada of Spain posted on Twitter that she will try to reach the summit on July 27. Szilárd Suhajda and Dávid Klein of Hungary are currently on their way to Camp 4, which they expect to reach at about 4am local time.
Attempts began in 1902 by British climber Aleister Crowley to climb K2. In 1938, Charles Houston led the first American Karakoram expedition. Their members explored several routes, managed their way up the House Chimney and made it as far as 7,500m, still well below the Bottleneck. They also mapped the Abruzzi Spur as the best potential route to the summit. Fritz Wiessner led a second American expedition in 1939. The accomplished Wiessner did climb the rocky outcrops on the left. The feat took him nine hours of unprecedentedly difficult climbing at that altitude. After that hair-raising section, his Sherpas insisted on retreating, despite the fact that the way to the top was straightforward from that point. The expedition ended up in tragedy with four dead. In the ensuing controversy, survivors blamed each other, and subsequent expeditions shelved the idea of difficult, exposed rock climbing at that altitude.
Sixteen years later, in 1954, the Italians Lino Lacedelli and Achille Compagnoni did, in fact, achieve the first ascent of K2 via that route.
In 2004, 51 climbers reached the summit of K2 and in 2014 there were 49.
On July 22, 2018, Polish climber Andrzej Bargiel became the first person to ski down from summit to basecamp.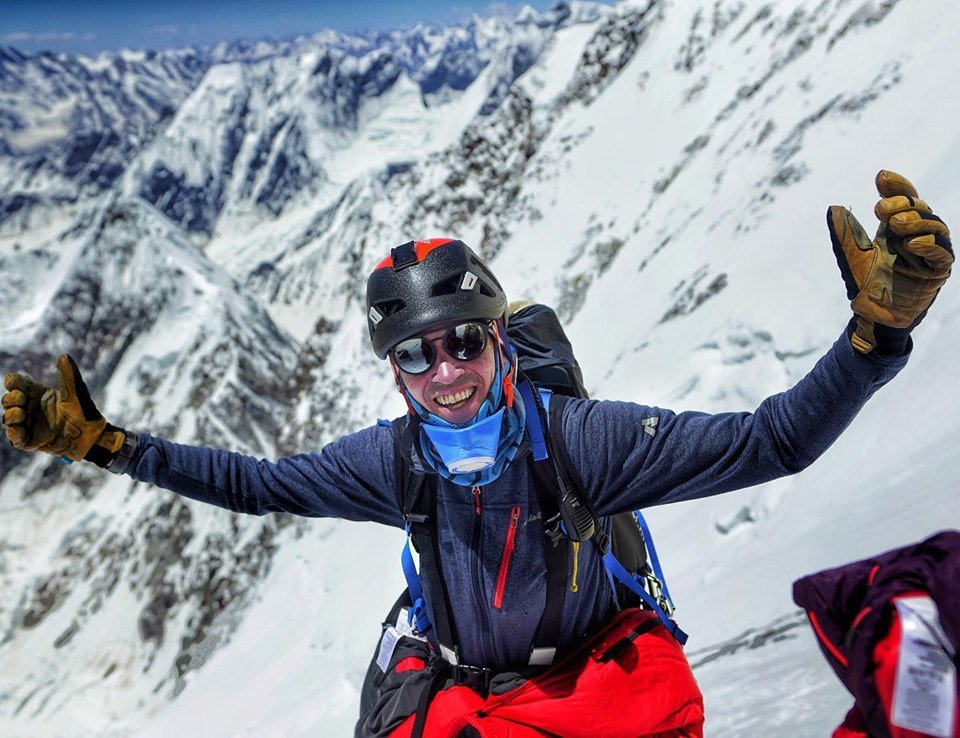 This has been "The Week" in the Karakorum: the brief core period when everyone is hurrying toward the summits of K2, Gasherbrum I and Gasherbrum II. Although the weather has been exceptionally good, conditions on some upper sections have created mixed results. Climbers on Gasherbrum II were successful.
It's also been a week of records. Sergi Mingote bagged his sixth 8000'er within a year.
While most climbers have focused on either K2and Gasherbrum II, Csaba Varga of Hungary has just fought his way up Hidden Peak in 13 hours from Camp 3 to summit.
Meanwhile, Atanas Skatov of Bulgaria reached the top of Gasherbrum-II on July 17, on his ninth 8000'er. Denis Urubko completed his acclimatization by summiting and returning at an amazing speed, according to local outfitters.
Mingote has climbed six summits in just over a year, but this remarkable accomplishment pales next to Purja chain-climbing nine 8000'ers in 2019. He called off his climb of Hidden Peak earlier this week.
After worldwide media picked up the news, Purja's PR team turned from idle to full throttle. They posted a long list of epic quotes and heroic adjectives, two self-portraits and these details: "Summited Gasherbrum-I (8,080m) and Gasherbrum-II (8,035m) within three days after covering eight days trekking from Nanga Parbat in just three days."
The worldwide climbing community is starting to appreciate the amazing feat achieved by first-class climbers Kazuya Hiraide and Kenro Nakajima on Pakistan's Rakaposhi (7,788m). Thomas Huber and Simon Gietl are currently in the Choktoi Valley, perhaps targeting 7,145m Latok I, which they attempted last year. Huber is circumspect about their exact plans, and at 52, he has no interest in climbing with one eye on his Instagram likes, so don't expect to hear from them until they finish.
Finally, speaking of young climbers, 10-year-old Selena Khawaja became the youngest person ever to summit Spantik (7,027m), in northern Pakistan. Spantik is considered technically easy, but easy or not, she is thought to be the youngest ever to climb a 7,000m peak. Selena climbed with her father, Yousaf Khawaja.
Spantik is only the first notable peak in her training. Broad Peak is next on the list, followed in theory by Everest in 2020. This would make her, at 11, the youngest Everest summiter.
Her biggest challenge may be getting around the regulations: The current youngest (Jordan Romero, 13) raised such a controversy that Nepal and China banned climbers less than 16 years old from the flanks of Everest.
Rescue missions
Meanwhile, Pakistan Army Aviation helicopters rescued the US climber Michelle Marco from Biafo Glacier near Hisper valley of Nagar district on Wednesday. She was injured after falling from a height near Uzum Brak and sustained multiple injuries. She was also accompanied by fellow US climber, Patrick Light. Both climbers were successfully evacuated and shifted to CMH Skardu.
Earlier on Tuesday last, Army Aviation pilots in a daring mission rescued Italian climbers, Francesco Cassardo and Cala Cementi and Russian Konstantins from a 6,000-metre altitude of Gasherbrum-II. The climbers were shifted to the CMH Skardu.
Another Russian, Konstantin Sidorov, was also evacuated from Camp-I of Gasherbrum-II.
On July 18, Denis Urubko summited Gasherbrum II; 48 hours later, he was running (literally) toward Gasherbrum VII to help rescue Francesco Cassardo. Urubko's wife Maria Cardell fell and hurt her back during the trek to Base Camp. It became worse when she tried to push through the injury and do the first acclimatization round to Camp 2 on Gasherbrum.
NIRMAL 'NIMS'  SUMMIT SUCCESS:
K2                                         July 24
Gasherbrum II                 July 18
Gasherbrum I                   July 15
Nanga Parbat                    July 03
Mt Makalu                         May 24
Mt Everest                         May 22
Mt Lhotse                          May 22
Mt Kanchenjunga            May 15
Mt Dhaulagiri                    May 12
Mt Annapurna                 April 23