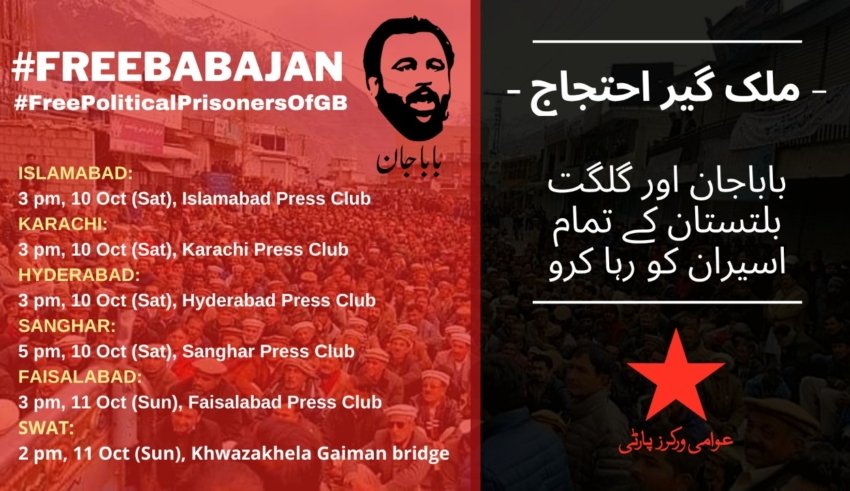 By Amir Roshan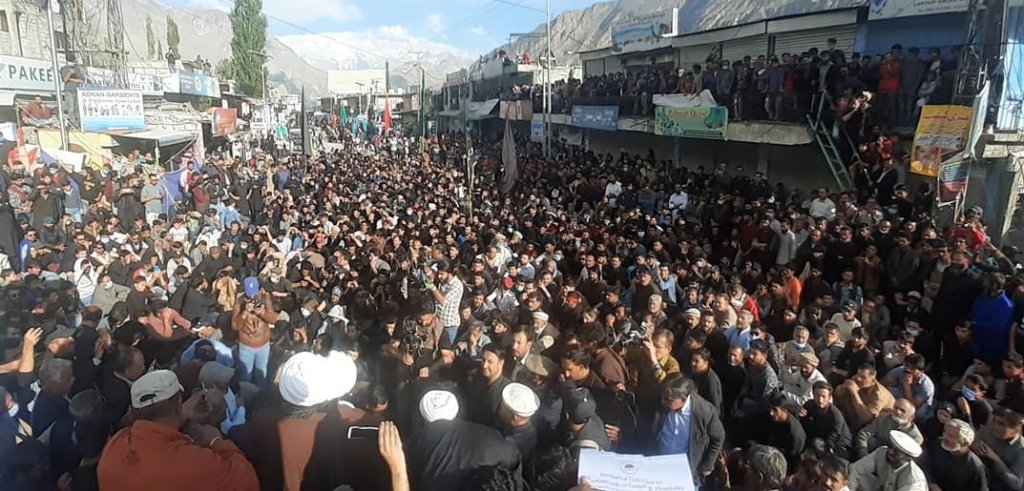 As the sit-in and protests for the release of Awami Workers Party (AWP) leaders Baba Jan, Aleem Ahmed, Iftikhar Karbalai, and 11 other imprisoned comrades continue, more people pour into Aliabad to join the main dharna and express solidarity with the families and friends of the prisoners.
The sit-in that started at Aliabad, the main town of Hunza District on Monday, is now spreading in other districts of Gilgit-Baltistan and cities of Pakistan, grabbing the attention of national as well as international media.
Religious scholar Sheikh Muneer Hussain while addressing the Chehlum congregation of the martyrs of Karbala at Chalt, Nager said that Baba Jan is a hero of Gilgit-Baltistan who raised voice for the oppressed people.
He criticized the government for setting free terrorist who killed hundreds of innocent people across Pakistan, in KP's tribal areas and Balochistan and school children while keeping those innocent youth behind bars for nine years who speak for justice and rights of the people.
He warned that if the 14 prisoners were not released he will give a call for protest march across GB.
Similarly, a chehlum procession joined the sit-in participants at Aliabad showing an unprecedented gesture of unity and chanted slogans for the release of Baba Jan and his friends.
Meanwhile, a protest was held at Lahore that was joined by the Nazneen, sister of Baba Jan, musician Niaz Hunzai, students from GB and leaders of Haqooq-Khalq Movement, AWP and civil society activists.
On Friday, Balawaristan National Front (BNF) chairman Nawaz Khan Naji, PTI candidate from Ghizer 1 Zaffar Muhammad, independent candidate Shakeel Ahmad, a PPP candidate Syed Jalaluddin, and other political activists participated in a protest at Chatorkhand, demanding the release of Baba Jan and other political prisoners.
Addressing the protesters, Mr Naji reiterated his party's support to the prisoners' families, saying he had always raised voice in support of people of other regions.
"Today you must feel the agonies of the prisoners' family members," and express solidarity with them," he added.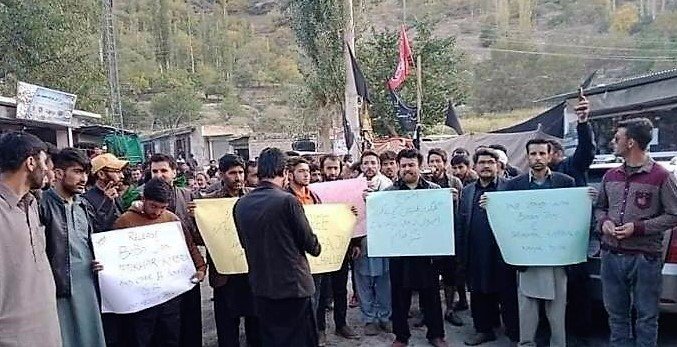 He asked the government to revamp the judicial system as, according to him, the Supreme Appellate Court is without a judge for the last three years and cases are piling up making the litigants to suffer.
Earlier addressing a huge crowd at Aliabad Hunza amid rousing welcome and slogans, Mr Naji came down heavily on the government for denying justice to the prisoners of Hunza.
He highlighted the importance of Hunza in historical perspective and demanded the government to withdraw the FIR against all 14 prisoners.
The firebrand nationalist leader lauded the people of Hunza especially the women for standing up against injustices and for their rights.
At Chatorkhand Advocate Shakeel Ahmad said, "Baba Jan and his friends were punished for raising their voice for the voiceless people.
He also called on the government and the President of Pakistan to immediately release the political leaders.
Zaffar Muhmmad also expressed solidarity with prisoners' families and warned to fight the state repression if the government did not heed their demands, a protest will be launched from Ishkoman.
Syed Jalaluddin also demanded the government to ensuring the independence of the judiciary in Gilgit-Baltistan and release the prisoners immediately.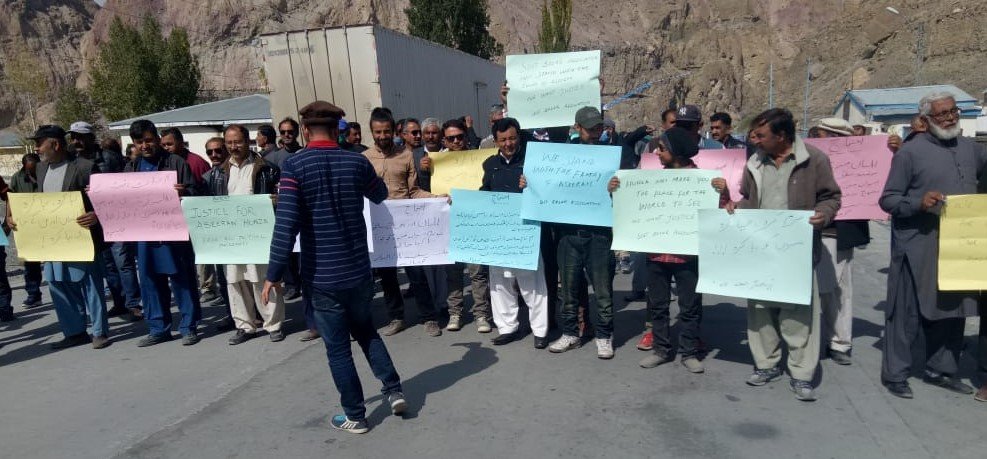 Protest at Sost
A protest rally and sit-in were also held at the Pak-China border town of Sost in Gojal that was participated by a large number of activists and leaders of different political parties, traders and youth.
The protest was organized by the Bazaar Association and joined by local leaders and activists including Raza Muhammad, a social activist, Nazir, a businessman from Nagar, Doulat Karim (PPP), Najeebullah (PTI), Asif Saeed Sakhi and Farman Baig (AWP) and Muslim League-Nawaz (PML-N) activists.
The protesters were holding placards inscribed with various slogans and release of Baba Jan and other innocent political activists.
They warned of launching a long march from Sost to Aliabad if their demands were not met.
On Thursday, protest rallies were also held at Chatorkhand, Nager and Skardu which were participated by political leaders, traders, social and youth activists.
Lawyers' strike call
Some political and lawyers bodies have given a call for protests in GB and across Pakistan for Saturday.
AWP President Yousuf Mustikhan has given a call for countrywide protest on October 10. The party national units have planned protests at Islamabad, Karachi, Hyderabad, Larkana, Sanghar, Multan, Faisalabad, Quetta, Buner, Malakand, Swat and other towns.
District Bar Association of Skardu has also given a call second time for observing a strike on Saturday.