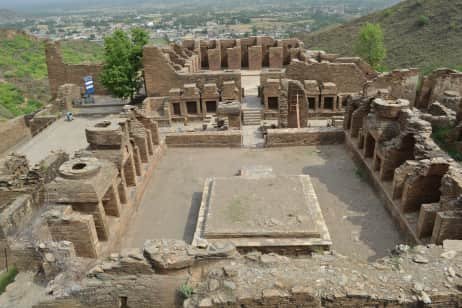 Japan wants to revive the archaeological mission in Pakistan: Dr Satoshi
While appreciating the Pakistan government's opening of Kartarpur Corridor to facilitate the Sikh community to visit Gurdwara Darbar Sahib, diplomats, academia and culture activists seek as similar initiatives for Buddhists to visit holy places in Gandhara Valley.
They echoed this at a lecture on the 'Japanese Archaeological Mission in Pakistan' at the Islamabad-based Institute of Social and Policy Sciences (I-SAPS) on Thursday. The lecture was organized by the Centre for Culture and Development (C2D) in collaboration with the Japanese embassy.
Among the attendees were researchers, archaeologists, representatives from academia, and cultural organisations, including Professor Esther Park, an expert on Buddhist heritage, Sri Lankan ambassador Noordeen Shaheid, Japanese cultural attaché, and wife of Japanese ambassador Dr Nadeem Omar Tarar, Ayaz Kiyani, Aziz Ali Dad, and Zaigham Khan.
"Japan wants to revive its archaeological mission in Pakistan to continue its eight decades efforts in discovering, documenting and preserving remains of Gandhara civilization", said Dr Satoshi Naiki, a Professor at the Kyoto University and an expert on the 2000 years old civilization.
Dr Satoshi, Professor, Culture, Heritage, Kyoto University gives a lecture on Japanese Archaeological Mission in Pakistan at I-SAP, Islamabad. Photo: C2D
---
Dr Satoshi, who is currently leading a Japanese archaeological mission in Pakistan, gave a talk with the help of digital slides and maps on the various phases of excavations of Buddhist remains in Swat and other parts of Khyber-Pakhtunkhwa as well as in Taxila and spoke about the historical and cultural links between Japan and Pakistan.
"Although Japan and Pakistan are geographically situated at distant locations 6,000km from each other, both are linked through Gandhara civilization," he said.
Buddhism and temples, according to Dr Satoshi, are integral parts of Japanese culture and society and traced its roots to Gandhara civilization. "The art of sculptures, potteries and artifacts came to Japan from Julian and Taxila the seat of Buddhist learning," the professor noted.
Dr Satoshi also mentioned the sculptures, artifacts, stones, and potteries discovered from Yungang caves in China during 1936-48 excavations. The stone carving art came to China from Swat and Bamiyan, Afghanistan, he said.
He explained the drawings, motifs of the geometrical designs, and the technique of rubbing on caves to get sketches found from the Yungang caves as well as the reflectors that were used to deflect sunlight to light up the caves.
Speaking about the activities of the Japanese mission in Pakistan led by Professor Seiichi Mizuno of the Kyoto University, Dr Satoshi said it made discoveries from 1959 to 1992 at Chanaka Dheri, Mekhasada, Taxila, Udyana, Zar Dheri in Mansehra, Ranigat and Thareli. The research team produced 16 volumes of reports on these missions from 1951 to 1956. He also highlighted the discoveries by the mission, led by Prof Mizumo of the Kyoto Scientific Mission to Smast in Kashmir, Iranian Plateau, the Hindu Kush and Bamiyan caves in 1959.
The excavation at Thareli from 1963 to 1971 found temples, monastic cells, stupa and courts shrines, potteries, schist, and stucco sculptures near Shahbaz Garhi on the mountains at Binyan Tangeri.He also mentioned the discoveries by a 10-member expert, led by Prof Koji Nishikawa, Director of Kyoto University Scientific Expedition to Gandhara valley. The team undertook a pilot excavation at the site of Ranigat (rock of queen), located in the Buner district, 140km from Peshawar and the largest Buddhist monastic complex.
The mission discovered many stupas and monasteries, documented and published in a two-volume book containing some 2,000 rare photographs of sculptures, stucco, terracotta, stone objects including reliquary and lamps.
The discoveries of images and sculptures from Zar Dheri in Mansehra, Hazara Division, made by Tokyo National Museum separately are characteristically different from other discoveries, he said.
He also mentioned the headless sculptures, vandalized by artifact smugglers. In March 2016, the US authorities announced the confiscation of a 'second-century bodhisattva schist head' from the Gandhara civilization. According to the New York Times, this was the second time in a matter of days that the federal agents seized what they described as illicit antiquities.
Ranighat Buddhist Ruins complex, Swat.
Sculptures found from Ranighat Buddhist Ruins. Photo credit: Sajid Abbasi
---
Shrines, cells and headless sculptures discovered from Sehr-i-Bahlol, KP. Photo credit: Sajid Abbasi
Dr Satoshi also spoke about the Italian mission's work in Borikot Ghwandai in KP, Mankyala, and Julian in Taxila, Punjab, which continues till today.
Sri Lankan Ambassador Noordeen Shaheid who was the chief guest at the occasion spoke about the importance of the Gandhara civilization and acknowledged Pakistan's contribution to preserving and promoting Buddhist heritage.
He rubbished the Western propaganda and stereotypes about Pakistan and lauded the opening of Kartarpur Corridor. The Gurdwara built here was the first Sikh commune established by Guru Nanak, by the first guru of Sikhism. Thus, the initiative, he said, should be seen as a goodwill gesture to improve strained ties between Islamabad and Delhi,  He hoped that a similar arrangement should also be made for Buddhist pilgrims to visit Pakistan from Fareast and other countries.
Earlier, Dr Nadeem Omar Tarar, CEO of the C2D, in his opening remarks said that Gandhara civilization can be made a global symbol of peace connecting different cultures and peoples from all over the world.
He explained the objective of the event, and mission of his organization, saying "C2D aims to create a synergy between cultural capital and development interventions to promote Pakistan as a custodian of the Gandhara Civilization and striving to promote it as a global symbol of peace."
The C2D is also running Islamabad Chaupal to revive the community spirit and discuss various civic, social and cultural issues.
According to Dr Tarar, there are 16,000 Buddhists living in Pakistan, although their number is minuscule, their contribution to the socio-economic development of the country is remarkable.
"Our agenda is to unite people irrespective of their faith, culture, and ethnic background and educate them about the importance of cultural heritage in creating harmony and peace, the former director of NCA said.
He said that his organization works with civil society, academia, government, the diplomatic community, and the UN to safeguard Pakistan's cultural heritage by arranging various activities, digital documentation of Gandhara panoramic landscapes. Through its project 'Gandhara Renaissance', it promotes cultural diplomacy, arranging cultural caravan and heritage tours to heritage sites for Islamabad-based diplomats, he added.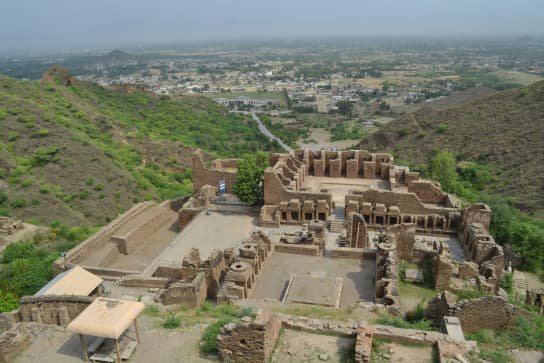 Takht Bai Buddhist Complex on a hillock in KP.
---
About the past activities of C2D, Dr Tarar said "we arranged visits of South Korean monks and involved them in health and cultural activities making of sculptures, artifacts, and paintings through 'moments of interfaith harmony' and 'scholar in residence programme', 'Gandhara clinical services', 'visiting scholar programme', 'artists in residences', 'Gandhara contemporary art exhibitions' under the aegis of Gandhara Research and Resource Centre, to revive Taxila's history of Buddhist centre of learning.
It's worth mentioning here that the Gandhara Civilization that flourished in the present-day Peshawar and Swat Valleys, as well as parts of Afghanistan, ruled by Greeks, Mauryans, Scythians, Parthians, Kushans, and White Huns, were the centre of religious harmony that flourished 2,000 years ago.
According to archaeologists, there are 6,000 historical sites in Khyber-Pakhtunkhwa. Of them, 2,000 belong to the Gandhara Civilization. Several have disappeared while many others have been encroached upon and occupied by locals. In Swat, out of 21 recorded "protected sites" five do not exist at all now.
In 2007, the Tehreek-i-Taliban Pakistan (TTP) took over Swat, dynamited and vandalized Buddhist carvings and sculptures in Jehanabad, the largest rock carving in the world after the statues of Bamiyan. The Taliban were flushed out of Swat in 2009. But these sites face threats from land mafia, artifact smugglers thanks to the authorities' negligence and at times collusion with the mafia, and lack of awareness among people about their history.
According to Dawood Khattak, a journalist, Takht Bai (Throne of Origins) ruins, one of the eight sites in Pakistan with UNESCO World Heritage status, 70km northwest of Peshawar city, are so rich with historical sites that people used to recover statues, relics, and potteries whenever they dug into the land to construct houses. The monastery complex on a hilltop overlooking the bustling town is still there as a reminder of its old grandeur. People have constructed houses on the land and the area, are notorious for illicit excavations without being taken notice by the government.
A few kilometers from Takht-i-Bai is the town of Sahr-i-Bahlol, another World Heritage site, located on a hillock and surrounded by an approximately 3,000-year-old wall. The Takht Bai and neighbouring Sahr-i-Bahlol remains are one of the most imposing relics of Buddhism in the Gandhara region. The Buddhist ruins of Takht Bai is a monastic complex, founded in the early 1st century AD, positioned on various hilltops ranging from 36.6 metres to 152.4 metres in height, typical for Buddhist sites. The complexes cover an area of around 33 hectares.
The Buddhist monastery was in use until the 7th century AD. It is composed of an assemblage of buildings and is the most complete Buddhist monastery in Pakistan. The buildings were constructed of stone in Gandhara patterns (Diaper style) using local dressed and semi-dressed stone blocks set in a lime and mud mortar.
Today, the ruins comprise a main stupa court, votive stupas court, a group of three stupas, the monastic quadrangle with meditation cells, conference hall, covered stepped passageways and other buildings.
The second component, the neighbouring city remains at Sahr-i-Bahlol, is located approximately 5km away in a fertile plain. The Sahr-i-Bahlol ruins are the remnants of a small ancient fortified town of the Kushan period. The town is set on an elongated mound up to 9 metres high and surrounded by portions of the defensive walls in the 'diaper' style characteristic of the first two or three centuries AD. The covered area is 9.7 hectares.
The architectural form, design, and construction techniques of Buddhist ruins of Takht Bai and Sahr-i-Bahlol are the most characteristic examples of the development of monastic and urban communities in the Gandharan region between the 1st to 7th Century AD.
Due to their locations on hillocks, Takht Bai and Sahr-i-Bahlol escaped invasions. The boundaries of the ancient fortified city of Sahr-i-Bahlol are well defined with part of fortification walls are still intact although in deteriorated condition. The site is increasingly threatened by encroachments. Houses have been built directly on top of the ancient ruins and only remnants of the perimeter wall survive. The present boundaries of the property are considered inadequate due to the increasing urbanization.
The inscribed property is also threatened by a number of other factors including uncontrolled vegetation resulting in one of the main causes of decay, inadequate drainage, and lack of security to prevent unauthorized animal and human encroachment and illegal digging. Pollution from local factories and vehicular traffic is also a serious threat adding to the deterioration of the site.