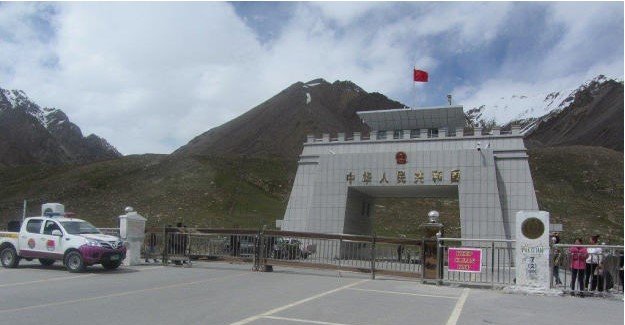 The Chinese border post at Khunjerab in warmer months. iCredit: Rina Saeed Khan
The home department writes a letter to interior ministry opposing the opening of the highest border pass
High Asia herald Report
Islamabad: The Gilgit-Baltistan government has requested the federal government to allow airlifting of medical equipment from Khunjerav border pass, sources told The High Asia Herald.
The Xinjiang Uyghur Autonomous Region Governor Shukrat Zakir has donated the medical equipment in response to a request from GB Chief Minister Hafeezur Rehman to ramp up efforts in containing the spread of the virus which has infected 87 people and killed a young doctor.
The Chinese embassy in Islamabad has requested the Pakistan government to open the Khunjerav border pass temporarily and make arrangements for the smooth delivery of the consignment on March 27 at 9am.
The first batch of the much-needed equipment comprising 200,000 ordinary face masks, 2,000 N95 face masks, five ventilators, 2,000 testing kits, and 2,000 medical protective clothes will arrive at the highest pass on Friday.
"We have requested the army to arrange a helicopter for airlifting the equipment from Khunjerav border pass to Gilgit as the road is blocked due to heavy snowfall," Nazimul Amin, Minister and Vice-Chairman of BoI told The High Asia Herald.
Also read: https://thehighasia.com/covid-19-xinjiang-governor-donates-medical-equipment-for-gb/
The second batch of the medical equipment will be airlifted from the Hunan province of China to Islamabad. NDMA will receive the consignment and hand over to GB authorities, next week, he added.
GB's home secretary Muhammad Ali Randhawa has written a letter to the interior ministry that owing to heavy snowfall the condition of Karakoram Highway (KKH) will hamper transportation of the consignment.
Opening the KKH within such a short period of time is not possible, the letter read.
However, as the medical equipment is urgently required in GB, a meeting was held between Force Commander, FCNA and Chief Secretary Gilgit-Baltistan wherein it was agreed that airlifting of the consignment may be undertaken through MI-17 helicopter from Khunjerav pass to Gilgit.
This is a viable solution as it would ensure minimum contact reducing the risk of contracting COVID-19, and also limit border opening protocols. Upon lifting, the items would then be flown to various destinations, ensuring timely distribution of the much-needed medical equipment, the letter read.