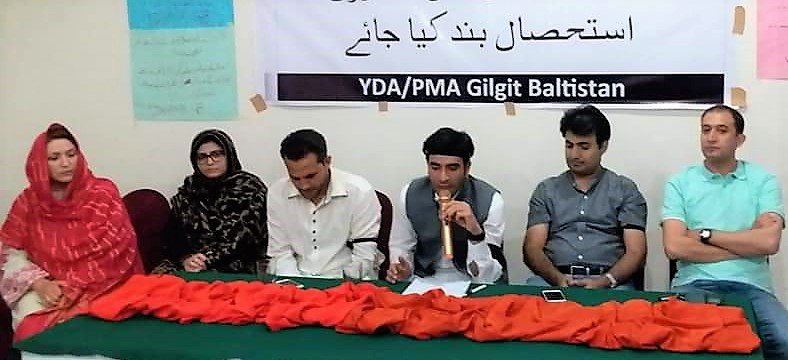 Office-bearers of Young Doctors Association and Pakistan Medical Association Gilgit-Baltistan chapter addressing a press conference at Gilgit on Monday. Photo by HAH/BD
YDA, PMA observe August 26 as 'black day' against the attitude of health authorities, give 10-day ultimatum to government to accept five-point charter of demands, enforce regularisation act
Gilgit: Young Doctors Association (YDA) and Pakistan Medical Association GB chapters observed 'black day' against what they called exploitation of the young professionals, 'irresponsible' attitude of health department bureaucrats and non-acceptance of their longstanding demands.
Addressing a joint news conference here on Monday, office-bearers of YDA and PMA including President Dr Mahboobul Haque and general secretary Dr Ibrahim Rozi, lambasted the health authorities for using delaying tactics in issuing notification of a bill that was passed by the GB Legislative Assembly ten months ago regarding regularisation of contract doctors and approval of policies regarding deputation, and training and of doctors.
They warned that if their demands were not met by September 6, they would launch a protest campaign throughout Gilgit-Baltistan.
They were of the opinion that the Contract Doctors Regularization Act 2018 has not yet been implemented despite its notification five months ago, which has led to anxiety among young doctors. After its notification in March, it was expected that the regularisation orders would be issued very soon, but five months have lapsed, the file has been made a football between the the secretaries of various departments.
Representatives of the two bodies took exception to the health secretary's recent statement and sought a retraction or clarification from the official. They questioned the seriousness of the secretary about his responsibilities and public health.
Sharing their five-point Charter of Demands with media Dr Haque said the aim of observing the black day and press conference was to draw the government's attention towards the YDA problemes and to reaffirm the YDA-PMA commitment to the cause of young professional and will continue our struggle.
He also mentioned about the rising incidents of scuffle between attendants of patients and doctors in recent months and attributed them to lack of proper security, shortage of doctors, non-availability of specialist doctors during evening and night shifts. Only one doctor is assigned the duty to handle emergency cases, leaving the entire hospital after 2pm with only one medical officer to handle new arrivals.
The YDA office-bearers called for ensuring presence of at least one medical, surgical, gynae and paediatrician specialists during evening and night shifts. They also demanded an end to the practice of sending vehicles to pick consultants from home.
They also demanded that medical officers should be deputed in every ward so that patients could be better monitored and the burden of doctors in emergency could be eased so that they fully take care for patients with peace of mind.
Explaining the reasons for the shortage of specialist doctors, he said: "Specialist doctors are not coming to GB because of low pay." They demanded to increase salaries of Gilgit-Baltistan's doctors and brought on a par with package of fellow professionals in other provinces.
Representatives of the YDA-PMA demanded implementation of the Chief Minister Incentive Package' that was announced before budget three months back.
They asked the government to take YDA-PMA onboard and finalise the proposed policies on training, deputation and EOL which have been pending for approval for eight months.
They further said that the GB government has failed to get training seats for doctors increased in medical institutes of the country.
YDA president said the two representative bodies of doctors have been struggling for fulfilling their longstanding demands for the past four years. However, the government's delaying tactics coupled with irresponsible attitude of bureaucracy in resolving these demands have led to deterioration of health delivery system in the region, put the future of young doctors at stake and multiplying their frustration.
They threatened that the two bodies will launch a GB-wide protest campaign from September 6, if the five-point charter of demand were not accepted within 10 days.
Elaborating the protest plan, they said in the first phase doctors will observe strike at the out-patient department (OPD).
They expressed solidarity with their fellow doctors in Chilas DHQ and urged the government to immediately accept their demands. They assured the doctors of Diamer that YDA would stand with them until their demands were met.
They argued that the public hospitals were victims of neglect of the government because they do not go through the hassle to get treatment in these hospitals rather they prefer private hospitals while the poor and the working class patients get treatment in public sector hospitals.
Meanwhile, the YDA's central and district cabinet office-bearers at a meeting the other day took stock of the public health situation in Gilgit-Baltistan hospitals, problems of patients and doctors and delay in implementation of regularisation bill.
Sharing the details of the meeting with The High Asia Herald and Baam-e-Dunya, a YDA official said that "the regulation bill was passed 10 months ago by the Gilgit-Baltistan Legislative Assembly. But, the bureaucracy have not yet notified it which is frustrating the doctors.
---
Inayat Abdali is a political activist, teacher and Bureau Chief of The High Asia Herald and Baam-e-Dunya in GB