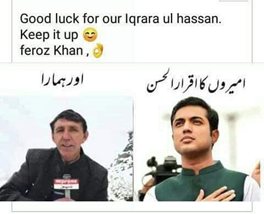 ---
It was a chilly morning of March 2021 at the busy Gahkuch Bazaar. The bazaar here opens early at dawn and closes at dusk. Young Hidayatullah* has opened his general store in the heart of the bazaar. He was looking forward to a usual day before he would retire to his shared room with several other traders from different parts of Khyber-Pakhtunkhwa (KP). They run businesses here for the area's remarkable peace and business-friendly environment.
But this day was not like any other. A man entered his shop. He seemed to be unsure of what he wanted to buy. Instead, he was inspecting the stocks. Soon he started asking questions from Hidayatullah.
Questions such as "why is the cooking oil not tagged for expiry date?"
"Why are these unhealthy snacks on the shelves?"
"Where do you get the substandard eatables from?"
These questions made Hidayat uneasy. Fake, unhealthy, spurious, and adulterated products, underweight packages, the man takes stock of everything.
The situation turned tense and quickly escalated when the man took out his mobile phone and started filming around. Hidayat has been selling these items and nobody has ever questioned him, nor even the local authorities that have been mandated to check the quality and price of these merchandises. He was so accustomed to the practice, he thought it was normal. He reacted violently to the man and pushed him out of his shop with the help of his friends.
It was a bad move. As moments later, the officials of the local administration reached Hidayat's shop. They confiscated his stock and slapped a heavy fine on him. The incident rattled the entire business community, as most of them have been selling the same fake alternatives for higher profit margins.
The man at the centre of the entire chaos was a local journalist — Feroz Khan.
Armed with a mobile phone, Feroz Khan conducted similar snap checks at other businesses and shared the video clippings on social media, forcing local administration to swing into action.
Naturally, Feroz invited ire of the local traders. Unbothered, Feroz chose to focus on taking things to a logical conclusion. In the case in point, he galvanized a robust response against the proliferation of fake and adulterated goods in the local markets. Thus, youth and common people eulogise him as a hero. Some dub him as the 'Iqrarul Hassan of Ghizer'.
Iqrarul Hassan is a Pakistani private channel journalist who is famous for his live gimmicks and vigilante action against crime. I disagree.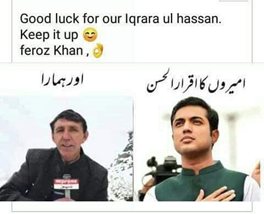 Feroz's vigilante activism is not motivated by monetary incentives. Rather, he is driven by his commitment to make a difference for his people, even if he has to make a few enemies on the way. He continues to use social media as an alternative medium for highlighting genuine issues faced by his people.
Recently, there has been an alarming spike in the number of heart-related diseases and cancer cases, which medical experts attribute to the consumption of substandard food items.
The local authorities are either incompetent or hands in gloves in this practice because they lack the motivation to check the issue. Feroz has also taken note of the authorities' laxity towards their responsibilities. In a similar 'raid' at various government offices, he showed how key government officials are not serious at ensuring decent attendance and punctuality. And thus, making powerful enemies. In a social media post, Feroz acknowledged that he has started receiving threatening calls, allegedly from people he exposed for their criminal activities.
Social media journalism is a whole new experience for the local masses who are used to reading eulogies to officials in the local newspapers. The regional print media heavily relies on government advertisements for revenues, therefore, has to choose between financial gains and journalistic freedom and objectivity.
The privately-owned newspapers are unable to afford the luxury of freedom, therefore, they have limited themselves to being mouthpieces of powerful individuals and institutions. The social media has provided an alternative medium for highlighting genuine issues affecting common people. The new media is hosting different narratives and facilitating exchange of ideas. It shakes, if not ends the monopoly of the powerful individuals and groups on propagating narratives to perpetuate their worldview and hold on power.
The fact, however, remains that it is not Feroz Khan's job to go after criminals. It is the government that should wake up and take action against unscrupulous elements and their illegal acts. While he is at it, I express my support for Feroz and other dedicated journalists who are committed to their profession and making efforts to bring positive change to society.
*Name changed for hiding identity
Sher Zaman is a research and communication specialist based in Islamabad. He is the Editor of Baam-e-Jahan, an online news portal published by The High Asia Media Group