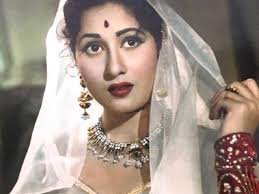 Google has paid tribute to the "the Marilyn Monroe of Bollywood" with a doodle by Bengaluru-based artist Muhammed Sajid
Legendary Bollywood actor Madhubala would have been 86-years-old had she been alive today.
Google has paid tribute to the "the Marilyn Monroe of Bollywood" with a doodle by Bengaluru-based artist Muhammed Sajid. "While her breathtaking appearance earned comparisons to Venus, Madhubala was a gifted actor with an understated style well-suited for comedies, dramas, and romantic roles alike," a blog post of Google said.
Madhubala was born in Delhi in 1933 as Mumtaz Jehan Begum Dehlavi. Her family later moved to Bombay and she was raised in a town located near the Bombay Talkies film studio.
Her first on-screen appearance was at the age of 9 as Baby Mumtaz in the movie Basant. Five years later, Madhubala made her official debut alongside Raj Kapoor in Neel Kamal. As the family's main breadwinner, she worked tirelessly to support her parents and four sisters. Madhubala appeared in nine films during 1949, including a spellbinding breakout performance in the box office hit Mahal. She went on to act in over 70 films in the next two decades, some of the notable ones being Beqasoor, Badal, Howrah Bridge, Kala Pani, Chalti Ka Naam Gaadi and the iconic Mughal-e-Azam.
In the period drama Mughal-e-Azam, Madhubala played Anarkali, the courtesan who falls in love with the Emperor's son Salim. The epic love story ends in tragedy. The character of Salim was reprised by Dilip Kumar. The movie was an instant hit breaking all records of that time. The on-screen pair Dilip Kumar and Madhubala were in a romantic relationship during the filming, which came to an end at the time of the movie's release. Despite winning accolades for her performance, Madhubala never won an award.
Madhubala married actor Kishore Kumar in 1960 and they remained legally together till her death in 1969. However, on I Want to Live: The Story of Madhubala, her biographer Khatija Akbar writes that she chose to marry Kishore Kumar "despite not knowing him well" just to prove that she could live with someone other than Dilip Kumar.
Madhubala's health deteriorated in the 1960s as she was suffering from congenital heart disease. She couldn't complete her committed projects and was largely confined to bed. "When her husband Kishore Kumar took her to London it was already too late," said Sushila Kumari who wrote the actor's biography Madhubala – Dard Ka Safar" She attempted to make a comeback by starring opposite Raj Kapoor, her first on-screen pair. The movie Chalak was never completed. Madhubala died on February 23, 1969.
This feature was first published in The Hindu newspaper, Feb 14, 2019