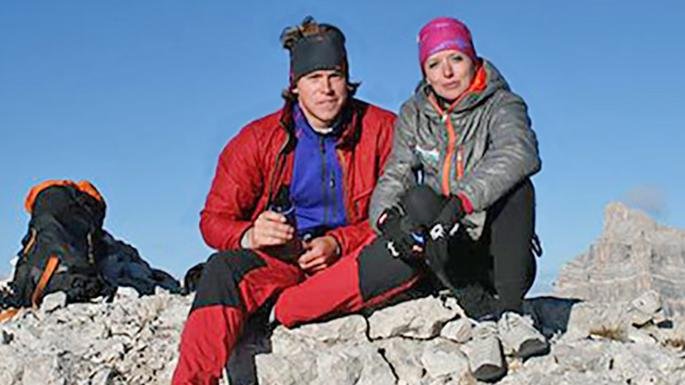 Tom Ballard with girlfriend Stefania Pederiva
News Desk
---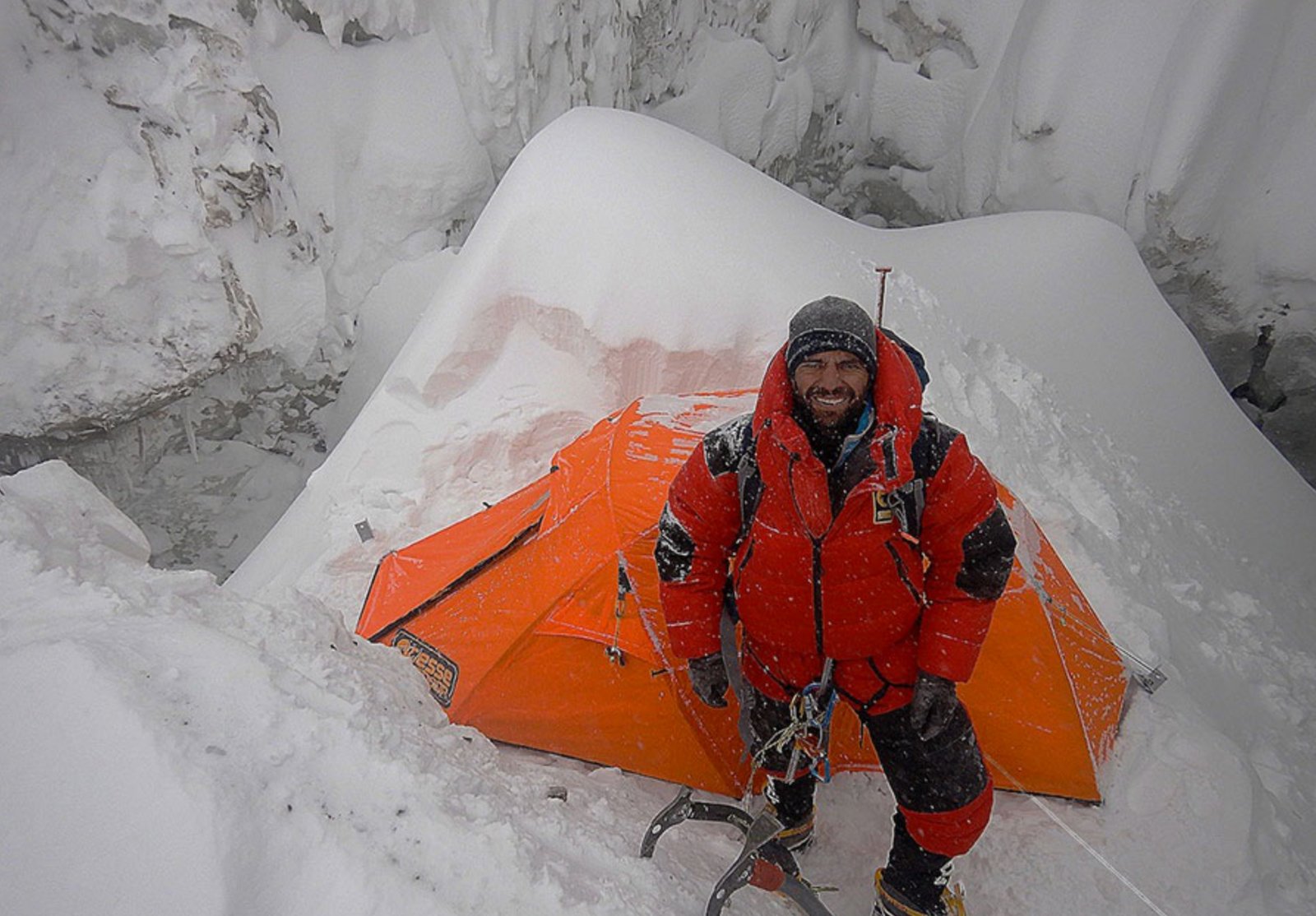 Daniele Nardi, earlier on the expedition.
Helicopter and drone reconnaissance flights have discovered that massive avalanches have swept the Mummery Spur in the last few days. The search gamely continues for Daniele Nardi and Tom Ballard, but back home, the fatalistic comments have already started.
"I guess we're now searching for bodies," Italian climber Simone Moro told The Times.
After transferring the Basque climber Alex Txikon, his team — Felix Criado, Ali Sadpara and Rahmatullah Baig — to Nanga Parbat on Tuesday, the helicopter scouted a large part of the peak's Diamer side, including the normal Kinshoffer route, the ExplorersWeb, the online news portal of mountaineers reported Tuesday night.
The hope was that the missing climbers could perhaps have reached the summit plateau on their last push and decided to descend that way, where fixed ropes from previous expeditions would have been easy to find.
The pilots then followed the Mummery Spur downwards, since the climbers' plans included setting up Camp 4 at 6,000m and then returning to Camp 3 and C2. However, neither the pilots nor Txikon's drones nor a telescope was able to spot any traces of Nardi and Ballard, or their Camp 4 tent.
Txikon and climbing partner Felix Criado set off on foot up to Camp 2, which they found buried in avalanche debris. They retrieved some of the missing pair's personal effects. Then, given the increased risk of avalanches in the afternoon, the Spaniards retreated back to their provisional camp, set between Camp 1 and 2.
On Tuesday, Txikon, Criado and possibly Ali Sadpara and Rahmat Ullah Baig ventured up the mountain again today. They searched the area between Camp 1 and Camp 3, reaching the plateau of seracs above Camp 2. From here, they launched their drones. One scouted up to 6,500 meters; another was lost. The flights discovered no traces. Even Camp 3 had disappeared.
The low temperature on the wall and the high risk of avalanche fall did not allow the group to climb up to Camp 3, so they turned around and reached Base Camp later in the afternoon.
A veteran Italian climber has said the route up a Himalayan mountain taken by the missing climbers was "suicidal" because of avalanches and tumbling chunks of ice as big as cars, and he fears the worst as bad weather hampers the search.
Simone Moro said that Tom Ballard's climbing companion, Daniele Nardi, was obsessed by the mountain after failing to climb it four times.
"Going up the dangerous Mummery Spur on the mountain was like playing Russian roulette, and a Pakistani climber who was due to go with Nardi and Ballard pulled out weeks before the climb, claiming he did not want to die," Mr Moro, 51, told The Times.
"When I heard they were missing I immediately suspected they were lost, and believe we are now looking for bodies," he added.
Mr Ballard, 30, is the son of the mountaineer Alison Hargreaves, who died on K2 in 1995, aged 33, months after becoming the first woman to conquer Everest without oxygen.
The mountaineers last made contact from the spur on February 24, so they have been missing for more than a week in sub-zero temperatures and fierce winds on Nanga Parbat, the world's ninth-highest peak at 26,660ft, and known as "killer mountain" because of its fearsome reputation.
A four-person search team, including a doctor and Alex Txikon, a Spanish climber who knows the men, were picked up from Base Camp on K2, but low cloud forced the helicopter to turn back and land at Skardu on Sunday.
However, according to Stefano Pontecorvo, the Italian ambassador to Pakistan, the rescue team was now at Camp-1 on Nanga Parbat and setting up equipment to fly reconnaissance drones to look for missing men and visibility was good.
On Friday the private company liaising with the Pakistani military to arrange search flights demanded more money than Mr Nardi's family's agent possessed. That was overcome after the UK and Italian ambassadors to Pakistan provided guarantees, Agostino Da Polenza, an Italian climber who has helped to co-ordinate rescue efforts, said.
An online appeal for funds for the rescue effort launched by friends of the climbers has raised €119,000.
Mr Ballard previously climbed Link Sar in Pakistan with Mr Nardi, 42, a veteran Italian mountaineer and motivational speaker who invited the Briton to tackle Nanga Parbat with him.
In 2016 Mr Nardi had planned an ascent of the mountain with a team including Mr Txikon. Mr Nardi was replaced at the last minute by Mr Moro, who said yesterday that his team-mates believed that his fellow Italian was out of shape.
Mr Moro and the climbers made it to the top via a different route in 2016 — the first to do so in winter. "Every day the spur sees avalanches or falling ice chunks like cars, which explode on impact," Mr Moro recalled.
"This year Nardi would have been the first to make the ascent via the spur, and it would have been the first historic climb of his career, but it was madness. If we continue to say they were just unlucky, the risk is someone will die there next year," he added.
Ballard's girlfriend loses hope
The girlfriend of Ballard, said there was "no hope any more" as rescue attempts were suspended because of bad weather.
Stefania Pederiva, who lives in the Italian Dolomites, said: "It's pointless. No hope any more. It is hopeless."
Pederiva, whose father is a mountain guide, spoke last night after a day of snowfall and poor visibility grounded helicopter pilots waiting to resume the search. Climbers at base camp said.
Criticism
While both the climbing community and general public follow the events on Nanga Parbat, the media has enthusiastically dredged up Nanga Parbat's infamous tag of 'Killer Mountain', originally given by the German-Austrian pioneers who suffered a number of casualties before finally reaching its summit back in 1953. Since then, the nickname has proven inaccurate, since Annapurna and K2 kill relatively more climbers.
The outspoken Moro has described the Mummery Spur route as "Russian roulette", due to constant avalanches and huge ice chunks falling right on the route. "If we continue to say they were just unlucky, the risk is someone will die there next year," Moro states. Avalanche danger and deep snow forced Moro to call off his own attempt on winter Manaslu earlier this year.
Meanwhile, on K2…
Both the Russian-Kazakh-Kyrgyz team and the rest of Txikon's crew not involved in the Nanga Parbat search are progressing on a silent K2. The Nepalese Sherpa climbers planned to reach Camp 2 today and will continue fixing ropes up to Camp 3 in coming days.
Vassiliy Pivtsov, Artem Braun, Tursunali Aubakirov and Mikhail Danichkin reached Camp 2 (6,800m) on Monday in 40 to 50kph winds.
According to some standards, winter finished at the end of February, three weeks before the official spring equinox. But the climbers remain hopeful for some success, regardless of how big an asterisk their accomplishment may carry in the winter record books.