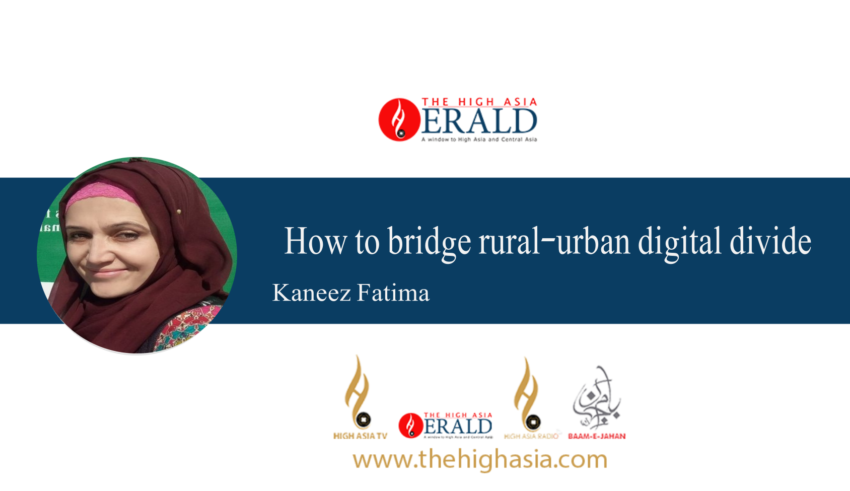 The world during the last three decades has witnessed an exponential growth of the ICT, usage and access to digital media that has on the one hand accelerated the overall progress but at the same time has also exacerbated and widened social and digital inequalities.
According to the latest reports, the number of people around the world using the internet has grown to 4.54 billion. There are 3.80 billion social media users and 5.19 billion users of mobile phones.
In Pakistan, 37.3% of the population lives in urban centres, while 62.7% lives in rural areas (UN). Of the total population of 223 million, 61.34 million use the internet; 46 million use social media, 173.2 million have mobile connections.
However, the uneven development and flawed policies in Pakistan have widened the social and digital inequalities between the urban and rural areas. The current Covid-19 pandemic has exacerbated the social and digital inequalities affecting the poor and the low-paid jobs the most.
In order to reduce social and digital inequalities, there is a need to ensure physical access to a computer and an Internet connection, and equip young people with relevant digital knowledge, skills and the benefits of digital and social media by creating awareness about better usage of technology.
The generation of the 21st-century needs to be equipped with knowledge and information superhighways and technological skills to ensure their competitiveness in the era of globalization (Husain et al., 2016). 'The effective use of ICT offers huge opportunities and potential to empower people in developing countries to overcome difficulties, address social and economic problems they are faced with and strengthen the communities' (Aqilli & Muqhaddam, 2008).
There are numerous studies and research reports on opportunities and challenges associated with the global extension of ICT. One of the major challenges to the people in remote and rural areas of both developed and developing countries is the 'digital divide' (DD) which is recognized as a threat to the expected global economy and the patterns of scientific activities.
As a teacher and teacher educator, I have also observed that DD is one of the major challenges for the school heads, teachers, students as well as parents in the rural context of Pakistan. Thus, the current paper is one of my MPhil courses: 'Learning and Teaching with Technology' I am pursuing at the Aga Khan University's Institute for Educational Development (AKU-IED), which aims at exploring the ways to bridge the digital divide from global and local perspective focusing on accessibility of infrastructure (devices), availability of internet and literacy skills to answer the question.
The concept of DD was introduced in the 1970s when the internet began to be used widely, many scholars and leaders of international organizations began to look at different factors affecting the information gap (Mun-cho & Jung-Kil, 2001). Few studies concentrated on the economic and political aspects of the nature of DD focusing on three levels; 1) available technological and economic resources and their distribution, 2) the role played by political institutions, and 3) individual resources and motivation.
Similarly, Kutton and Peters (2003) believe that the digital divide is a technological problem linked with ICT training (digital literacy skills), personal devices (computer, laptop) and access to the internet. Thus, the digital divide can be understood in the framework of economic, educational, and social inequalities between people and communities on the basis of their accessibility and effective use of information technology.
However, the main question is how to bridge DD so that people can access digital media easily and resolve the social and economic inequalities. Many research works and my own personal experiences suggest that DD can be bridged by the provision of infrastructures, improving socio-economic status, education, expertise, mobile application market and gender discrimination (Holley, 2005; Muhammad et al, 2012; Chetty et al, 2018).
My paper particularly focuses on three major aspects; 1) provision of infrastructure (computers, mobile, and laptop), 2) internet accessibility and 3) digital literacy skills of individuals (IT experts, teachers, and librarians) through which DD can be bridged.
Provision of Devices
Normally in education systems, it is considered that the accessibility of infrastructures such as computers, laptops and iPad provided by the government and the donors is enough to access technology for both teachers and students. Conversely, still, there are a big number of students who left behind only because of the unavailability of devices. Parents are unable to provide them with the facility at their home because of financial issues. However, the provision of devices in this era is compulsory as literature also reports that devices are the most important tools to connect people and to get information around the world as without hardware; it is not possible to keep in touch with the world (Pimenidis, Sideridis & Antonopoulou, 2009).
Therefore, we cannot deny the importance of devices if we take the example of the mobile phone through which we can access the world. On other hand, if we look at the current scenario where the teaching approach is shifted from face to face to online because of Covid 19, as a result, a huge number of students are unable to attend their classes only because of the unavailability of devices/ internet. Particularly in a rural context, there are many schools that are still unable to access devices and as a result, the students couldn't attend their online classes in this pandemic. In addition to that only provision of devices is not enough to get in touch around the globe, so ensuring internet availability is another important area which is a huge DD still faced by many education systems in many parts of the country.
Internet accessibility
According to Libaque-Saenz (2016), a new economy is emerging due to ICT and the internet. Therefore, we need to connect the world through the internet. In addition, having only devices is not enough to connect the world the actual DD of this era is lack of internet access or connectivity. Most of the schools in rural and mountainous regions lack internet facility because of their low socio-economic status, class, gender, poor infrastructure and certain security considerations of the state towards peripheries which create inequalities in remote areas. Children of rural areas and peripheries in urban centres face two potential internet access problems: one is within the school and another one is within their community and home the children lack a support system for academic ICT use. However, public and private sectors can join hands to provide internet to the schools in rural settings (Libuque-Seanz, 2016). Even if the schools which have internet access, suffer because of poor connectivity and low speed.
Hence, to address this issue, the installation of satellite broadband by the government is one of the solutions. The government can address this issue by empowering people to contribute and encourage the participation of communities by providing employment and opportunities to all, reducing barriers of geographic boundaries, and bringing cultures and societies closer to each other (Mujahid 2002).
Furthermore, internet connection through mobile phones is another way to bridge the digital gap and it is the responsibility of the state to reduce this divide by providing access to information and imparting skills to the rural population.
Digital literacy skill
Along with devices and internet accessibility, digital literacy skill is the most important aspect of bridging the digital divide as only having devices and internet connection, without having digital literacy is useless. Digital literacy training for teachers must be made compulsory to facilitate students. Around half of the world's population lives in rural areas having no internet connection and literacy skills, where poverty is widespread (Azam, 2008). To bridge this gap, there is a need to provide training to teachers, technical assistance to parents and academic support to students of rural areas.
In addition, support can be provided to those who have a low level of textual literacy through audio/video presentation along with orientation sessions (Tansknen, 2014). As the application of ICT in schools have transformed the method of teaching and learning and today's children learn quickly how to use and develop their ICT skills with computers, so the schools need to provide training to their human resource to fill this gap.
Furthermore, the role of a librarian becomes crucial in finding new information and resources to support people interact intimately and efficiently with the technology (Aqilli & Muqhaddam, 2008). Conversely, librarians also need to train their patrons in ICT retrieval strategies specifically the use of the internet and electronic databases and for this, they need to equip themselves with good online databases and electronic resources. The librarians need to be trained in the field of ICT accordingly to meet todays' demand by facilitating people with the latest information and information resources regarding ICT.
Moreover, to promote digital transformation in a rural context, equal emphasis needs to be placed on digital skills development as well as improvement of infrastructure and internet accessibility (Chetty et al., 2018). Particularly teachers' ICT skills need to be enhanced to build students' capacity for self-learning in their homes and in society apart from schools. Policies for improving home computing for school-age students can be designed and their parents can be oriented through providing training with the help of projects.
Based on the above discussion, reducing the DD in developing countries, particularly in a rural context, is imperative to meet todays' learners' needs. Technology plays a crucial role in enhancing 21st-century learning skills in rural context as because of the digital divide one cannot expect any tangible improvement in the living condition of the rural population.
Therefore, the prime responsibility rests on the government and the IT sector to realise the gravity of the situation particularly in the wake of the Corona pandemic and take concrete measures accordingly because the socio-economic disparities and diminishing economic opportunities and employment are increasing the divide between the rural and urban populations. It also highlighted from the studies that without ICT skills, it is difficult to improve the socio-economic condition of the people living in rural settings or peripheries to find good job opportunities.
Thus, the digital divide can be bridged by facilitating the schools in rural context with devices (computer, laptop, mobile), internet connection and literacy skills (Pimenidis et al., 2009; Venezky, 2000; Cullen, 2003). In addition, special attention is needed from the government for human development regarding technology to bridge the literacy gap. Moreover, it is the responsibility of the government to provide low-cost internet connections and opportunities to schools in rural and mountainous regions enabling children to meet today's demand and challenges.
References
Acılar, A. (2011). Exploring the aspects of digital divide in a developing country. Issues in Informing Science and Information Technology, 8, 231-244.
Chetty, K., Qigui, L., Gcora, N., Josie, J., Wenwei, L., & Fang, C. (2018). Bridging the digital divide: Measuring digital literacy. Economics: The Open-Access, Open-Assessment E-Journal, 12(23), 1-20.
Cullen, R. (2003). The digital divide: a global and national call to action. The Electronic Library, 21(3), 247-257.
Holley, L. M. (2005). Bridging the global digital divide. Information Technology for Development, 11(2), 199-202. doi: 10.1002/itdj.20012
Husin, W. N. F. W., Arsad, N. M., Othman, O., Halim, L., Rasul, M. S., Osman, K., & Iksan, Z. (2016, June). Fostering students' 21st century skills through Project Oriented Problem Based Learning (POPBL) in integrated STEM education program. In Asia-Pacific Forum on Science Learning and Teaching, 17(1), 1-18.
Libaque-Saenz, C. F. (2016). Strategies for Bridging the Internet Digital Divide in Peru: A Benchmarking of South Korea and Chile. International Conference on Information Resources Management (CONF-IRM)
Mohamed, H., Judi, H. M., Nor, S. F. M., & Yusof, Z. M. (2012). Bridging digital divide: A study on ICT literacy among students in Malaysian rural areas. Australian Journal of Basic and Applied Sciences, 6(7), 39-45.
Mujahid, Y. H. (2002). Digital opportunity initiative for Pakistan. The Electronic Journal of Information Systems in Developing Countries, 8(1), 1-14.
Mun-cho, K. and Jong-Kil, K. (2001). Digital divide: Conceptual discussions and prospect, in Won Kim, Tok Wang Ling, Yoon-Joon Lee and Seung-Soo Park (Eds), The Human Society and the Internet: Internet Related Socio-economic Issues, First International Conference, Seoul, Korea: Proceedings, Springer, New York, NY.
Pimenidis, E., Sideridis, A. B., & Antonopoulou, E. (2009). Mobile devices and services: bridging the digital divide in rural areas. International Journal of Electronic Security and Digital Forensics, 2(4), 424-434.
Tanskanen, T. (2014). Bridging the digital divide in developing countries: The role of mobile technology in bridging the digital divide. (Unpublished master thesis) University of Turku.
Venezky, R. L. (2000). The digital divide within formal school education: Causes and consequences. OECD
Kaneez Fatima is an MPhil scholar at The Aga Khan University Institute for Educational Development (AKU-IED), Karachi.