Denis Urubko is back! Photo Denis Urubko
Climbing alpine style, the 46-year-old Russian-Polish mountaineer Denis Urubko has forged a new route up the 8032m G-II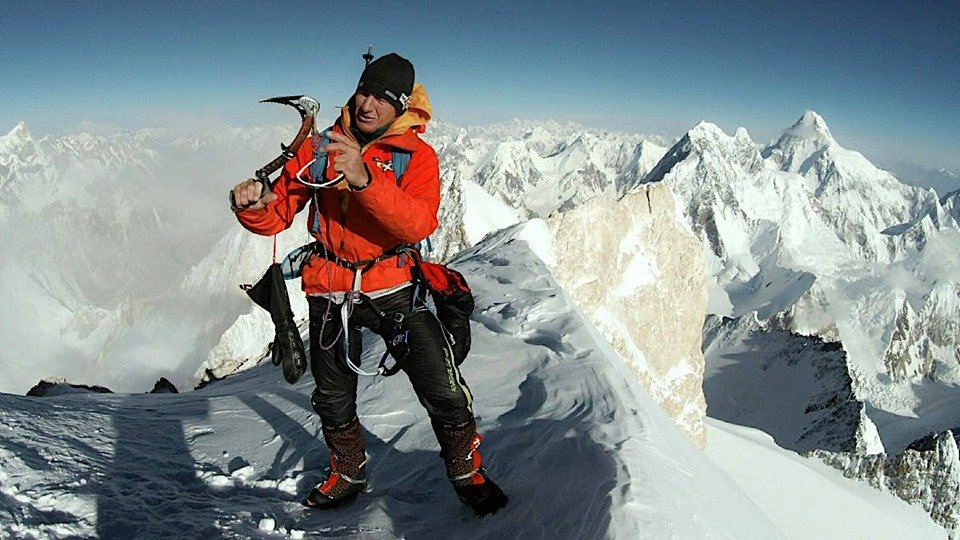 Russian-Polish climber Denis Urubko, 46, has confirmed his reputation as one of the all-time greats of Himalayan mountaineering with his first ascent, solo and without supplementary oxygen, of a new route up Gasherbrum-II.
"I'm happy with gorgeous new line I've called Honey Moon," Denis told Anna Piunova of the mountain.ru, a Russian mountaineering site, on his way downvalley from the upper reaches of G-II.
"I'm tired from 24 hours of continual risk and passion; I'll come back to life with Pipi [his partner, Maria Cardell]." He returned from the 8,032m summit on July 30 to Camp 1 with some climbers including Don Bowie, with whom he had rescued Francesco Cassardo off Gasherbrum VII just a few days earlier.
Urubko knows Gasherbrum II extremely well. In 2001 he climbed this 8000er for the first time, while in 2011 he pulled off the historic first winter ascent of Gasherbrum II with Italy's Simone Moro and America's Cory Richards. On 18 July this year he summit again, as always without supplemental oxygen.
Urubko has climbed all fourteen 8000ers without supplementary oxygen, has added new routes in alpine style up Broad Peak, Manaslu, Cho Oyu, Lhotse and now G-II, and in addition to the first winter ascent of G-II he also made the first winter ascent of Makalu, in 2009 with Simone Moro.
Originally, he hoped to climb with partner María Cardell, but she suffered a back injury during the trek up the Baltoro Glacier. Cardell tried to acclimatize on the normal route, but couldn't get further than Camp 2. In spite of the pain, she remained at Base Camp while Urubko prepared for his new line by summiting the mountain via its normal route. Sticking to solo, alpine-style climbing rules, he was not supposed to step on the route before the single, definitive summit push.
Urubko hoped to rest up for his big effort, but events on the mountain did not allow. Instead, he lead three different rescues in three days, helped mainly by Don Bowie and (on the last two) by Sergi Mingote.
Back home, some praised a true mountain hero, while others wondered why he sacrificed his own chances by exhausting himself helping others. A Twitter comment from RussianClimb cogently explained the matter: "He has been raised and trained in the old Soviet school of mountaineering –- he helps because this is what you have to do."
Meanwhile, everyone but Bowie, his climbing partner Lotta Hintsa and Matthew James from Climbing for Casualties had deserted Gasherbrum. Less than a day after he helped rescue a seriously ill porter, Urubko accompanied the threesome to Camp 1 on the glacier, at the foot of 8,035m Gasherbrum II. That day, he turned 46 years old.
Conditions were far from perfect. Slush and open crevasses increased the danger on the glacier, while unstable snow guarded the upper flanks of the peak. Huge avalanches made Bowie, Hintsa and James delay and finally abort their summit bids via the normal route.
Urubko checked conditions on his planned route and decided to go for it. On July 31, at 7pm local time, Urubko set off into the fading light, determined not to stop until he reached the top and returned to meet the group back at Camp 1.
What followed was a nerve-wracking silence lasting 42 hours. Urubko left with no satphone or radio, no tracking device and of course, no oxygen. His route was mostly out of sight from Camp 1. The climbers there were only able to spot Urubko on Aug. 1 at noon, somewhere above 7,000m.
Then the day finished, night fell and nothing stirred on G-II. Hintsa remarked how dangerous the conditions were: extraordinarily mild temperatures during the night prevented the snow from freezing and thus firming up. Concern grew among the climbing community, although not a single voice expressed it aloud. Urubko is not any other climber, they said. He's Denis — the one who rescues others, never the one in need.
Finally, James broke the news to his home team in the United States, and they passed the information to ExplorersWeb: ""Denis Urubko is back in Camp 1, he summited!".–Courtesy: The ExplorersWeb