---
No trace of Muhammad Ali Sadpara, John Snorri and Juan Pablo Mohr; Sherpas are moving up to bring down Sajid.
---
High Asia Herald Exclusive
---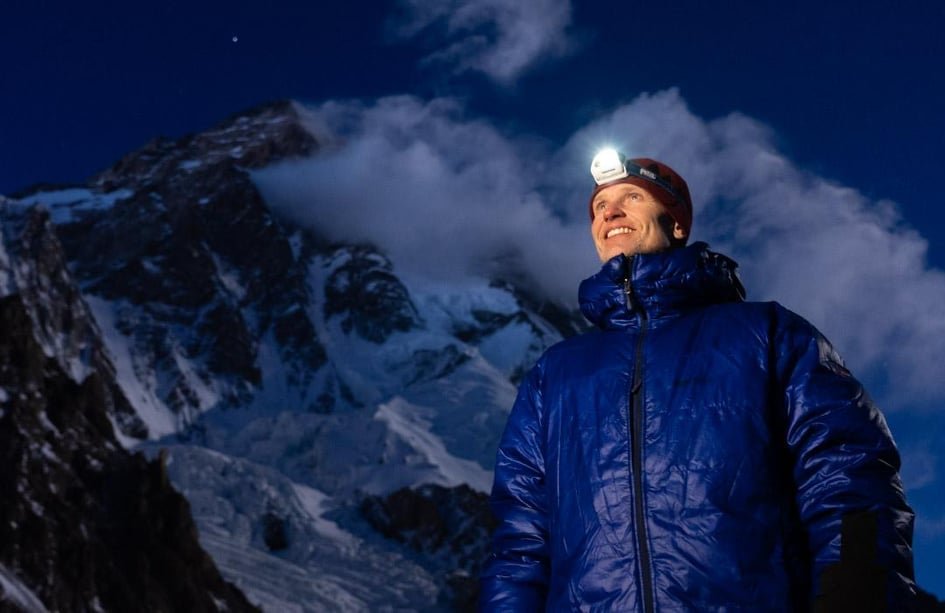 ---
Islamabad: The fake news spread earlier about the success of the K2 expedition has just added to the confusion as there is no information about the three missing climbers on the savage mountain.
The concerns about the safe return of three missing climbers from the dreadful heights of K2 are growing across the globe after every passing moment.
Karim Ali Nizari, a mountain guide who is in contact with people at the K2 Base Camp, said there is no trace of Ali Sadpara, John Snorri, and Juan Pablo Mohr since Friday.
"The mountain is already shrouded in clouds, and strong winds are blowing making any rescue efforts difficult," he said.
He criticized some local reporters and mainstream media for spreading fake news about the summit creating more confusion about the situation. Also, there is no contact with Sajid Sadpara who is at Camp 3.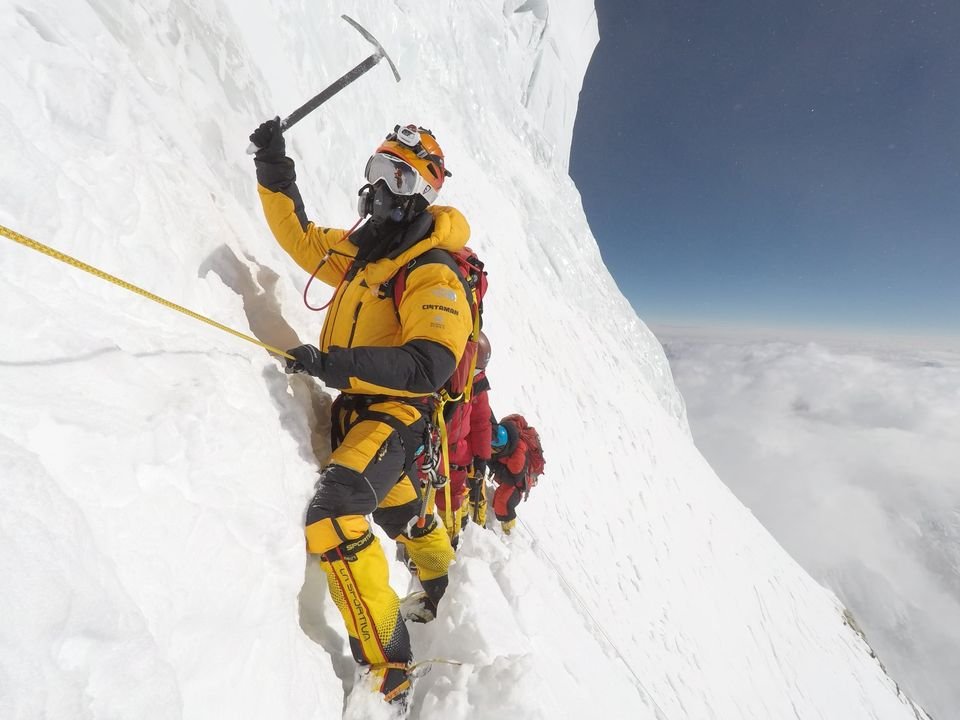 He said Sherpas are on the way up, but they are also exhausted and may not go beyond Camp 2. Helicopters have also been dispatched but they may be able to go only up to Base Camp. One can only hope against hope, Karim said.
Rao Ahmed wrote on Ali Sadpara's microblogging page that "we are still waiting for Ali, John Snorri and JP Mohr to get in contact. While precautionary measures are being undertaken in case of rescue is necessary. Last communication between Sajid and base camp was at 1 am and 4 am."
Gohar Abbas, an award-winning journalist from GB, said regardless of the mountain or location, there are only three sources to get news about a summit. First is the mountaineer/mountaineers, second is the people at the base camp and third and the most important is whoever is tracking the GPS of the summit and they are usually somewhere in Europe or America.
"There is no other source and if some stupid tour operator in Islamabad or a nerd from Alpine Club who has not even climbed the Margallas gives you news, just trash it without giving it a second thought," he wrote on his Facebook page.
It's insane to see journalists attributing news about the summit to anonymous sources, he quipped.
The news was worrisome. Clouds have wrapped around K-2, and the weather had turned into a monster, something symbolic of K-2.
The people at the base camp are worried about the mountaineers because there has been no radio contact and clouds have reduced the visibility.
Flying helicopter is just not possible right now because of the weather and the most they can do is fly to base camp. I sincerely hope the journalist community won't report about fake rescue operations of the army aviation which is nothing more than a PR exercise, quipped Mr Abbas.
Angelina Benavides, a senior journalist and researcher, writing in the ExplorersWeb online magazine also confirmed it.
"It is not possible to know what may have happened since they parted ways at the Bottleneck. We don't know about the state of fixed ropes, the ice conditions under the Great Serac or the risk of slab avalanches on the Shoulder. We do not know if they might have got lost in the dark on the way down, or if they are simply exhausted and moving down slowly or trying to get shelter.
What we do know is that dawn will come in less than four hours. We also know that they are all strong, skilled climbers. Ali, in particular, is the most experienced winter 8,000m climber on the expedition.
We know that the temperatures were extremely cold even for winter K2 and that winds will increase tomorrow (Saturday), mostly in the afternoon, as the jet stream descends on the mountain.
"We know, therefore, that 22-year-old Sajid Sadpara may soon have to make the hardest call of his life and go down, with or without his father and his climbing partners," she wrote.
Finally, we know that if there is someone in Base Camp fit enough to go up and meet Sajid along the route and help him make it down, that person should start preparing his backpack.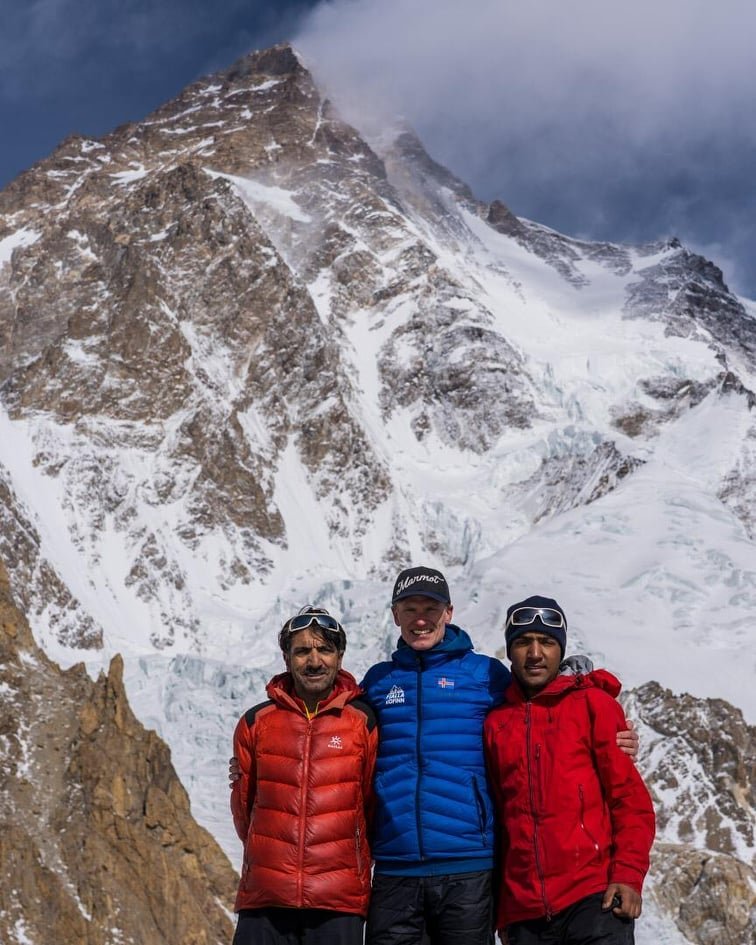 ---
Meanwhile, Karim Nizari said American mountaineer Colin and Greek climber Antonis are suffering from third-degree frostbite. The former is at the BC while the latter is moving down from C1.
Who else is on the K2
While we anxiously wait for news about John Snorri, Ali Sadpara, and JP Mohr, as well as Sajid Sadpara in Camp 3, here is a list of the 24 climbers — 13 Westerners and 11 Sherpas — who either made it back to BC or are on their way from C1, updated The ExplorersWeb Editor, Jerry Kobalenko. These include five Westerners and two Sherpas who turned around at Camp 2. Most went as far as Camp 3.
Atanas Georgiev Skatov, a climber from Chile, died on Friday in a fall during his descent. As far as we've managed to determine, 29 climbers initially left on this latest summit push.
The Westerners back down are Mattia Conte, Magdalena Gorzkowska (evacuated to Skardu), Noel Hanna, Jon Kedrowski, Bernard Lippert, Tamara Lunger, Peter Moerman, Colin O'Brady, Oswaldo Rodrigo Pereira, Tomasz Rotar, Elia Saikaly, Antonios Sykaris, Josette Valloton,
The Sherpas are: Lakpa Dendi, Lakpa Nurbu, Lhakpa Temba, Mingma Temba, Pasang Dukpa, Pasang Norbu, Pastemba, Pechhumbe, Pemba, Phurbu Kusang, and Temba Bhote.