SDPI honors the living legend with 'Lifetime Achievement Award' for his contribution to Urdu language, literature
By Farman Ali
Islamabad: Writers, poets, and intellectuals can best define the development of human society, philosophy, and quality of life. Only those writers, poets, and artists remain alive in people's memory and relevant for all times to come who raise voice against tyranny, social injustice, transcending geographical, social and ideological boundaries and influence the collective consciousness of humanity to document the major happenings of their time in true perspective,
Iftikhar Arif is among the few poets of the South Asian subcontinent who have depicted the pain and agonies of displacement, migration, social injustices and helplessness of the 'wretched of the earth'. He has narrated the unfulfilled dreams in the post-Partition era and tragedies in a language and symbolism that are different from the classical tradition of the progressive literary movement that has earned him respect and relevance in the 21st Century Pakistani society.
This was the gist of the speeches made by speakers at a literary event titled, 'Iftikhar-e-Urdu' (pride of Urdu), organised by the Sustainable Development Policy Institute (SDPI) under its 'living legend' series on December 30, 2019. The event was organised to present the 'Lifetime Achievement Award' to Iftikhar Hussain Arif, in recognition of his contribution to the Urdu language and literature.
Noted literary figures and friends shed light on the lifelong struggle, work and achievements of the poet with personal anecdotes.
Eminent Urdu Poet and literary critic Dr Tauseef Tabassum characterized Mr Arif's poetic work of affection and politeness. Arif's modern phraseology steeped into cultural ethos mesmerizes and compels readers to narrate it again and again. He urged the poet to write his autobiography which could also be a great contribution to the literature.
Ashfaq Saleem Mirza, noted writer and expert of medieval philosophy, read an essay recounting his first meeting with the poet in Karachi five decades ago and acknowledged his immense talent and hard work.  He described Mr Arif a self-made personality who learned the skills of how to survive in difficult times.
"Iftikhar Arif's memory is par excellence which helped him in maintaining cordial relations with friends," said Mr Mirza.
He has an appealing personality mainly due to his unique style of poetry. "Iftikhar's poems 'Barhwan khilari', 'Abhi Kuch Din Lagein Gae' and 'Aik Khwab ki Doori Par' reflect upon the societal ills and behaviour.
Feminist poet and writer Kishwar Naheed recounted her association and fond memories with Mr Arif from PTV days in Karachi to spending self-exile period in London with literary giants like Faiz, Ahmed Faraz, Saqi Farooqi, Zehra Nigah, and Jalib during the military dictator's General Zia's regime and acknowledged his kind-heartedness and sagacity in helping others.
"Iftikhar's style of poetry is like Vilambit Raaga", she commented.
Kishwar said Iftikhar's poetry reflects his empathy for the oppressed and marginalized segments of society. While narrating the stories of different literary events of close friends, she said Iftikhar always care about his literary colleagues and friends. She said Iftikhar's biggest credit was to preserve his respect, honour, and dignity throughout his life and never compromised on his principles and ideology.
Mr Arif's poetry is an important source of material for contemporary trends connecting the past with the present.
Dr Najeeba Arif, Head of Urdu Department, International Islamic University, Islamabad (IIUI) said exploitation, injustices, solitude, and tragedy of tragedy had been central themes of his poetry. But he has used the tragedy of Karbala as a metaphor to depict the tyranny in every form and everywhere in today's world.
She described Mr Arif's poetry as a yardstick for civility and humility that has been shining on the literary scene of Islamabad for the last two decades.
"The pain of migration and sense of insecurity is strong in his poetry," she noted.
Noted short-story writer, critic and teacher Muhammad Hameed Shahid narrated early childhood stories of Mr Arif and his incredible journey from rags to becoming head of premier literary bodies of the country. He said that a child who even could not buy glasses, light and read books in proper light achieved the credential such as President's Pride of Performance Award, Sitara-e-Imtiaz, Hilal-e-Imtiaz. This shows his passion and love for the literature even in difficult times, he said.
"His journey from Lucknow to Karachi was not just migration from one place to another; it was migration from one ideology to another, one century to another century and one society to another which changed the whole narrative of life," remarked Mr Shahid.
Ahmed Saleem, a researcher, author and senior adviser at the SDPI paid tribute to Mr Arif saying his contribution to Urdu literature is unmatched and can't be compensated in material terms.
"We have only respect and love to honour Iftikhar Arif's services," commented Mr Saleem. He went on to say "Mr Arif has the expertise and skill to delve deep into the literature and meanings of the words. He never complained about the lack of acceptance and recognition of his literary work."
Fiction writer and SDPI research fellow Dr Humaira Ishfaque who is in China through Skype touched upon different aspects of Mr Arif's personal and poetic journey and his association with literary giants like Professor Ehtesham Hussain and Faiz Ahmed Faiz.
She said resistance against oppression, social injustice and tyranny is the central element of Mr Arif's poetry. He has also written Hamd, naat, and salam. But religion is just one aspect of his poetry and he has used Karbala's metaphor as well as a symbol against oppression and tyranny, she added.
Earlier in his welcome remarks, SDPI Executive Director Dr Abid Qaiyeum Suleri said it's a great honour for his organsation to celebrate Iftikhar Arif's life and literary contribution to Urdu literature.
Explaining the relevance of the event with his organisation's objectives, he said: "People often ask to define what sustainable development is like to be? To me it is enjoying the quality of life by every individual, whereas the quality of life can only be best defined by a poet and writer through his/her writings and poetry."
Class, ethnic identity
Mr Arif thanked the SDPI for bestowing upon him the 'Lifetime Achievement Award'.  He recounted with humility his early childhood story at Lucknow, the city that keeps and celebrates the great tradition of Urdu literature, family background, tragic incidents, his literary and broadcasting journey and association with some of the literary giants from South Asia and the world.
Born on March 21, 1944, he did master's in Urdu, English, and Sanskrit from Lucknow University under the guidance of an eminent progressive scholar Professor Ehtesham Hussain.
"A person has multiple identities and there is no harm in that. One should not be shy of one's class, ethnic and ideological identities," he exhorted.
"I am proud to be born to a poor family and experienced the miseries of the working class, felt the pain of the vulnerable and marginalized segments of society," he recalled.
"I am also proud to be a Sindhi as after migrating to Pakistan in 1965, I settled in Karachi, I never faced any prejudice or discrimination on the basis of my ethnicity," he said.
About his poetic journey and environment for literature in Pakistan, he lamented the attitude of the state and society towards the writers and poets and the limited space, and resources afforded to them. "In our society, the literary community has no options but to work as an employee of media barons who have their own vested interests," he quipped.
"Despite holding two master's degrees, I was unable to get a job in my early career; I used to work for Rs10 a day as a translator in Radio Pakistan Karachi", he recalled.
He joined PTV and co-hosted with Ubaidullah Baig and Qureshpur, 'Kasauti', a quiz programme that became immensely popular. "I was lucky enough to have good teachers like Aslam Azhar and Saleem Gillani who taught me and groomed me," he said. Aslam Azhar was a genuine intellectual and true to his ideology. He remained committed to his progressive ideals till the last breath of his life. I learned a lot from him, Mr Arif recalled.
At the peak of his popularity, he quit PTV to work for the defunct BCCI bank in London. There, till 1990, he managed the affairs at Urdu Markaz, too.
About constraints and curbs on freedom of expression, especially the progressive writers, and hypocrisy of society, Mr Arif recalled an event when his first collection of poetry was planned to be launched at Lahore and some literary big names were asked to read papers and preside over it, they refused.
He said, he could only write or said what he can afford or have limits, though there is a lot to say or write which he could never get published.
He, however, said that he is not a hypocrite like few others who behind the closed doors apologized and later got the credit for being a revolutionary.
"I never wrote a poem on any one's request or for someone special," he added. His first poem was about the Balochistan tragedy in the 70s.
"If poetry can't reflect or influence the collective consciousness of a society it loses its relevance," he added.
About narration of Karbala tragedy as the central theme in his poetry, Mr Arif said he used the word 'Karbala' as a metaphor to symbolise injustices and tyranny which continues even today all over the world. The oppressors are the same, the oppressed are also the same and the tools of oppression are the same.
"There are three types of history; one which is being written by journalists; second by historians; and the third which is preserved in the literature. The only reliable and objective history is the one which a literary person writes," said Mr Arif.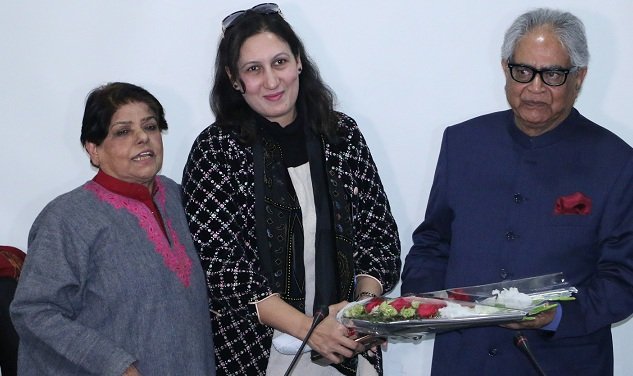 Several collections of his poetry have been published, including a collection of his poetry into English, titled Written in the Season of Fear (OUP, 2003).
He headed literary organisations such as the National Language Authority (now renamed as National Language Promotion Department) and the Pakistan Academy of Letters.
Mr Arif also served as President of the Cultural Institute of the Economic Cooperation Organisation (ECO) in Tehran and returned Pakistan last year to head the NLPD again. He retired from there recently.
He has received numerous awards, including the Faiz International Memorial Award from India.
Mr Arif also recited some of his famous poems towards the end of the ceremony.
Mehboob Zafar, poet, and head of Zavia, a literary organization, moderated the event. He said Iftikhar Arif is an institution whose contributions to Urdu literature and poetry acknowledged not only in Pakistan but abroad as well.