---
Sculptor, painter, poet and musician Imranullah Hunzai will receive the coveted award at a ceremony in Lahore on 30th October.
---
---
Imran Ullah Hunzai, a painter, sculptor, poet and musician has been nominated for the coveted Sadequain Award for this year in recognition of his fabulous work in the fine arts category.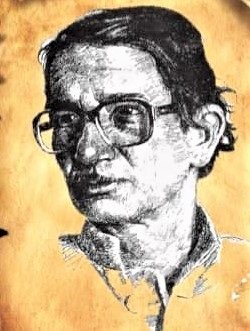 Imran is perhaps the first artist from Gilgit-Baltistan who has been bestowed upon the 'Sadequain Pride of Performance Award for 2021'. He will receive the award at a ceremony at the Governor's House, Lahore on the 30th.
The award — attributed to Sadequain, an internationally-acclaimed painter, calligrapher and poet of Pakistan — is sponsored by various organisations every year and is given to outstanding artists in different categories to acknowledge, appreciate and promote their work.
Imran has dedicated the award to all poets, musicians, artisans and writers of Gilgit-Baltistan.
Colleagues, friends and students have posted congratulatory messages on social media.
Aziz Ali Dad, a Gilgit-based social thinker and writer felicitated the artist on winning the award and said recognition of Imran's work is an important leap of art from Gilgit-Baltistan into the national and international art scene.
Talking to the High Asia Herald he said: "Imran Ullah's art is rooted in local animistic tradition in which every entity of human and natural world is suffused with spirits."
"It is this spirit of Imran's art that sculpts stones, marble, wire and wood into being with a message," he added.
Born in the picturesque Hunza Valley of Gilgit-Baltistan in the laps of the Karakoram Mountains, Imran spent his childhood in a society imbued in folklore.
The artist shared his childhood memories with The High Asia Herald, the organic and self-contained society that has undergone a tremendous change with the exposure to exogenous lifestyles, ideas and market forces.
"In today's world, we all are so much stuck with worldly matters that we can't take out time for children. So they don't grow up like their parents. They grow up with the characters of cartoons they watch on TV channels," he laments.
According to Imran: "We are living in a world of rapid change under the influence of information technology where everything tangible is being transformed into virtual reality, which determines the reality we live in… as a consequence of the influx of information we have become alienated consumers who count their lifespan from expiry dates of objects that end up in modern graveyard – junkyard."
This has not only changed the material dimension of society but also radically altered the very social structure, values.
He graduated from the National College of Arts (NCA), Lahore in 2006, with distinction. He taught at his alma mater's Rawalpindi campus from 2007 to 2016. In 2017, he moved on to the School of Art, Design and Architecture of the National University of Science and Technology (NUST) Islamabad where he taught till May 2021.
Imran is a versatile artist working in almost all mediums of art. He is not just bound to one material and one technique. He moves freely from one medium to another with quite an ease. He also writes poetry in Urdu and Burushaski languages.
A winner of the Public Choice Award at the Karachi Biennale in 2019, he plays all musical instruments and composes music. He established his own art academy 'Hunzais Mann Studio' in Islamabad's G-9 sector in 2008 where he teaches sculpting, painting, drawing, as well as traditional and contemporary music. He has taught hundreds of students; conducted art workshops in different colleges and universities.
He introduced kinetic sculptures for the first time in NCA's history.
His work is a critical expression and response to industry, media, and consumerism, and how inorganic culture, modernity, the commodification of values, nature, and the influx of information are dominating organic life.
His woodwork such as a woman in a bathrobe in pinewood, head bust, towel, honeybee nest, a man with slingshot and birds nest on a tree trunk, sleeper, lockets and rings made from electronic gadgets, ICs, and wires, child cast from tissue paper, a donkey, in monochromatic shades and lines are fabulous.
---
The unromantic presents and a huge mural on wood, a car with a monkey, plastic bags, especially the laminated souls, depict the inorganic changes the mountainous society is undergoing. He has also made sketches and drawings in pencil on paper.
"My work is a response to such inorganic situations where appearance, representation and virtual life is eliminating the social norms and responsibilities.
In one of my works, I have made my sons' portraits on cartoon stickers. It is the representation of how cartoons leave an impact on our children's characters.
Imran has done four national and international residencies, participated in over 60 group and seven solo exhibitions at national and international levels.
However, the down to earth artist feels that he has to do and learn a lot in life as he believes in hard work. He has created his own unique style.
"I have no backup of any lobby in art. I believe in working by heart. It pays back automatically," as he put it.
Also see: https://youtu.be/da3vaeeq9xE
"I believe in myself and my strengths."
About the art landscape in Gilgit-Baltistan, he succinctly comments: "in GB's society a bureaucrat is more revered than an artist, writer and poet".
In such a situation, Imran says, it is imperative to explore the nature of representation in arts on similar lines when Walter Benjamin examined art in the age of mechanical reproduction.