In remote Tajik mountains, Pamiris keep unique culture alive.
The Pamir mountains of northern Tajikistan are sometimes known as "Baam-e-Jahan" (the roof of the world) or High Asia. Isolated by the rugged terrain, the Pamiri people who live there have preserved some of the Zoroastrian traditions that preceded the advent of Islam. They claim that they are descendants of Alexander The Great. They have preserved their indigenous language and culture but also adopted foreign influence one millennium ago.
In the 11th Century, the Persian Poet, scientist and philosopher Nasir Khusraw came to Badakhshan and introduced people to Ismaili faith, a branch of the Shi'ite Islam, says Yerali Berdev, an artist.
Today there is no contradiction between the two traditions, he said. Islam is 1,000 years old and Zoroastrianism is 3,000 to 4000 years old. Despite the arrival of Islam, we have kept our traditions alive, he says.
How did the Pamirian house keep in itself all the symbolism of the Zoroastrian period?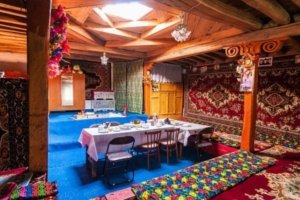 Many people live in traditional Wakhi houses known as chids.
The architecture of the house, according to many researchers, remains the same for 2,500 years. "It should be remembered that all the rituals and customs of the Pamir residents are closely related to the Pamir house. And, God forbid, change something in its structure or try to modernize it, then those rituals, which are also quite a few years old, will also change with this," stresses the historian Alovuddin Shirinbekov.
"Our ancestors built houses like this and the whole family lives under one roof", says the woman. In winters even goat and sheep were kept inside the house. These houses are built to withstand the harsh mountain weather. The windows are small except for the one on the centre of the roof. During Norouz, the Persian new year, celebration, the skylight plays a special role.
"During Norouz, guests can ask for something [through the windows] and they will receive it," says Sayfiddin Nasirdinov. "Now a days children come and ask: give me one rouble, give me five roubles. And they get what they want," he adds.
Like many remote communities, this village has dwindled. As people leave in search of work. Nearly every family in Pamir Region has members working abroad, mainly in Russia. Some stay abroad and get married there. "Are your children also live in Russia," the reporter asked. Sayfiddin said: "Yes one. My youngest son lives in Moscow. "Does he comes here sometimes? Yes he comes sometimes. He has not been here for two years now," he said.
Their number might be fewer. But these remote communities remain full of life. Courtesy Current Times.