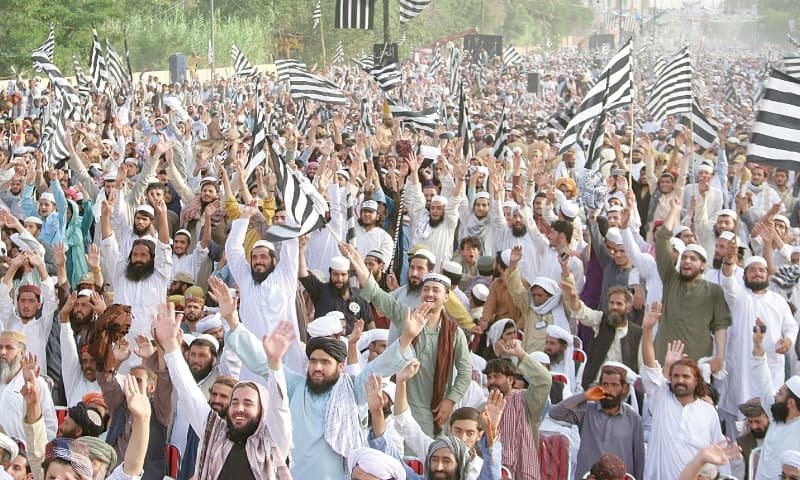 ---
HAH Report
Islamabad: Tens of thousands of charged protesters descended on the federal capital on Thursday calling on Prime Minister Imran Khan to resign over misrule, faulty economic policy and corruption claims.
The 'Azadi (freedom) March' organised by the religiopolitical party, Jamiat Ulema-i-Islam-Fazal (JUI-F), and supported by almost all major opposition parties to show their grievances against the government.
Public and private educational institute, as well as some offices, were closed in Islamabad, entry points sealed off as thousands of protesters aiming to unseat PTI government converged on Islamabad from Lahore and Peshawar.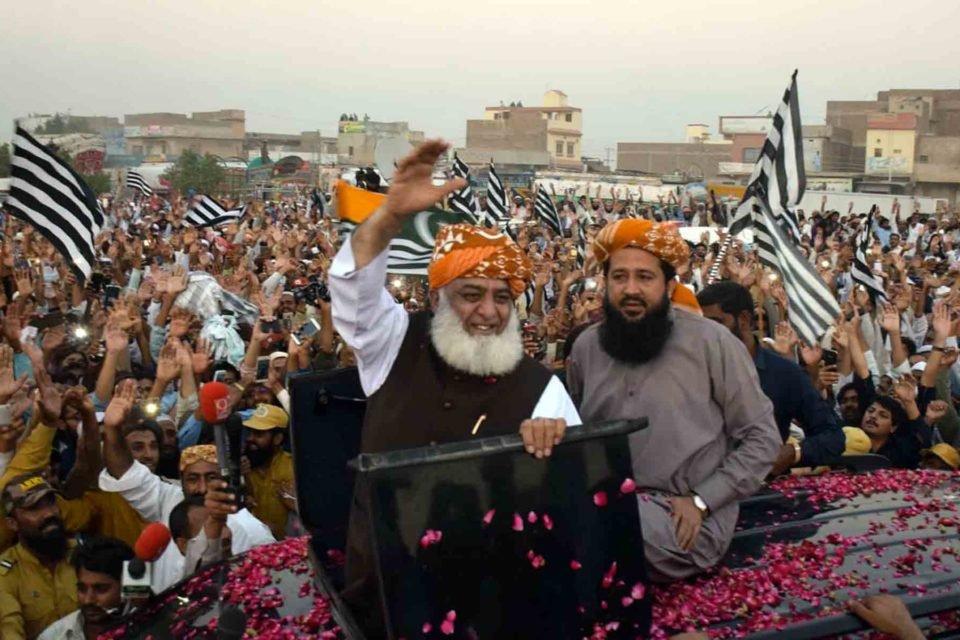 Police and paramilitary troops used shipping containers to block several major traffic arteries between the capital and Rawalpindi ahead of the march, causing traffic jams and frustrating commuters.
Police have reinforced checkpoints around Islamabad and have brought in extra barriers to block roads and seal off the administrative and diplomatic center of the city.
Demonstrators were traveling on buses, bikes, and private cars to gather in Islamabad.
The party said Moulana Fazal would oversee Friday prayers with the protesters before launching a demonstration in the capital.
"The main entry points were closed to ensure the safety of the citizens and government offices," Islamabad police spokesperson Zia Bajwa told AFP, saying a 17,000-strong force was overseeing security in the capital.
The 'Azadi March' is led by Maulana Fazlur Rehman, who heads the JUI-F, one of the country's largest Islamist parties. He heads an alliance of opposition parties in parliament but his real influence comes from his ability to mobilize support, particularly in thousands of madrassahs (religious seminaries) spread across the country.
Pakistan's main opposition parties — Pakistan People's Party (PPP), Pakistan Muslim League-Nawaz (PML-N), Awami National Party (ANP), and Pakhtunkhwa Milli Awami Party (PkMAP) and small parties have said they would back JUI-F's campaign against Khan, though have also said they would not support any unconstitutional action.
The march represents the first major challenge to Khan's government as his administration battles rising public anger over a faltering economy and double-digit inflation, unemployment and faulty foreign policy.
The main demand of the cleric is the removal of the government, as according to him, "Khan is incompetent and his government was illegitimately installed by the military after a rigged election in 2018.
Late on October 30, Moulana Fazal told reporters in Lahore that his movement "will not stop if we don't get the desired results after reaching Islamabad."
"We want the prime minister's resignation; the entire assembly is fake, we want to dissolve it," the cleric said, insisting that a new "free and fair" election held.
PTI won 2018 general elections on promises to end corruption, provide 100 million jobs and 50 million housing units, help middle-class families, and get the country's faltering economy on track. Sadly none of the promises have been fulfilled.
The honeymoon has come to an end as the economy runs into headwinds with the fiscal deficit ballooning to about 7% of gross domestic product and a balance of payments crisis is looming.
Consumer inflation increased to 11.37% year-on-year in September from 10.49% in August largely on food price rises, while the rupee has fallen more than 50% against the dollar since the end of 2017.
The government agreed in July to a $6 billion bailout from the International Monetary Fund.
Independent economists and radical Left decry governments directionless and visionless policies and submitting to imperialist neoliberal economic agenda, overburdening the lower middle and working class while giving exemption to big corporations and elite class in taxes.
Khan rejects his critics' accusations that he is backed by the military, which has a long record of intervention in politics. The military also denies any involvement in civilian politics.
Election authorities rejected opposition complaints of rigging in the 2018 vote.
The government has said it wants negotiations with the opposition while vowing that no one would be allowed to paralyze life in the capital.
Ahead of the march, social media users panned Rehman and his followers over their refusal to allow women to participate, questioning their commitment to democratic principles. "Looking at the 'Azadi March' from afar, one thing is clear to me. In the democracy that Maulana sahib is [fighting] for, women would have no place," tweeted activist Marvi Sirmad. "Ask yourselves, dear democrats, do we want THIS?"Based on reporting by RFE/RL's Radio Mashaal, Reuters, AP, and AFP