Legendary music composer Muhammad Zahoor Hashmi, 'Khayyam', best known for his classic melodies such as 'Wo subha kabhi tu aayegi' 'Kabhi Kabhie mere dil mein khayal aata hey' and Aey dil-e-nadan' passed away on Monday (Aug 19, 2019) at the age of 92 due to cardiac arrest.
He was suffering from various age-related ailments. On July 28, Khayyam was admitted to Sujay Hospital in Juhu, Mumbai due to lung infection.
Khayyam was born at Rahon, a town in Nawanshehr District near Jullundher, East Punjab. His other family members are living in Lahore. He belonged to a very educated family. His only son Pradeep Kumar had died few years back.
He was never interested in studies and was always fascinated by the music of Indian cinema since a very young age. At the age of 10, Khayyam ran away to his uncle's house in Delhi, in chasing his dream to become an actor. His uncle enrolled him in a school, but when he saw his passion for films, he allowed him to learn music.
He shifted to Ludhiana in 1943 at the age of 17. He got training in music under Pandit Amarnath and Pandit Govind Ram went to Lahore to learn music from the legendary music composer Baba G.A. Chishti. One day Khayyam after listening to a composition by the great composer sang to him its first part. Baba Chishti was impressed and offered him to work as his assistant. Khayyam accepted the offer and assisted Baba Chishti for six months.
After a short stint in the army during the Second World War, Khayyam went to Bombay to fulfil his dream. He made his debut as Sharmaji in film Heer Ranjha (1948) teaming up with Rehman Verma as Sharmaji-Varmaji.
At Bombay he started working independently after his co-composer Rahman Varma migrated to Pakistan. One of his earliest breaks was in the film 'Biwi' (1950) in which the song Akele mein wo ghabrate to Honge sung by Mohammed Rafi became a huge hit.
The first film by Khayyam, Footpath (1953) stood out for its sheer richness of poetry. The evocative rendition of Shaam-e-Gham ki Kasam', by Talat Mahmood and the melancholic lyrics by Majrooh Sultanpuri is considered one of the best ghazals that struck a chord among the youth.
He gained greater recognition from the songs of film Phir Subha Hogi (1958) adapted from Fyodor Dostoevsky's novel Crime and Punishment. The song in the film highlights one of the book's moral themes of the oppressed class fighting those who wield power through money.
The lyrics were written by Sahir Ludhianvi. Notable among the songs are "Wo Subha Kabhi to Aayegi", "Aasman Pe hai Khuda aur Zameen pe Hum" and"Chin-o-Arab Hamara". Wo Subha Kabhi Tu Aayegi is an emphatic promise, sung in a solemn tone by Mukesh and Asha Bhosle.
The sentimental melody is a criticism of the sociopolitical upheaval a decade after independence. Sahir's stinging words, is a strong comment on the exploitation and injustices by the ruling elite who have caused disillusionment among the masses with fake pledges for a better future after decades of colonial rule.
This classic tune was also used in film Begum Jaan (2017). The insertion of Sahir's lines in Begum Jaan, is apt which questions the false freedoms from colonial rule in 1947.
Songs from the film Shola Aur Shabnam written by Kaifi Azmi established Khayyam's reputation as a great composer Its song Jaane Kiya Dhoondti Rehti hey ye Aankhe mujh mein and Jeet hi lenge baazi hum tum," a duet sung by Rafi and Lata, written by lyricist Kaifi Azmi, touched many a young heart in love and turned the spotlight on Khayyam who carved out a niche for himself in the music industry dominated by the giants like Khemchand Prakash, Naushad Ali, Salil Cho
udhury, Roshan, C.Ramchandra, S.D. Burman, Shankar Jaikishan, Madan Mohan, Naushad, Bulo.C Rani, D.N Madhok, Ghulam Mohd, Sajjad Hussain, Sardar Malik, Surendar to name a few.
Baharo mera jeevan bhi sawaron from Aakhri Khat sung by Lata and Aur kuch der theher by Rafi became very popular.
Khayyam composed another superb ghazal Tum apna ranj-o-gham for film Shagoon (1964) in Raag Pahadi, which was sung by Jagjit Kaur who later became his wife. Another songs from the film are Tum chali Jaogi parchaiyan reh jayengi and Jo dil Pe guzarti hey tanha kisey sumjhayein. Raag Pahadi seemed to be a favorite raaga of Khayyam as he set several of his hit compositions in this "charming evening raaga" such as Parbaton ke pedon par shaam ka basera hai sung by Rafi and Suman Kalyanpur.
Khayyam composed two unforgettable melodies Kahein Ek Masoom Nazuk Si Larki and Aap yoon Fasloon se guzartey rahein for Shankar Hussain a little known film.
The 1970s saw Khayyam team up with Sahir once again to work in the blockbuster Kabhi Kabhie. The song Mein pal do pal ka shaer hoon' beautifully sung by Mukesh, became one of the brightest points of Khayyam's career.
"It is only under a lyrically sensitive composer like Khayyam that Sahir roused himself to pen the introspective with its acute understanding of the ephemeral nature of fame," writes Ganesh Anantharaman in his book Bollywood Melodies: A History of the Hindi Film Song.
The songs depict Khayyam's versatility with huge hits like "Tere chehre se" sung by Kishore and Lata.
"His music stood out in the 1970s, his films were commercially more successful and its only in a decade where melodiousness was fading fast that you recognise Khayyam's genius, his hallmark – integrity to melody," as Anantharaman puts it.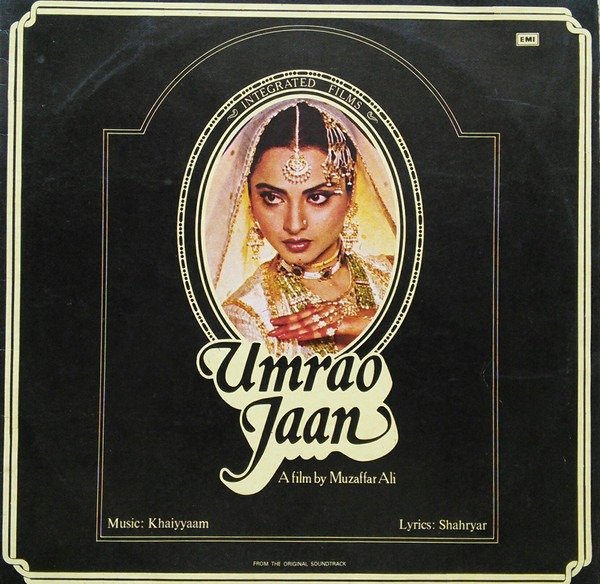 Dil cheez kiya hey was the biggest hit of the four ghazals Asha Bhosle sang for Khayyam in Umraao Jaan. The other three popular ghazals of Asha in this Muzaffar Ali-directed film were Justuju jiski thi, In aankhon ki masti ke and Yeh kya jagah hai doston were unique, successful and raised Asha to a level above her usual. The film fetched Khayyam the National Award for best composer.
He gave memorable music to the films of the early 1980s. Songs from Trishul, Thodi Si Bewafaai, Noorie, Nakhuda, Sawaal, Bepannah, Khandaan are some of his best works. Na jaane kya hua was a melodious love song from Dard sung by Lata. The lyrics were penned by Naqsh Lyallpuri.
Dikhai diye yun ki bekhud kiya was another gem from Bazaar. The Lata-Khayyam team transports you into a world of melody and poetry. This critically acclaimed film directed by Sagar Sarhadi had another beautiful duet by Talat Aziz and Lata Phir chhidi raat baat phoolon ki.
Rajesh Khanna gifted Khayyam a car for composing a tune for Majnoon. However the film was never released. Khayyam composed music for Thodi si Bewafai, Dard and Dil-e-Nadaan, with Khanna in the lead. The songs from these films became instant hits.
Khayyam created music for Razia Sultan and the song Aye dil-e-nadan sung by Lata is another milestone.
Kishore also lent his voice for super hit songs composed by Khayyam like Chandni Raat Mein, Aisi Haseen Chandni, Pyar Ka Dard Hai, Kehte Darr Thi Ho, Hazaar Raahe, Aankhon Mein Humne Aapki, Maana Churaoge Badan, Phoolon Jaisa Rang, Jo Ho Yaar Apan among others.
He also composed music for geets and ghazals including Paaon padun tore Shyam, Brij mein laut chalo and Ghazab kiya tere Vaade pe Aitbaar kiya. He also gave music for Meena Kumari's album, I Write, I Recite (1971) featuring the poems written and sung by the poet-artist.
Khayyam has always preferred to compose music for poetry of noted poets including Mirza Ghalib, Daagh, Ali Sardar Jafri, Majrooh Sultanpuri, Sahir Ludhianvi, Kaifi Azami, Jan Nisar Akhtar, Naqsh Lyallpuri and, Nida Fazli, to name a few. That's why one finds poetry playing an equal role in Khayyam's compositions as the music or the singer.
"What distinguished Khayyam's music from others was the superior quality of poetry in all his songs. For him, the purpose of music was to make the lyrics come alive. He had the sagacity to keep his tunes simple, instruments minimal," writes Anantharaman.
Khayyam's music had the touch of ghazal but was rooted in Indian classical music. The compositions were soulful, melodious and emotional. The songs were rich in poetry and purpose and the style but different from the popular brand of music in those days.
On his 89th birthday, Khayyam announced the formation of Khayyam-Jagjeet Kaur Charitable Trust and donated his entire wealth to the trust to support budding artists and technicians. His wealth at the time of announcement was valued at around Rs100 million ($1.4 million).
Awards
Khayyam was awarded 'Padma Bhushan' the third highest civilian award by the Indian Government in 2011. He also won three Filmfare Awards in 1977 for Kabhi Kabhie and Umrao Jaan, and a Lifetime Achievement award in 2010. He was awarded the Sangeet Natak Academi Award for Creative Music, by India's National Academy of Music, Dance and Theatre. He was also given Hridaynath Mangeshkar Award in 2018.
Filmography
In film Romeo and Juliet (1947) Khayyam  credited as a singer. He started giving music to Heer Ranjha (1948), as Sharmaji with Rahman Varma and Aziz Khan, Biwi (1950), Pyaar Ki Baatein (1951), Foot Path (1953), adopted the screen name Khayyam, Gul Sanobar (1953), with Bulo C. Rani, Gul Bahar (1954), Dhobi Doctor (1954), Tatar Ka Chor (1955), Phir Subha Hogi (1958), Lala Rukh (1958), Barood (1960), Bombai Ki Billi (1960), Shola Aur Shabnam (1961), Shagoon (1964), Mohabbat Isko Kahete Hain (1965), Aakhri Khat (1966) Mera Bhai Mera Dushman(1967), Pyaase Dil (1974), Sandhya (1975), Mutthi Bhar Chawal (1975), Sankalp (1975), Kabhi Kabhie (1976), Shankar Hussain (1977), Trishul (1978), Khandaan (1979), Noorie (1979), Meena Kumari ki Amar Kahani (1979), Majnoon (1979) Unreleased, Thodi Si Bewafaai (1980), Chambal Ki Kasam (1980), Nakhuda (1981), Dard (1981), Ahista Ahista (1981), Dil-e-Nadaan (1982), Bazaar (1982), Baawri (1982), Sawaal (1982), Dil Akhir Dil Hai (1982), Razia Sultan (1983), Mehndi (1983), Lorie (1984), Bepanaah (1985), Tere Shahar Mein (1986), Anjuman (1986), Devar Bhabhi (1986), Ek Naya Rishta (1988), Parbat Ke Us Paar (1988), Jaan-e-Wafa (1990), Mohabbaton Ka Safar (1995), Ek Hi Manzil (2000), Yatra (2007) Mission-The Last War (2008), Bazaar-e-Husn (2014), Ghulam Bandhu (2016).