The cold-blooded murder of a teacher by one of his students has sent a wave of shock and angst across the country, particularly among academia and students.
They described the gruesome act a result of the myopic state education policy which breeds extremism among the frustrated youth.
According to media reports and police Khateeb Hussain, a BS student at Bahawalpur's Government Sadiq Egerton College on Wednesday stabbed Associate Professor Khalid Hameed to death purportedly over the academic's "anti-religion" remarks.
According to police, the student had exchanged hot words with the Professor, the head of the English department, in his office over the arranging of a party which was to be held on March 21 to welcome new students to the college.
The culprit was averse to the event as he viewed the mingling of male and female students as "un-Islamic".
Following an argument, he stabbed the professor in the abdomen and head, police said.
Police have arrested the suspect along with the murder weapon and registered an FIR under Section 302 (intentional murder) and Section 7 of the Anti-Terrorism Act on a complaint of the teacher's son.
In the application submitted to police for the registration of a First Information Report (FIR), Prof Hameed's son stated that the incident took place when he had gone to drop his father off at the college along with two others. He said his father proceeded to enter his office while he (the son) was still in the parking; he said he saw the attacker hiding behind a pillar and then suddenly charging at the teacher.
"As my father was about to step into his office, the guy attacked him with a knife, hitting him on his head and stomach," he told AFP.
"My father then fell down and I rushed to him; the student held his knife and started shouting 'I have killed him, I had told him that a gender mix reception is against Islam'," he said.
According to the deceased's son, the attacker also said he had killed Prof Hameed because he supported the scheduled function in which "obscenity is promoted".
"We took him to hospital, but he had already died," he said.
He said the student dropped his knife and the guards arrested him.
No remorse
A video confession of the suspect which became viral on social media, the suspect says that he attacked the English professor because he allegedly "spoke against Islam".
Both of the suspect's hands are bandaged, indicating he received knife injuries during the scuffle.
When asked if he regrets his actions, he expresses no remorse.
The student is said to be member of Labaik and left it when the government started crack down on it. He then joined the IJT which has been responsible for violence on campus. According to media reports IJT attacked some progressive students at Punjab university for protesting for fee cut and other facilities. People on social media are demanding a ban on IJT for its violent tactics against opponents.
How many more lives?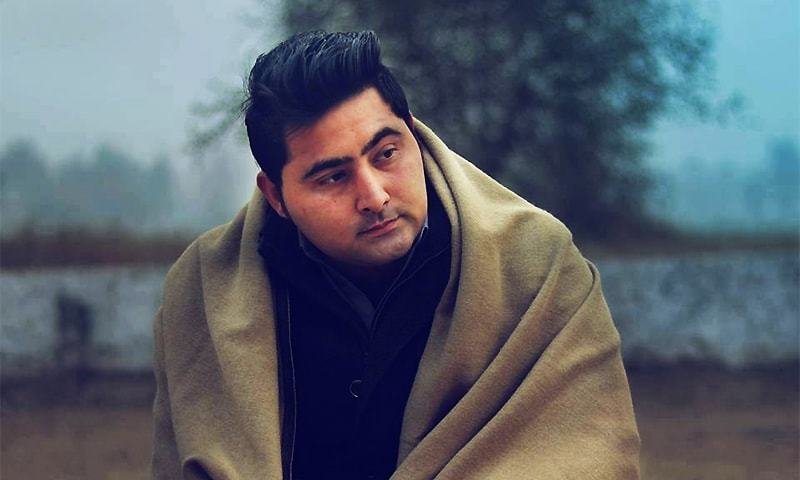 It was the second such incident in which a student has killed his teacher this month and fourth during the last two years.
On March 12, 2019 a matric student Rizwan stabbed his school principal, Shagufta dead while injuring her sister, Farkhanda in Sundar area of Lahore. Reportedly, Rizwan, the suspect, had developed relations with one of the teachers. However, Principal Shagufta found out about the relationship and fired the teacher and expelled Rizwan.
On January 22, 2018, a grade 12 student Faheem at a private college in Charsadda shot his college principal Sareer dead after being censured for skipping school to attend the November 2017 sit-in of religio-political party Terhrik Labbaika in Islamabad's  Faizabad.
Speaking to reporters in the evening at his residence, Hameed's son said his father's murder was a result of "brainwashing". He said the incident had put question marks on the government's efforts to curb extremism in society.
On April 12, 2017, Mashal Khan, a bright mind and a student at the Abdul Wali Khan University Mardan, was lynched and killed by an angry mob in the premises of the university over allegations of posting blasphemous content online.
Prof Hameed's son questioned whether the government will act on the National Action Plan "only when there is pressure from India or the United States" and whether there was "no value" of the lives of Pakistani residents.
The Punjab Professors and Lecturers Association condemned Hameed's murder and demanded that the district administration bring the perpetrators of the crime to book under anti-terrorism laws within 10 days.
It also asked the district and college administrations to take steps to ensure the safety of the teachers.
Also read: https://www.dawn.com/news/1384553/rebuked-for-skipping-classes-student-kills-college-principal-accuses-him-of-blasphemy
Condemnations flood social media
Social scientists, academics and progressive forces have expressed shock over the incident and questioned the state institutions' and government's seriousness about curbing the rising tide of extremism and intolerance.
They attributed it to the education system and state policy which breed myopic mindset.
Neither the government nor the security apparatus seem serious in implementing the National Action Plan and purge the curriculum of hate material.
"Education is said to be the cure for extremism and intolerance in society. But today, educational institutions are nurturing individuals who lynch other students and murder their teachers in the name of religion," commented Dr Ammar Ali Jan.
"It is time for us not only to promote education, but to ask what kind of education do we plan to give to our younger generation," he noted.
Universities are supposed to be sites of critical thinking, not a factory producing unthinking and murderous zombies, commented Asfandyar Khan on his Facebook page. The fight for a critical, open and progressive education system is now the central struggle that will define our nation's future.
Zagum Abbas, a lecturer at GCU, Lahore said I am "shocked and saddened to learn about the murder of a professor in Bahawalpur by none other than his own student". He also blamed the education system for the menace of extremism.
"We have been teaching hate and extremism and have cultivated a generation whose collective myopia is an existential threat to the society."
It's high time for introspection and to decide whether to continue teaching toxic subjects like Pakistan Studies which serve no other purpose than inculcating hate in younger minds.
The most disturbing aspect is the universities which have become breeding ground for extremist mindset. In recent past some terrorist involved in violent attacks were arrested from universities.
According to Amir Rana "universities have become a breeding ground for violent extremism. This is a simplistic interpretation of a complex phenomenon."
The question is how to weed out this scourge from educational institute.
For Mr Rana, who the executive director of Pakistan Institute for Peace Studies, violent extremism is our most critical challenge which is far more complex and deep rooted than is understood by policymakers.
Mr Amir points out that "one can't deny the fact that student wings of religio-political parties have a key role in promoting religious extremism amongst students.
Public-sector educational institutions have remained the primary target of militant organisations since the 1980s, under state patronage to boost a 'jihadi' culture in the country.
While universities administrations are reluctant to take action against them. Both the administrations and the government try to silence alternative and moderate voices on campuses, he says.
Qazi Ijaz says it is sad and tragic day for a tolerant and prestigious institution that contributed free and funded education in British India (and be the only college in the geography of today's Pakistan to do so). The college has served well the region across all creeds and religions since 1886.
But this is also true that the student wing of JI has roots in this college, an office in the mosque right across the street. I think Jamiat Talba Islam radicalized this student, says Ijaz.
Suhail Khan Mandokhel says students over-taught with lessons of moral policing become an easy prey to religious fanaticism. These are the blowbacks of hatred and bigotry integrated into curriculum during Zia-era which are prompting students to internalize extremist tendencies.
This was also echoed by Mushtaq Ali Shan who said the military dictator's spirit is still haunting our society who died in an air crash in 1988 over Bahawalpur. Professor Hameed is the latest prey of his policies.
Also read: https://www.dawn.com/news/1356677/extremist-minds-on-campus