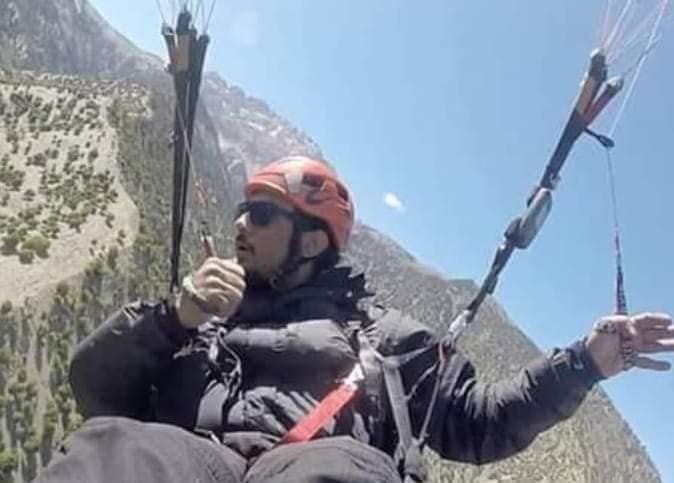 Paragliding pilot Khawaja Sheraz Nasir

CHITRAL: A paragliding pilot has fallen to death in Chitral, police sources told The High Asia Herald.
According to police Khawaja Sheraz Nasir was flying over Dolomuch after taking off from Birmoghlasht when he lost control over the paraglider due to strong winds and fell down on Wednesday.
He died of spinal and internal injuries while being shifted to the district hospital, the sources said.
Nasir's body was sent to his home town Lahore after medico-legal formalities.
Salim Khan, who had also travelled from Lahore to Chitral with his friend, said Nasir was the chief executive of Adventure Travel Pakistan and a frequent visitor to the Hindukush mountainous region. He used to arrange adventure tours to Chitral regularly.
Meanwhile, members of Hindukush Paragliding Association expressed sorrow over the death of the paraglider pilot and sympathised with his family.
Paragliding, the simplest form of human flight, is gaining popularity among the youth in Chitral and Gilgit-Baltistan as the two mountainous regions have immense potential for paragliding.
International fliers made the adventure sports of flying popular among the locals since 2005. A number of casualties have been reported during the last couple of years.
Hidayatullah Baig, a prominent paragliding pilot had fallen to death in 2017 while performing paragliding in the Gupis area of Ghizer. He took off from a nearby mountain and fell in the middle of a football ground in presence of a large number of people.
Brad Sander, an American expert pilot, is a frequent visitor to Hindukush mountains. He has set world distance record for paragliding on the Asian continent, flying 224km from Booni to Karimabad in May 2007.
More and more locals are learning how to paraglide. Two clubs — the Terichmir Paragliding Club and Booni Paragliding Club — operate in Chitral with over 50 members.
Although there are no rules and NoC requirement as such, the associations feel that these should be made mandatory.