People help patients as they come out from a cardiac hospital following an attack by lawyers in the premises in Lahore on December 11, 2019. ARIF ALI /AFP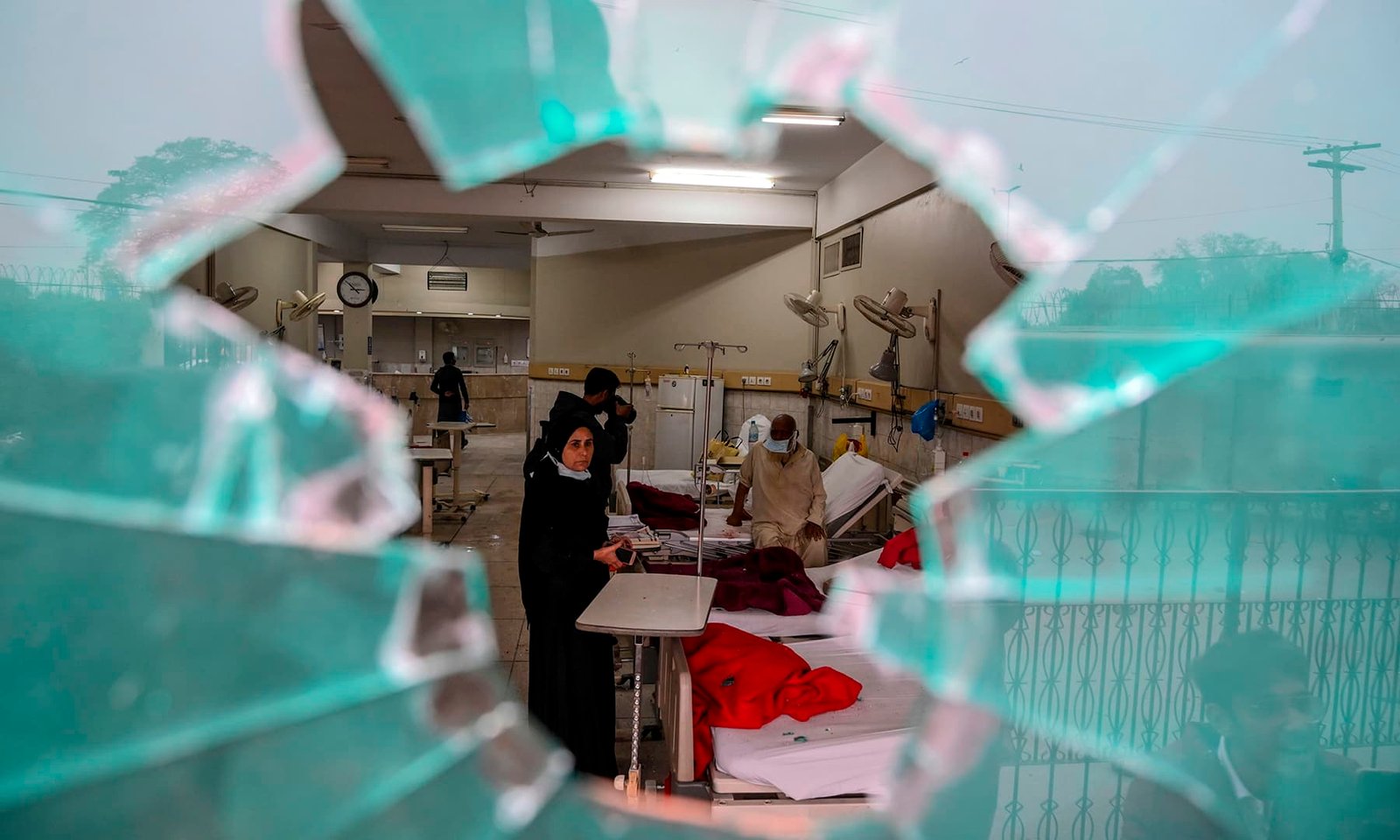 Patients are seen through a broken window of a cardiac hospital following an attack by lawyers on the premises in Lahore on December 11, 2019. At least three heart patients died after a group of lawyers attacked doctors at PIC. –AFP
---
Over 50 senior advocates have written an open letter to PBC, seeking action against those involved in illegals acts after an investigation
Islamabad: Senior lawyers and advocates of Pakistan's top court have condemned the attack on the Punjab Institute of Cardiology (PIC) by some members from the legal fraternity. They have also expressed anguish and pain over the calls for strikes against court proceedings by the bar councils and bar associations.
In an open letter over 50 senior advocates of the Supreme Court of Pakistan from all over the country have unequivocally condemned the attack on the Punjab Institute of Cardiology (PIC) by members of the legal fraternity.
"We are anguished because it is inconceivable and unconscionable that those licensed to practice the law and uphold its majesty could choose to attack a hospital irrespective of reasons, provocations or motivations," read the letter signed by Abid Hassan Minto, a veteran advocate and founding president of Awami Workers Party; Kazim Raza, Dr Parvez Hassan, Ali Sibtain Fazli, Makhdoom Ali Khan.
Others who have also signed the letter are: Muhammad Ali Raza, Kazim Hassan, Qamar Afzal, Sardar Ejaz Ishaq, Ijaz Ahmed, Zahid Ibrahim, Afzal Siddiqui, Chaudhry Umar, Khalid Ishaq, Azad Nafees, Munawar Ghani, Jamshed Malik, Murtaza Wahab, Dr Amjad Bukhari, Mahmood Awan, Asim Mansoor, Khalil Khan, Rashid Hafeez, Chaudhry Muhammad Atiq, Shazib Masud, Mansoor Usman Awan, Muhammad Ansar Awan, Uzair Karamat Bhindar, Mian Muhammad Kashif, Abdur Rehman, Hasan Irfan Khan, Raza Kazim, Tariq Mehmood, Arshad Tayyebali,  Bilal Hassan Minto, Salman Akram Raja, Babar Sattar, Sattar Pirzada, Sajid Zahid, Amir Javed, Tariq Aziz, Afzal Khan, Arshad Mirza, Farooq Amjad Meer, Sana Minhas, Muhammad Anus Makhdoom, Naveen Merchant, Faisal Ghani, Saman Imtiaz, Mustafa Ramday, Omar Lakhani, Faisal Islam, Imran Muhammad Sarwar, Taffazul Rizvi, Feisal Hussain Naqvi, Iftikharuddin Riaz, Hina Hafeezullah Ishaq, and Shabbir Shah.
"As officers of the law, we are obliged to not only do our utmost to respect and strictly abide by the law but also pursue the legal process in matters of conflict be it personal or institutional," it added.
"Allowing degeneration of a conflict leading to violence on others, public property, and a health care facility can never be justified and is grossly violative of the highest standards to which the profession of law holds its practitioners. These actions have sadly brought disrepute to the legal profession as a whole and humiliated the legal fraternity.
"We believe that society has conferred great responsibility upon us to act as custodians of the rule of law and endowed us with enormous trust by placing on our own shoulders the obligation to regulate ourselves.
Should we fail to hold ourselves to account for legal misconduct of the members of our fraternity, we will not only be in breach of the law but we shall, more importantly, lose the moral right to self-regulate ourselves and irreparably diminish the highest levels of integrity, respect and esteem the profession of law has been held in since time immemorial.
The letter further read: "We are pained by calls for strikes against court proceedings by the bar councils and bar associations. While right to protest is a constitutionally guaranteed right, such right can never be exercised to boycott judicial proceedings in a manner that interferes with judicial business and undermines citizens' right to access to justice and the strict obligation of lawyers' to their clients, to courts and to public-at-large under the Pakistan Legal Practitioners and Bar Council Rules, 1976.
We also note with regret that the Pakistan Bar Council and different bar associations have not condemned this incident in clear and unequivocal terms. We expect that strict disciplinary action will be taken immediately against all licensed lawyers who participated in this unfortunate incident and are penalized by the Pakistan Bar Council as the apex regulatory authority of the legal profession for having grossly breached cannons of professional conduct failing.
They have called upon PBC, provincial bar councils and bar associations to take "affirmative steps to restore the integrity, respect, and sanctity of our great profession".
The aftermath of the most-PIC attack is a time for introspection and immediate self-accountability, the letter read.
"We must not become apologists for those among us misconducting themselves but to hold them to account and set the standards by seeking legal recourse in respect of any injustice we perceive is done to members of our fraternity but not by way of acting as a mob."
They have also demanded that all those, who violated the law and committed illegal acts during this incident and events leading up to this incident are proceeded against pursuant to proper investigation strictly in accordance with law, without undermining the constitutionally guaranteed rights of the accused or affording them exceptional treatment, and the due process of law is allowed to take its course.