AP
---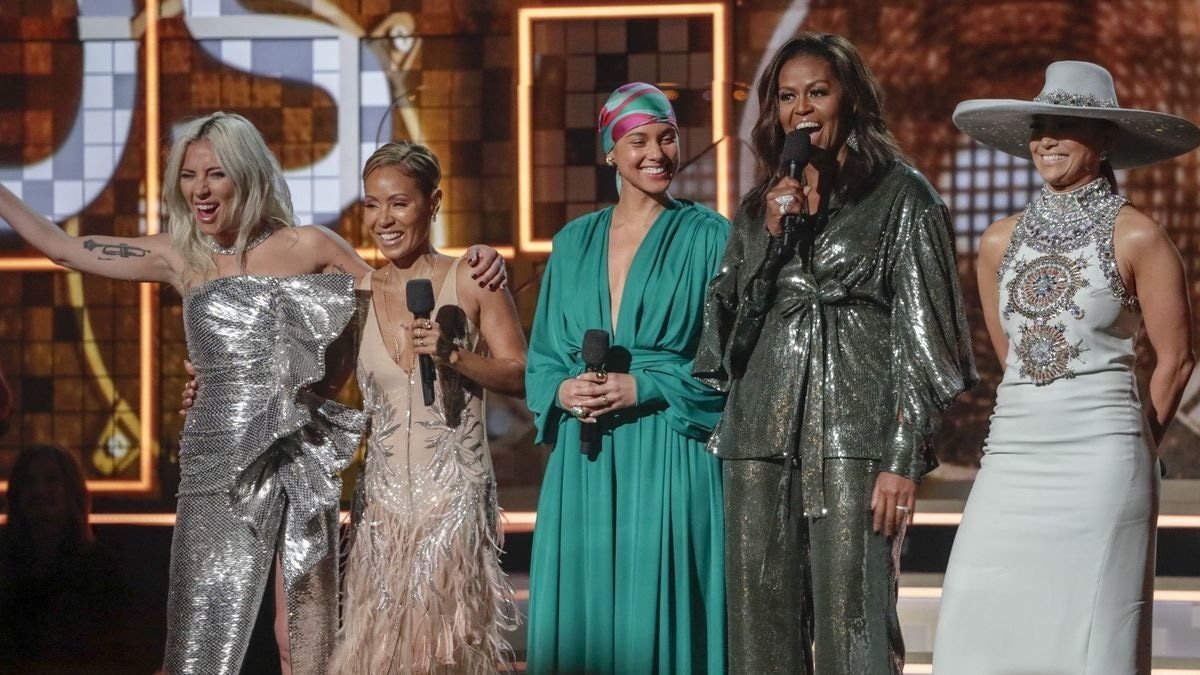 Alicia Keys decided to get some help to kick off the Grammys and it drove the crowd wild.
The singer brought on fellow musicians Lady Gaga, Jennifer Lopez and Jada Pinkett Smith to start the show, but that's not all.
Former first lady Michelle Obama surprised everyone at the Grammys as she joined these strong female performers on stage for the opening and had a few words to say as well.
The audience could not contain their excitement as their thunderous applause interrupted her but she was happy to wait and restart her speech.
"From the Motown records I wore out on the South Side to the 'Who Run the World' songs that fueled me through this last decade, music has always helped me tell my story, and I know that's true for everybody here," said Obama.
She went on to say, "Whether we like country or rap or rock, music helps us share ourselves, our dignity and sorrows, our hopes and joys. It allows us to hear one another, to invite each other in. Music shows us that all of it matters — every story within every voice, every note within every song, is that right ladies?"
Alicia Keys took the moment to follow up Obama's speech cheering, "Who run the world!"
Post her appearance, Obama took to Twitter to reminisce in the moment and give a shoutout to Keys…
…while the internet was as shocked and overjoyed as the audience as they posted their reactions to Obama's grand entrance.
Women and rap triumphed at the Grammys on Sunday as female acts took home top prizes including album of the year and best new artist, and Childish Gambino made history when his hit T'his Is America' became the first rap-based track to win record and song of the year.
Here's a complete list of top winners at the 61th annual Grammy Awards:
Album of the year: Golden Hour by Kacey Musgraves
Record of the year: 'This Is America' by Childish Gambino
Song of the year: 'This Is America' by Childish Gambino and Ludwig Goransson
Best rap/sung performance: 'This Is America' by Childish Gambino
Best music video: 'This Is America' by Childish Gambino
Best rap album: Invasion of Privacy by Cardi B
Best rap song: 'God's Plan' by Drake
Best new artist: Dua Lipa
Best country album: Golden Hour by Kacey Musgraves
Best pop duo/group performance: 'Shallow' by Lady Gaga and Bradley Cooper
Best pop vocal album: Sweetener by Ariana Grande
Best pop solo performance: Lady Gaga's 'Joanne (Where Do You Think You're Goin'?)'
Best R&B album: H.E.R. by H.E.R.
Best R&B song: 'Boo'd' Up by Ella Mai, DJ Mustard, Larrance Dopson and Joelle James
Best R&B performance: 'Best Part' by H.E.R. featuring Daniel Caesar
Producer of the year, non-classical: Pharrell Williams
Best rap performance: (tie) 'King's Dead' by Kendrick Lamar, Jay Rock, Future and James Blake, and 'Bubblin' by Anderson.Paak
Best urban contemporary album: Everything Is Love by The Carters
Best traditional pop vocal album: Willie Nelson's My Way
Best rock song: 'Masseduction' by St. Vincent
Best rock album: From the Fires by Greta Van Fleet
Best rock performance: 'When Bad Does Good' by Chris Cornell
Best dance recording: 'Electricity' by Silk City and Dua Lipa featuring Diplo and Mark Ronson
Best country song: 'Space Cowboy' Kacey Musgraves (Luke Laird, Shane McAnally and Kacey Musgraves)
Best reggae album: 44/876 by Sting & Shaggy
Best country solo performance: Kacey Musgraves' 'Butterflies'
Best duo/group country performance: Dan + Shay's 'Tequila'
Best jazz vocal album: The Window by Cecile McLorin Salvant
Best alternative music album: Colors, Beck
Best comedy album: Equanimity & the Bird Revelation, Dave Chappelle
Best Latin pop album: Claudia Brant's Sincera
Best spoken word album: Jimmy Carter's Faith — A Journey for All
Best folk album: Punch Brothers' All Ashore
Best contemporary Christian music album: Lauren Daigle's Look Up Child
Best musical theater album: The Band's Visit
Best American roots song: Brandi Carlile's 'The Joke'
Best American roots performance: Brandi Carlile's 'The Joke'
Best Americana album: Brandi Carlile's By the Way, I Forgive You
Best gospel album: Tori Kelly's Hiding Place
Best contemporary Christian music performance/song: Lauren Daigle's 'You Say'
Best world music album: Soweto Gospel Choir's Freedom
Best compilation soundtrack for visual media: The Greatest Showman
Best score soundtrack for visual media: Black Panther
Best song written for visual media: 'Shallow' from A Star Is Born
Best traditional blues album: Buddy Guy's The Blues Is Alive and Well
Best music film: Quincy Jones' Quincy
Best boxed or special limited edition package: Squeeze Box: The Complete Works of 'Weird Al' Yankovic
Golden Hour is the seventh studio album and fourth major label album by American country music artist Kacey Musgraves, released on March 30, 2018, through MCA Nashville.
Golden Hour Songs (Full Album):
1 Slow Burn 4:06
2 Lonely Weekend 3:47
3 Butterflies 3:39
4 Oh, What A World 4:02
5 Mother 1:18
6 Love Is A Wild Thing 4:16
7 Space Cowboy 3:36
8 Happy & Sad 4:03
9 Velvet Elvis 2:35
10 Wonder Woman 4:01
11 High Horse 3:34
12 Golden Hour 3:19
13 Rainbow 3:34