---
PFUJ announces three-day mourning; Senior Journalists Forum to pay homage to its founder at its Friday session on December 3.
---
---
Pakistan Federal Union of Journalists (PFUJ) has condoled the death of veteran journalist and editor Muhammad Ziauddin and announced a three-day mourning.
The union said it had suspended all activities for three days and that its offices would hoist black flags to mourn the death.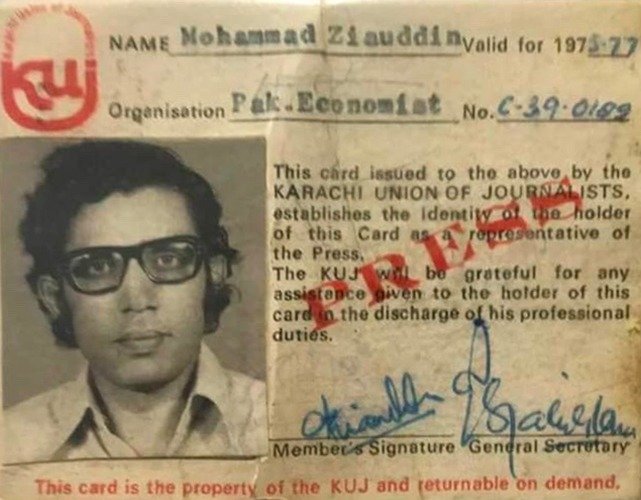 In a statement, President PFUJ Shahzada Zulfiqar and Secretary-General Nasir Zaidi said Ziauddin's death is a great loss to the journalist fraternity and all those who work for the rule of law, the supremacy of parliament, and upholding fundamental rights of all Pakistanis.
The two leaders showered tributes to the veteran journalist, saying the void created by his death would not be filled for decades.
"He was not only a professional journalist but a great intellectual as well who dedicated his life training journalists and working for the strengthening of democratic forces."
They said that Ziauddin was never afraid of powers that be. He not only openly questioned the dictatorial policies of General Pervez Musharraf but also came hard on ill-conceived policies of democratic governments.
The two leaders said Ziauddin's services to journalism would never be forgotten."
He contributed to many publications enlightening his readers on economy, politics, society and other complex issues.
They hoped that the legacy of the veteran journalist would live on, and his writings would serve as a beacon of light for the coming generations of media persons.
Ziauddin, the former Resident Editor of Dawn Islamabad, the former Executive Editor of Express Tribune, former Editor, The News passed away on Monday after a brief illness at the age of 83.
He also worked for The Sun, The Muslim. He was laid to rest at the Media Town graveyard. A large number of people from all walks of life including journalists, colleagues, friends, Islamabad High Court Chief Justice Athar Minallah, former Senator Farhatullah Babar, former Prime Minister Shahid Khaqan Abbasi, Dawn's editor Zafar Abbas, PFUJ secretary-general Nasir Zaidi and others attended the funeral.
They showered tribute on him saying he was a man of integrity, courage and great intellectual who lived on his own terms and never compromised on his ideals. He stood to dictators and the powerful.
Condolences
Condolence and tributes poured in on social media as the news broke out.
"I am deeply saddened over the news of passing away of Ziauddin Sb… He was among the last of titans in the journalism and newspapering world," former PPP Senator Farhatullah Babar wrote on his microblogging handler.
"The news brought to mind innumerable instances of his grit, substance, character and thorough professionalism," the outspoken politician and columnist said.
"Remarkably while he possessed these and other sterling qualities of head and heart he wore them on his sleeves, didn't seek applause and didn't throw his weight around."
Senator Babar further wrote: "The trophies he won as a professional journalist were vastly different and immeasurably superior to the glittering medals worn on the chests. The trophies that came his way without his seeking indeed are intangible. Unlike the medals worn on chests, they never gather dust."
Academic and author Dr Jaffar Ahmed termed Ziauddin's death a big loss for the best values of journalism personified in him and his work.
"I had the fortune to work with him on the Board of TDEA-FAFEN for more than three years. He was always legalistic, objective and soft. We will miss him for long," he said.
Economist Dr Ashfaque Hassan Khan said we have lost a great human being and an uncompromising journalist.
Dr Tariq Banuri described him as a conscience of our age.
Academic and independent economist Dr Akmal Hussain said he was a journalist who carried the torch of freedom, reason and tolerance, with exemplary courage and integrity.
This tradition in journalism that Ziauddin Sahib enriched, will live on to irrigate the sapling of democracy in Pakistan, he wrote.
Broadcaster journalist Asmatullah Niazi declared him a great fighter who remained at the forefront for freedom of the press and journalists unity and rights.
He was an "iconic journalist; a personal friend for 35 years; a senior who was generous with his counsel and love and a giant who stood up to autocrats for over 50 years, wrote Abbas Nasir, a former editor of Dawn on his microblogging handler.
"My teacher, mentor, friend [Ziauddin] passes away. He was an icon. Sad day for Pakistani journalism" wrote Kamal Siddiqi, a former colleague of the deceased journalist and director of IBA Centre for Excellence of Journalism.
.
Journalist and political commentator Zaighum Khan commented that generations of media persons will remember him for his honesty, integrity and contribution to journalism.
Journalist Beena Sarwar in her condolence message said that Ziauddin sb was a fine, decent human being and journalist of integrity. Will miss him immensely.
Journalist and YouTuber Matiullah Jan said with the death of Ziauddin sb' a chapter has closed. He was a beacon of light for journalists like me.
Zeeshan Haider wrote on his wall that M. Ziauddin was one of the most respected journalists of Pakistan and a source of inspiration and guidance for his juniors.
He valiantly struggled for true democracy and freedom of the press in the real sense.
He fearlessly challenged dictators and always upheld principles of genuine journalism.
Poet and essayist Haris Khalique described him as the last of the Mohicans in the true sense. A gentleman, thorough professional, and a dear friend to so many of us.
Broadcast journalist Murtaza Solangi showered tribute on him by saying "Ziauddin lived his life on his terms, his values and his principles. He did not waver and vacillate on his progressive and democratic ethos for a single day.
"Ziauddin lived his life on his terms, his values and his principles. He did not waver and vacillate on his progressive and democratic ethos for a single day. His over half a century work is a compass in our dark days and nights. Goodbye, my comrade! You shall not be forgotten," he wrote on his Twitter handle.
Kamal Siddiqui, a former Editor of The Express Tribune and current Director of the Institute of Business Administration's Centre for Excellence in Journalism, in a comprehensive documentary on his life and work for Samaa channel wrote that in his over 60-year-long career, Mr Ziauddin had worked extensively for almost all major newspapers of Pakistan – The Muslim, The News, Dawn and The Express Tribune.
Born in 1938 in Madras, Ziauddin along with his family had moved to East Pakistan (now Bangladesh) following partition and had studied BSc in Pharmacy at the Dhaka University. It was in 1960 when he had moved to Pakistan and three years later had joined Karachi University to study journalism.
His first job in the field of journalism was as a cub reporter at the Pakistan Press International (PPI) – then Pakistan Press Agency – and since then he worked at different news organisations in editorial positions with The Express Tribune being his last. In July 2014, Ziauddin resigned as the Executive Editor of the English daily and went on to work as a freelance journalist.
"In this age of 'fake' news, unverified reporting and slippery ethics, it is worth examining the career of Muhammad Ziauddin, one of Pakistan's most respected names in journalism.
Ziauddin sahib has managed the nearly impossible: to maintain a blemish-free record throughout despite skirmishes with the high and mighty, including the once all-powerful General Pervez Musharraf, wrote Mr Siddiqi.
His struggle was not just with dictators; he put up with his fair share of irascible seniors and weak media owners. Mercifully, however, his beat reporting days are also filled with stories of unflinchingly fearless editors during some of the darkest and most tumultuous times in our political history.
Also see: https://youtu.be/5v1rxAGoF48
By attempting to document some of these stories, I hope to remind the next generation of Pakistan's journalists that they can prevail, he wrote.
For access to the complete profile click here.