Hanniah Tariq talks to Arieb Azhar about the extraordinary experiences that shaped his worldview and journey
As one of the pioneers of the resurgence of what is often described as 'Sufi Music' in Pakistan, he has been at the forefront of the changing landscape of the country's musical and cultural scene for over 20 years. During this time his path has led him to many places across Pakistan, all over the world and in his own life. Arieb Azhar is an entrepreneur, music manager, promoter, producer and writer. And yet, he still considers himself primarily a musician.
As he passionately puts it, "That's where I get my oxygen from!"
Born in Rawalpindi in 1972, the very first steps on his path were towards music. His father, Aslam Azhar (credited to be the father of Pakistani television), was then Managing Director (MD) of Pakistan Television (PTV). It was Zulfikar Ali Bhutto's era, and a lot of great folk musicians would visit him.
Listening to Shaukat Ali or Tufail Niazi singing live in the house are some of Arieb's earliest memories. After General Ziaul Haq took over, his father was removed from government service, and the family relocated to Karachi. He was about six years old.
In Karachi, his philosophy and music collided. Both his parents got politically engaged in the left-wing political movement. A young Arieb also chose a similar path.
"I was involved in a lot of cultural activities and activism during my schooldays which has, of course, provided me a very solid foundation for what I'm doing today" says Arieb. Around that this time, when he was almost 12, he also first picked up the guitar. His brother had bought it, and from him, Arieb picked up the first chords, learned from books and kept at it.
At the age of 17, he went to study in what was considered 'the Promised Land' for many Marxists – the Soviet Union. Having grown up as a young left-wing activist, this was the next logical step. But it was not quite what he had imagined
"I started performing and composing some revolutionary songs. And then I started performing at left-wing political rallies, at rallies of the Democratic Students Federation and Saathi Baar Sangar, a children's organization in interior Sindh and Karachi. I always used to carry my guitar and sing revolutionary songs. So even though there were few avenues for live music in Ziaul Haq's Pakistan, I was performing regularly. I was not getting paid for it, but I was performing and loving it" reminisces Arieb today.
At the age of 17, he went to study in what was considered 'the Promised Land' for many Marxists – the Soviet Union. Having grown up as a young left-wing activist, this was the next logical step. But it was not quite what he had imagined.
"I became disillusioned there. I saw that the world is not black and white. And over there, pretty much the same problems exist amongst people but in a different form and shape. It was a new class of people that had become the ruling class and were exploiting everyone else. And that's when I became more balanced in my worldview", explains Arieb.
He eventually returned and ended up going to Yugoslavia to study film at 19. He saw that country as the ideal compromise between the Eastern and Western blocs, between socialism and capitalism – the best of both worlds.
He was just learning the language when the war broke out, but he stuck it out. He had already made friends and was young enough to take it as an adventure. Arieb spent the war years in Croatia. He experienced the breakup of Yugoslavia. Before his eyes, Zagreb became the capital of the independent country of Croatia.
He never ended up studying film, but after learning the Serbo-Croat language, he studied philosophy and Indology (the study of the Indian Subcontinent).
Then he gradually became more and more interested in performing music – spending most of his time outside of the university and eventually deciding to give being a professional musician a shot.
"First on the streets as a busker, then different pubs and bars and then in concert halls. We then formed an Irish music band called the Shamrock Rovers, and we did pretty well. The most important thing for a musician is to play music. And if you don't play music, you're not going to become one. The more you play, the better a musician you will become. It's as simple as that" says Arieb. "So it was during that period that I realized that music is more than just a hobby and passion for me. It's a calling."
After 13 years, at the age of 33, Arieb returned to Islamabad. Within a year, he recorded his first album in Pakistan, Wajj, and the following two years he appeared in Coke Studio seasons 2 and 3, which made his music accessible to the mainstream. Not one to sit still, in 2014 together with a friend he set up a first-of-its-kind music festival called "Music Mela" in Islamabad and curated it for three years.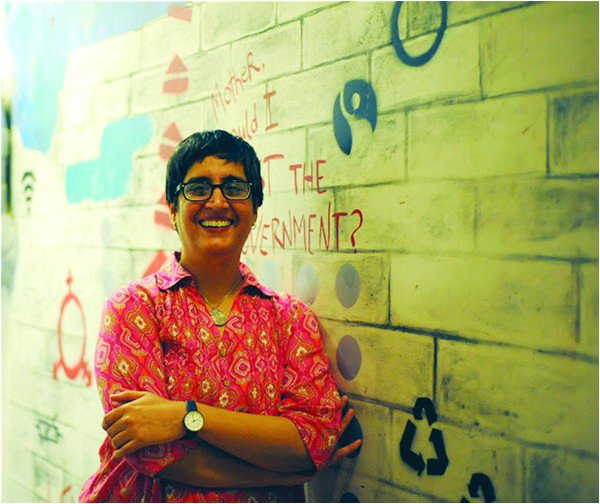 He then went on to set up "Art Langar" which was an innovative two-day art and music festival which took place in 2017 in Islamabad. Arieb explains that its "give so that all may receive" philosophy had three elements: art installations, musical performances and "langar" – the gift of food. Artists from across the spectrum including Mai Dhai, Pappu Saeen, the Mekaal Hasan Band, Malang Party, Irfan Ali Taj, Farhad Humayun & Overload came to perform alongside Arieb.
In both concept and execution, it was indeed "next level" – as I see a fan describing it on Facebook.
"Langar is basically the free food distributed at shrines. So on the second day of the festival, we had 400 street children from Mashal Model School in Bari Imam over. We had different music and art activities with them after which we sat down on the grass and shared a meal. So the concept of Art Langar is, on the one hand, to get people in society to understand that art and music are not useless activities and through them, you can directly take care of the most basic of human needs. On the other hand, it reconnects artists and musicians to the real intention behind creating something beautiful in this world. If you are not going to look after your fellow human beings then what use is it? It also literally means a ship's anchor. So where you drop anchor, there you have a festival," explains Arieb.
Intending to next drop anchor in Karachi he started making several trips in 2018 to try to establish Art Langar in the port city. While connecting with potential sponsors and partners, he happened to meet with the chairman of the board of Peace Niche. It is the non-profit running T2F, a physical space which "promotes democratic discourse and conflict resolution through intellectual and cultural engagement" originally founded by Sabeen Mahmud – the prominent human rights activist who was tragically murdered in 2015.
"I never really knew her too well, but we admired each other for the work we were doing. When she was murdered in 2015, we were all devastated." In the course of their conversations, the chairman of Peace Niche mentioned that they were experiencing difficulties in finding the right director for T2F. Arieb was satisfied that it was a good time in his life to make the move. He had set up Music Mela, founded Art Langar and done documentary films on music with Indus Blues (a film featuring the indigenous musical instruments of Pakistan) being the last one. He had also done a 13-episode travel-music-documentary series on Bosnia and Croatia.
"I really felt that I had done all I could in Islamabad for the time being" says Arieb.
Deciding it was an excellent opportunity, he took the helm of T2F. "It is at the heart of a lot of cultural activities that happen in Karachi, and so I took it up. I didn't realize the number of people in Karachi who feel such a close connection to T2F and who own this platform as their own. So it is, of course, a very heavy responsibility after Sabeen and what happened. The idea is to take the vision of T2F forward in a way that you don't offend people and at the same time are faithful to the basic core value of T2F – which is providing a place for open discourse, discussion and artistic expression" he says.
"I am not attempting to fill her shoes because I think that's an impossible task. Sabeen was a very gifted, unique and passionate human being. I have my own path to tread. But I think that my worldview is similar to hers – which is the belief in a pluralistic world and the need for developing a society where everyone has the right to express themselves and to practice their own belief systems while adhering to fundamental humanist values. I just need to do what I do best through this platform. I think that's the best service that I can do for T2F" he says about the future of the much-beloved platform for Karachiites.
So, even though he is not looking to fill the large shoes left behind at T2F, Arieb Azhar has demonstrated throughout his journey that he has a sizeable footprint of his own.
The Musafir continues his journey.
This profile was first published in The Friday Times, March 22, 2019