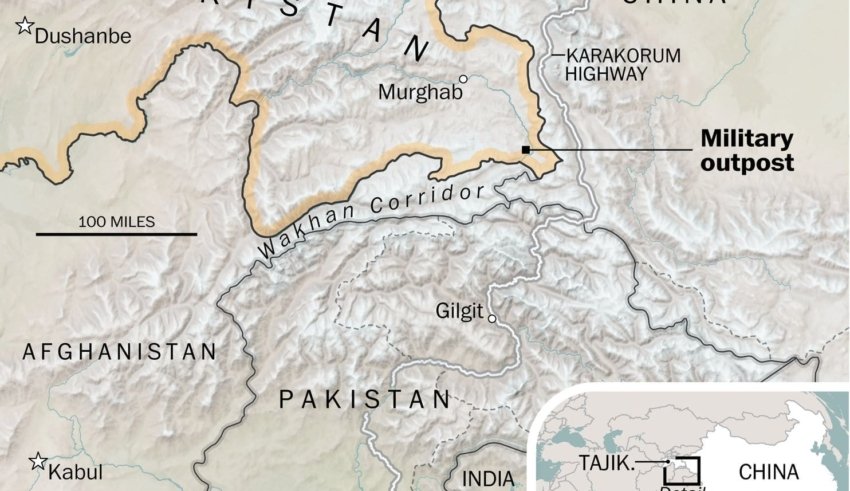 Four others were injured and 20 affected in clash over construction in disputed area.
People gather at the Isfara town of Chokuh municipality on the Tajik-Kyrgyz border where a Tajik teacher was killed and four others injured in skirmish.One Tajik national was killed and at least four others were wounded in a skirmish along the Tajik-Kyrgyz border on Wednesday (March 13).  More than 20 Tajik nationals were reportedly affected by two skirmishes that occurred on the Isfara stretch of the Tajik-Kyrgyz border.
Husein Hakimov was killed in the skirmish on the Tajik-Kyrgyz border, an official source at the Isfara mayor's office told Asia-Plus on Thursday.
According to him, Hakimov, a 43-year-old teacher from the Khoja Alo village in Isfara's Chorkuh jamoat (municipality), was killed by a bullet fired from Kyrgyz territory.
"Four other residents of the Khoja Alo village who were wounded in that skirmish are currently undergoing medical treatment in the Isfara central hospital," the source noted.
The second skirmish took place between residents of the Tojikon village of the Vorukh jamoat (Tajik municipality in Kyrgyz territory) and residents of the Kyrgyz village of Aksai.  They reportedly threw stones at each other.
This skirmish reportedly sparked by resumption of construction of road in the disputed territory by Kyrgyz authorities.  Residents of the Tojikon village asked the Kyrgyz authorities to stop construction of the road until the border is demarcated.
The situation remains tense and more than 200 nationals of Tajikistan reportedly gathered at the site of the skirmish on Thursday morning, Ghafourjon Jurayev, the head of the village community of Tojikon, told Asia-Plus by phone.
The Kyrgyzstan-Tajikistan border remains one of the last undefined frontiers in the Commonwealth of Independent States (CIS).  Despite repeated incidents over the past several years, Tajikistan and Kyrgyzstan have been unable to settle their Fergana valley border.
The two CIS member states have been unable to agree on the location of the border they inherited when the Soviet Union collapsed in 1991. As the population in the dense Ferghana Valley grows, it has become increasingly difficult to demarcate the contested sections of the fertile agricultural land.
The disputed border areas is situated on the jagged frontier on the east of Tajikistan's Sughd province and Kyrgyzstan's Batken region.  Skirmishes have sparked between residents of Isfara (Tajikistan) and Batken (Kyrgyzstan) districts. Trouble periodically sparks around the Tajik exclave of Vorukh.–Asia Plus