Social media has seen exponential growth during the last decade offering a lot of advantages and disadvantages for society. It helps people in connectivity, access to education, information, awareness and building communities through sharing photographs and information. But at the same time, it has also put serious challenges and risks from bullying to hacking, addiction to scams and glamorizing negative things.
Social media platforms are often flooded with exaggerated, unsubstantiated information and doctored images creating confusion and chaos in society.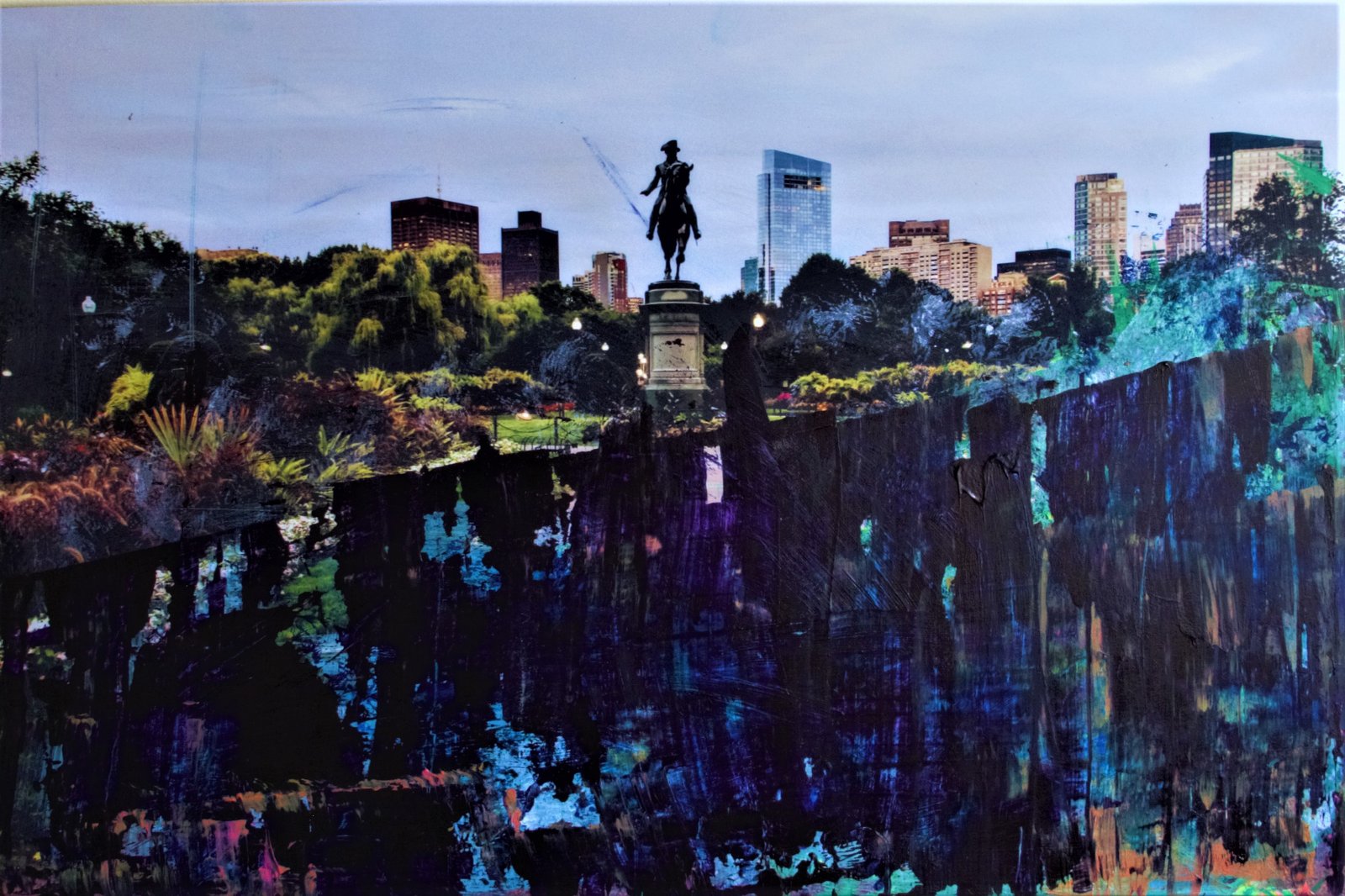 A US-based Pakistani visual artist has depicted these issues in her artwork by turning incomplete images into a complete picture honing in on the invisible in social media selves.
The artworks by Anum Zahid Rafeh are currently on display at Alhamra Art Center, Bernardsville, New Jersey, USA. The exhibition titled: "The Complete Picture", features eight paintings and 12 drawings done in acrylics, oil bar on canvas and mixed media.
"The cellphone photography has become ubiquitous in our times," says the artist, who has been working as a director and curator at Alhamra Art Centre since 2017 after moving to America from Pakistan. She has since curated several shows and events to promote art, diverse cultures, and interfaith dialogue at the center.
Showcasing her work for the first time in the United States, Ms Rafeh, who believes in finding solutions to complex and conflicting issues; exploring diverse cultures, and passionately learning new perspectives by travelling around the world.
The multifaceted artist uses her creative skills to combine different fields of community engagement with an artistic perspective.
She takes imperfect cellphone photographs of a meal, a landscape, an instance, or a memory captured in a moment and turns them into mixed media paintings.
The artist questions the authenticity of these experiences which are often shared on social media as a means for social connection.
By tracing bold, expressive lines on top of or copied from captured visual and spontaneous marks of vibrant colour, she gives creative expression to the art from within, creating a contrast between inner and outer expression.
"This is then what becomes a complete picture; a complete experience," she says.
Painterly expression combined with photography completes the picture by representing the artist's experience of a moment as she has done in 'Arizona Sunset', 'Boston Commons', 'Brooklyn', 'Cathedral on 5th Avenue', the 'Empire State', 'Fall', the rioting autumn colours in 'Hunza Valley', and the crumbling heritage of Rawalpindi in the 'Inner City'.
The drawings done in acrylic and oil bar on canvas, Ms Rafeh has shown the lifestyle, cultural heritage, and road signboards, narrow alleys, wastes thrown on street corners and the entangled electricity wires, a common scene in Pakistan, in 'Overhead Wiring', 'Street Corner', 'Plant', 'Streetside Enroute', 'Airbnb', 'Bookshelf', 'Cigar Rolling', 'Crosswalk', 'Food', 'Groceries', 'Livingroom Mess'.
"Drawing allows for honest interaction between the artist and the surface showing with it a complete thought process – intentional and unintentional — making for a complete picture. Gestural drawings on brightly painted canvas convert a random a photographed moment into a spontaneous painting," she says.
Ms Rafeh is inspired by innovation resulting in original outcomes through her expertise in visual aesthetics, drawing, painting, idea generation, visual literacy, illustration, portraiture, and curation. She has also experimented with several creative mediums including design, teaching and performing arts to find the most natural channel for expression.
This insight has led her to explore the relationship between the visible and the invisible.
"I like using the art as my toolkit to dig deeper and investigate the ideas of status quo," says Ms Rafeh who received bachelor's degree in fine arts with distinction from the National College of Arts, Pakistan's oldest and most prestigious art institute, in 2014.
She is interested in philosophy, theatre, performing arts, nature, reading, and writing.
"While creating art, I see what is absent by looking at what is present. One cannot exist without the other. There is a lot that is missing in the visible and likewise present in the invisible."
Ms Rafeh, who grew up in Pakistan is a global citizen who has lived in Europe, Asia, and the US; experiencing the overt and subliminal making her realise that all humans feel the same way despite cultural differences.
"The disposition that makes us, all the same, is that we are all inherently sentient." She uses the mediums of writing, painting and drawing to find answers to questions that help fill the gaps between the visible and the invisible, the tangible and the intangible, the subjective and the objective. A bold, vibrant colour palette, imperfect spontaneous painterly strokes, and words define the style of her art.
The exhibit which will be on display until May 25th, prompts the viewers to contemplate on and juxtapose their own experiences with that of the artist's; the gaps and silences within the representation of our social media selves.
Derived from Alhamra of Granada, Spain, which over the centuries has been a center of culture, arts, and religious harmony and become a landmark of unity, inclusiveness, defiance, grace, and grandeur in times of siege.
Alhamra Art Center, NJ, comprises an art gallery and education center where art and calligraphy classes, workshops, literary events, and talks are held. Ms Rafeh focuses on the local east coast community to make it an inter-cultural interaction platform, as well as to promote young upcoming artists.