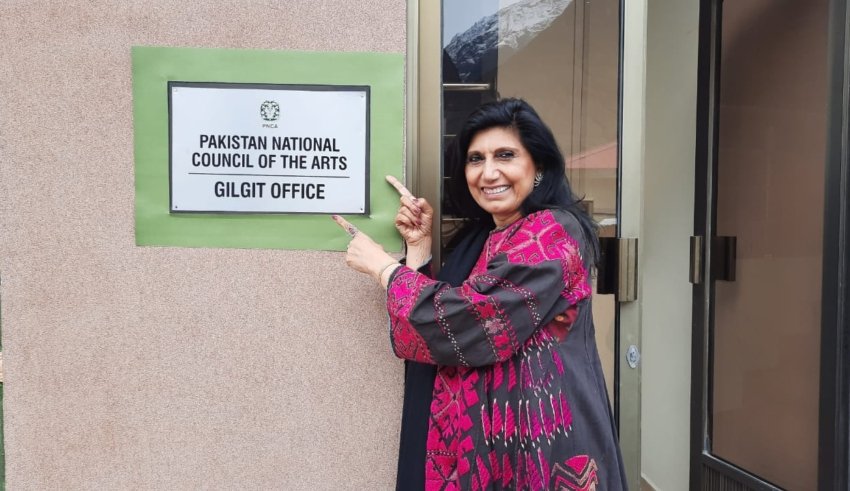 Modern audio recording studio and other facilities established in a record two-month time. Songs of legendary artist and singer Jan Ali will be recorded first.
High Asia Herald Report
---
Pakistan National Council of the Arts (PNCA), the first national cultural organisation that makes its presence in the mountainous region of Gilgit-Baltistan (GB).
Provincial Minister for Tourism, Sports, Culture and Youth Affairs, Raja Nasir Ali Khan along with noted folk artist and musician Jan Ali opened the centre on Thursday.
Dr Fouzia Saeed, Director-General, PNCA, Tourism secretary Sumair Ahmed Syed, poet-cum-bureaucrat Zafar Waqar Taj and PNCA's Board member Taqi Akhunzada were also present.
---
Federal Minister for National Heritage and Cultural Development (NHCD) Shafqat Mehmood in his video message commended the initiative. "I am happy that PNCA has set up its office at Gilgit". He appreciated the efforts of Dr Fouzia Saeed in setting up the centre in a short span of time.
He said PNCA being a national cultural body, has the responsibility and mandate to become a truly representative organisation of the diverse cultural entities of the country through its presence in all provinces and regions.
Although the PNCA facility has been established in a small space, efforts will be made to expand it and make it the best centre of culture in Gilgit-Baltistan, Mr Mahmood said.
The minister assured the GB government that all-out efforts will be made in the promotion of the rich culture of GB through various activities.
The centre is located in a small portion of the Sports Complex at Jutial. The complex houses sports and cultural facilities including a modern sound-proof audio recording studio which is fully equipped with the latest technology.
It has the capacity and facilities for recording all genres of music.
The PNCA intends to hold talks with the Karakoram International University (KIU) in setting up a music archive for traditional and modern music of GB. In that case, PNCA can share the recorded data with them.
Dr Fouzia said: "PNCA is a national organization and should have a national presence. In the context of the rich cultural heritage of GB, it was imperative to have a regional office in Gilgit.
A modern audio recording studio has been set up in record two months time in the Centre and intends to record GB's senior artists as well as emerging talents' songs.
She shared that the centre will first record the legendary singer and musician Jan Ali's songs. "These recordings will prove to be a beacon of light for the younger generation," she said.
Taqi Akhundzada expressed the hope that PNCA will also set up a centre in Skardu.
Collaborative efforts
Dr Fouzia Saeed and Raja Nasir Ali had signed a memorandum of understanding (MoU) at Islamabad on February 17 this year on setting up the centre in Gilgit.
Under the agreement, PNCA will help the GB government in documenting the rich tangible and intangible cultural heritage of the region, impart cultural education and disseminate information including the transfer of knowledge and training of human resource in the fields of art and culture.