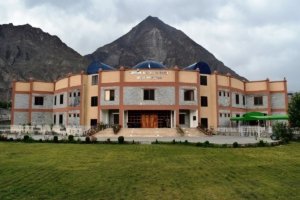 GILGIT: Political circles and lawyers of Gilgit-Baltistan have expressed reservations about the appointment of top judge of the region.
They rejected the decision of Prime Minister Imran Khan government and warned to launch a movement if it was not withdrawn.
In a letter to the heads of all representative bodies of Gilgit-Baltistan lawyers former president of the Supreme Appellate Court Bar Association, and socialist leader Advocate Ehsan Ali criticized the decision and demanded its withdrawal.
Prime Minister Imran Khan has appointed Syed Arshad Hussain Shah as Chief Judge of Gilgit-Baltistan Supreme Appellate Court despite the opposition from lawyers and political parties and in violation of the Supreme Court verdict on the constitutional status of GB.
According to media reports, influential groups involved in illegal timber trade have links with the judge and are behind his appointment.
Advocate Ehsan Ali in a letter to the presidents of Gilgit-Baltistan Supreme Appellate Court Bar Association, High Court Bar Association, all district bars has alleged that Prime Minister Imran Khan in collusion with GB's chief minister and governor has appointed the chief judge against the wishes of the people of Gilgit-Baltistan and lawyers' communities.
He said that the appointment is also in violation of the Supreme court of Pakistan judgment on the 17th of January 2019, on the constitutional status of Gilgit-Baltistan
He urged the Chief Justice of the Supreme Court of Pakistan, take a suo motu notice of the decision and direct the Pakistan government to withdraw the notification.
The SC's larger bench had directed the federal and GB governments that Chief Justices and other judges of the SAC and Chief Court be made through Judicial Commission.
He said neither a judicial commission has been formed nor judges' appointment are done in transparent way and on merit.
Advocate Ehsan a vocal lawyer and political activist said "on behalf of the people of Gilgit-Baltistan who are living under the worst colonial system I appeal to the Chief Justice of Pakistan to take notice of the violation of the SC January 17 verdict and take action against Prime Minister Imran Khan, the Governor and chief minister of Gilgit-Baltistan, for this violation and withdraw the notification of the Chief Judge's.
He urged Chief Justice of Pakistan Justice Asif Saeed Khosa to direct the governments of Pakistan and Gilgit-Baltistan to set up Judicial Commission for the appointment of Chief Justice and other judge.
He urged the office-bearers and members of all bar association to boycott the courts to express solidarity with the GB public and lawyers.
Syed Arshad Hussain Shah has been appointed as Chief Judge in Supreme Appellate Court of Gilgit-Baltistan.
His appointment comes amid protests by local lawyers and political circles who alleged that Shah has connections with timber mafia. Earlier GB assembly had also opposed his induction in GB court.