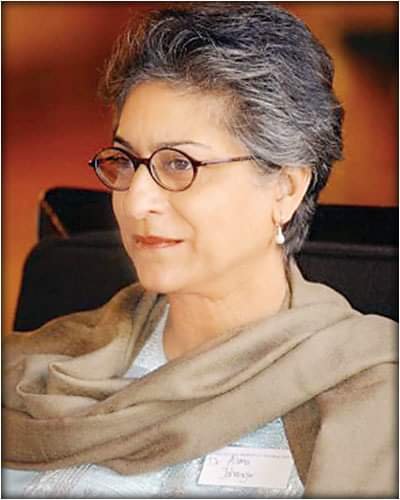 ---
"When there is oppression and dictatorship, by not speaking out, we lose our dignity." Asma Jahangir (1952 – 2018)
Herald Report
Ajoka Theatre presented a play "Saira aur Maira" last weekend at Lahore's Alhamra Art Centre during an international conference as a tribute to Asma Jahangir, an iconic figure,  a defender of human rights and democratic values, champion of the downtrodden, and fierce opponent of repressive forces who passed away on February 11, 2018.
It was, in fact, a tribute from Sulema and Munizae, Asma's daughters, to their illustrious mother. Shahid Mahmood Nadeem, a playwright, writer and one of the pioneers of the PTV, has written the script and also directed the play which was presented in collaboration with AGHS Legal Aid Cell on the occasion of Asma Jahangir International Conference on the 19th and 20th of October.
The play is inspired by the life and struggles of Asma highlighting the legacy of Pakistan's bravest daughters and the first female President of the Supreme Court Bar Association.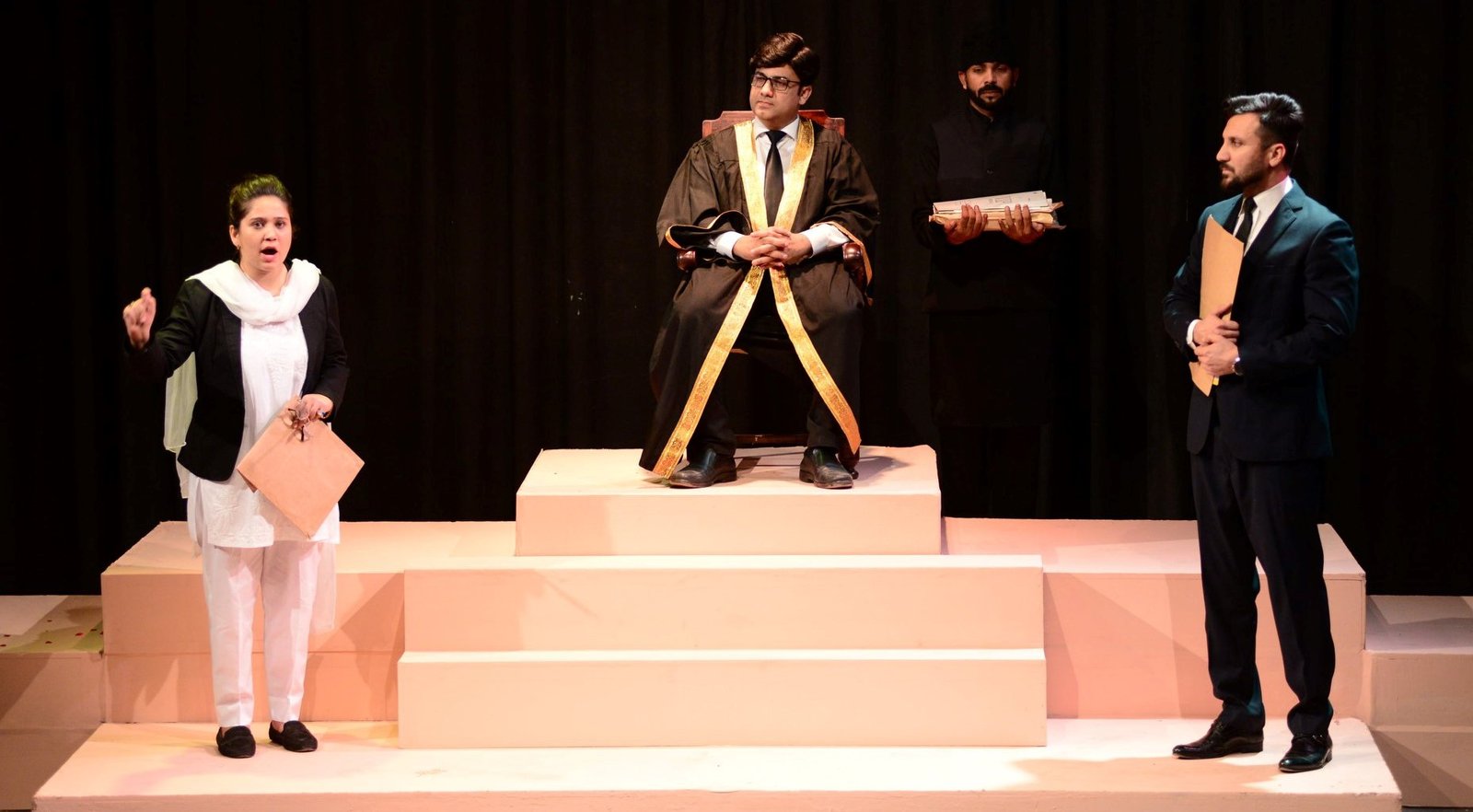 Madeeha Rasheed as Seema (Extreme Left) Fighting Saira's Case in Court (Photo Credits to Ajoka Theatre)
---
"Saira and Maira" is the story of two women, struggling with societal pressure, patriarchy and the lack of an appropriate legal framework for the protection of women's rights. Saira wishes to divorce an abusive husband, but cannot do so without her parent's consent, while Maira married a man of her choice against her parent's wishes. They seek refuge at Seema's (Asma Jahangir's double played by Madeeha Rasheed) Shelter called 'Agosh'. The centre is predominantly run by women, who form a bond because of their sufferings and desire to reject any form of subjugation and abuse.
Saira and Maira soon find solace in each other's company, until Saira's family has her killed ruthlessly. However, this tragedy becomes a driving force for Seema, whose resilience and expertise in formal legislation makes her a successful lawyer, and she is elected as the President of the Supreme Court Bar Association.
Saira (center) missing her mother at Agosh (Photo Credits to Ajoka Theatre)
---
The stories of Saira (Erum Navaee) and Maira (Shizza Khan) are closely associated with two real cases that Asma Jahangir fought for. All of the actors had never acted before, and Ajoka wanted to cultivate fresh talent on the theatre stage. Ajoka worked with Asma Jahangir's daughters, to capture her essence. The play was also deeply personal to the theatre group as it was a testament to Ajoka's owner Madeeha Gauhar's strong friendship with Jahangir.
In an interview with a TV channel, Nadeem said that the play was inspired by Asma Jahangir's resilience and the landmark cases which contributed largely towards the legislation to protect women's rights in Pakistan. The names of the characters have been changed for privacy, and extra details have also been added for dramatic effect. "Saira and Maira" is not just a tribute to Asma's work, but also a celebration of women struggle and resilience in the face of archaic and restrictive patriarchal customs.
Ajoka indeed pulled off a powerful performance as the play meandered through various themes that have plagued our society, ranging from a patriarchal mindset, women's abuse, sensationalist journalism, domineering guardians, gender discrimination, honour crimes, legal challenges and a longstanding political culture of non-cooperation and ignorance, writes Bilal Suhail in Youlin, an online art magazine.
"Breaking all bonds, look at these sisters marching forward in unison. They will surely rise above the shackles of oppression, and take us into a new era."
This verse was a prominent part of the theatre score, one popularized by Asma during her life. The play was deeply attentive to the unique cultural details of each character, and the music succeeded in engaging the audience. The background music was too loud at times and could have been better.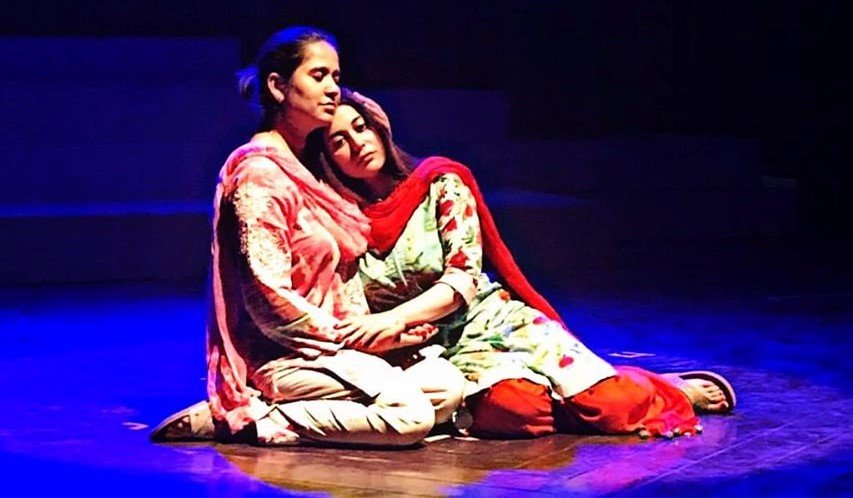 ---
The dialogue, delivery, character development, accuracy of historical perspectives, and props made up for it were well synchronized.
The play proved to be an intense emotional ride for the audience, with many left in tears. Cast and crew were given a hearty and well-deserved standing ovation towards the end. Asma Jahangir's family members were also invited on stage to share a few words about the occasion, and they embraced their on-stage counterparts for their excellent performance.
One can hope that this play would inspire more Pakistani women to carry forward Asma Jahangir's legacy. Whether this is in the legal realm or onstage, Jahangir's spirit will live on and thrive. One can watch the play again at Alhamra during Faiz International Festival, which will take place from 15th to 17th Novembe.—additional input from Youlin art magazine