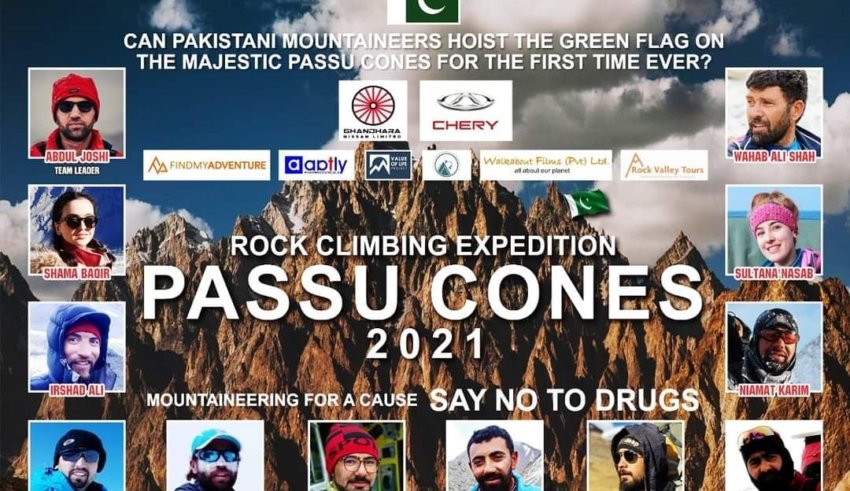 Gilgit: A team of High Altitude Porters (HAPs) from Shimshal will attempt Passu Cones, a rocky mountain in Gojal, Hunza District in August 2021.
This was announced by Abdul Joshi, the summiteer of Anapurna here on Saturday.
The team is comprised of Muhamnad Abdul Joshi, team leader, Wahab Ali, Shama Baqir, Sultana Amin, Niamat Karim, Saeed Zaman, Hameedullah, Irshad Ali, Azhar Ali, Mansoor Karim, Daulat Muhammad and Azam Baig.
The Team Passu Cones will attempt the peak on August 14 to celebrate the independence of Pakistan, the announcement read.
"All of us think of different ways to celebrate our independence day on the 14th of August. I and my team are thinking big, we want to give our nation a precious gift by raising the green flag on the summit of Passu cones for the first time in history," Abdul said.
We plan to establish our base camp on the first of August and aim for the summit on Pakistan's Independence Day – the 14th of August.
Having said that, we must remember that nobody can challenge the mountain. We will listen to the signs given by mother nature and we will act accordingly.
The team comprised of young men and a woman will push for the summit on Aug 14.
The team has attempted Passu Cones in 2019 and is the only team to have gone that high on the main peak. We were close to summiting the mountain but called off the summit push to take part in the search and rescue operation of Imtiaz Ahmad's body on Melvin Jones peak. We chose humanity over personal achievement that day and Alhamdulilah we are satisfied with our decision as we were successful in bringing Imtiyaz's body back from the Mountain.
Now, we will be back on the mountain again. We need your prayers and support. With your prayers, we will do everything in our capacity to make this possible.
Let's join hands and raise the green flag on top of Passu cones for the first time in history.
Ghandhara Nissan, Chery Pakistan, FindMyAdventure, Walkabout Films-Pakistan, Aptly Pharmaceuticals & Dairy Feeds, Rock Valley Tours, and Value of Life has sponsored the expedition.