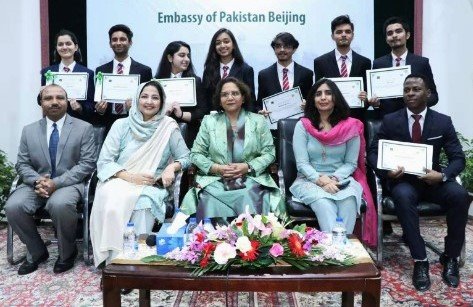 Ambassador Naghmana Alamgir Hashmi acknowledges Pakistani students achievements, gives certificates to 89 high achievers
BEIJING: Pakistan and Chinese governments are making efforts to strengthen bilateral ties through increased people-to-people contacts and cultural and educational exchange programmes, Pakistan ambassador to China Naghmana Alamgir Hashmi said on Thursday.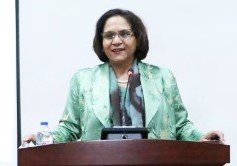 Both countries offer scholarships to students to study in universities and technical colleges in the two countries. At present around 28,000 Pakistani students are studying in China out of which 7,000 are on scholarships, the ambassador said while addressing an event titled "Pakistan: the land of Sufis, mountains, valleys, and deserts" at Tsinghua University, Beijing.
The event was organized by Tsinghua Centre for Pakistan Cultural and Communication Studies.
She said efforts were being made to open Pakistan Study Centres in China during the last 20 years citing the example of the Pakistan Study Centre at Tsinghua University.
Confucius centres have been set up in all major Pakistani cities. Both countries have translated books into Chinese and Urdu languages. A number of private and government schools have also started teaching the Chinese language to help Pakistani students from primary level, she added."Additionally, both countries are jointly producing films while there are a lot of things which both countries are doing in order to make it easier for cooperation in literature," she added.
Speaking about the cultural and geographical importance of Pakistan, the envoy said the region which makes up Pakistan had been a cradle of ancient civilizations.
The ancient civilization such as Indus, Gandhara, Harappa and Mehergarh leaves one in wonder having a basis of tolerance and accommodation, she commented.
According to the ambassador, the Indus Valley civilisation has been the birthplace of Hinduism which runs along the Indus River from northwest India to Pakistan. Buddhism flourished in Taxila, Takht bai and Swat Valley.
Pakistan, located at the crossroads of South, Central, and West Asia, offers immense potential for bringing closer the people of the region.
Commenting on progress on China-Pakistan Economic Corridor (CPEC), a flagship project of Belt and Road Initiative, she said it had entered the second phase and now the government was making efforts to establish special economic zones.
Earlier, Prof Li Xiguang, Director of Tsinghua Centre for Pakistan Cultural and Communication Studies welcomed the ambassador.
Scholars, diplomats, and a large number of international students attended the event.
Second Pakistan Students Forum
Earlier addressing the second Pakistan Students Forum at the Pakistan embassy in Beijing last month. ambassador Hashmi lauded the achievements of Pakistani students.
She advised the Pakistani students to continue to excel in academics and research just as their senior peers have done in recent years. Describing the students as ambassadors of Pakistan, she urged them to uphold the name of the country by focusing on their studies and setting high standards of moral values, respecting local laws and customs during their stay in China.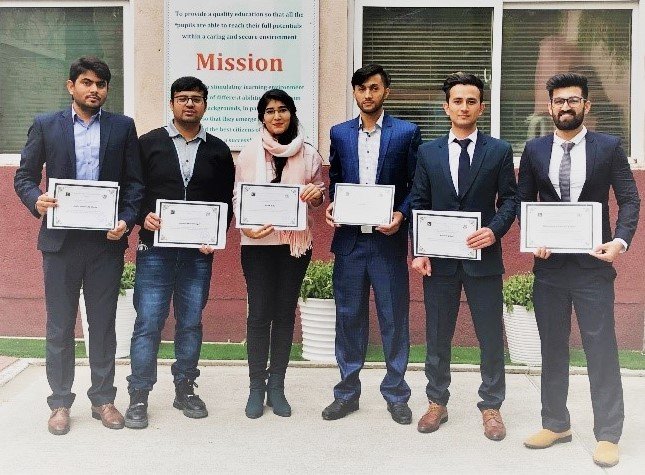 The ambassador awarded certificates to 89 students studying in various Chinese universities as well as in the Pakistan Embassy College Beijing for their outstanding academic performances.
Six students from Beijing Language and Culture University which has a partnership with the National University of Modern Languages (NUML), Islamabad, got awards.
The recipients of the certificates are — Ahsamullah, Muhammad Salam Haider, Kiran Bibi, Muhammad Junaid, Arifullah and Hafiz Imran Ali Rana. Two students — Ahsamullah and Arifullah — belong to Gilgit-Baltistan.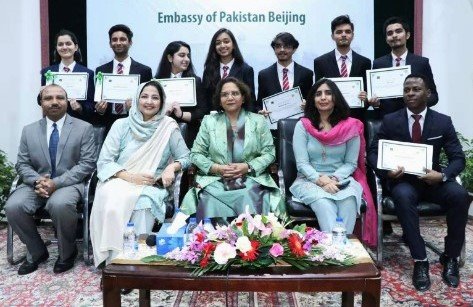 The students were briefed on the consular services offered by Pakistani missions in China and the regulations concerning foreign students. They were encouraged to register at the embassy website and to stay in close contact with its staff and the respective consulates.  
The students actively participated in the interactive session. They appreciated the embassy's outreach efforts and termed the Forum as an opportunity of interaction for students across different universities of China.
There are more than 22,000 Pakistani students doing there PhD, masters and undergraduate programmes in different cities of China. Of which more than 2,000 students are studying in different universities in Beijing the capital city. Approximately 20 percent of the students are studying different scholarships.
The students shared their experience of how they got the achievement after hard work in their academic and extra curriculum activities.–additional input from APP