Coronavirus. Illustration by Andrzej Krauze The Guardian
By Neelum Wali
The word COVID-19 stands for coronavirus disease. Formerly, this disease was referred to as "2019 novel coronavirus" or "2019-nCoV". COVID-19 is linked to the family of viruses as Severe Acute Respiratory Syndrome (SARS). Different viruses are given their names according to their genetic structure. The virus was named as SARS-CoV-2 on February 11, 2020, due to its genetic relation to SARS. It is transmitted through direct contact with respiratory droplets of an infected person through cough and sneezing or touching a surface infected by the virus.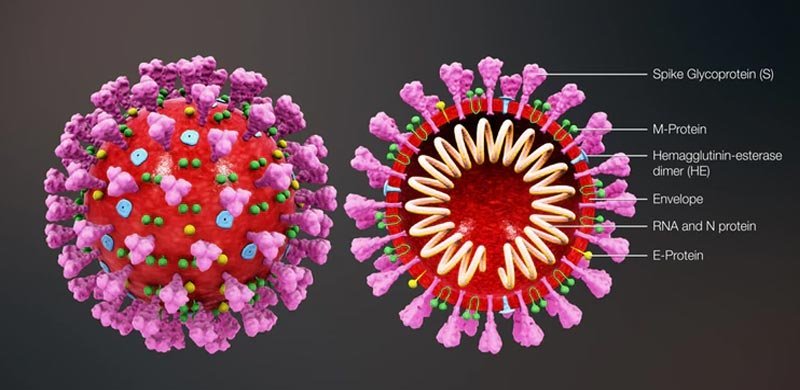 The outbreak of COVID-19 was reported first in Wuhan city of China in December 2019. That's why it is called COVID-19
It spread fast and took many lives across the world. That's why the WHO declared it a public health emergency of international concern or pandemic. So far over 63 million people in 159 countries have been affected by the virus. Of them over 1.4 million have died and 43 million have recovered.
In Pakistan the virus affected about 0.4 million people and claimed over 8,000 lives. Corona itself is not a disease but a virus that aggravates chronic health issues. It affects respiratory system the most. Majority of deaths has happened due to respiratory issues, heart ailments, and diabetes.
Now the question arises here, why and how the corona virus is increasing day by day? Point to ponder. The infection continues to spread because of carelessness of the people. No one is following the precautions and SOPs whether in educational, healthcare, social, political, and economic spheres of life. People don't care about social distancing, wearing masks and sanitizing their hands. All are taking corona pretty much lightly.
One can observe this laxity and irresponsible attitude in mass religious, social and political gatherings where majority of the attendees do not follow SOPs. In wedding halls, hotels, religious places one could see the crowd of people without wearing masks.
So these are main causes of spike in corona cases especially with the onset of winter season. It seems we ourselves are inviting the corona virus and this is very alarming.
The government must increase testing facilities in densely populated areas and peripheries to detect positive cases and isolate the affected persons, provide testing kits to healthcare facilities in rural and far-flung areas to stem the spread of the virus.
Secondly, the government should enforce SOPs strictly and create awareness about the severity of the pandemic, its consequences for economy and society through mainstream and social media.
Lastly, there should be smart lockdown to contain the spread of the pandemic. We as an individual should take care of ourselves by staying at home and avoid attending public gatherings, sanitize hands, wear masks while going outside our homes and drink filtered water, take multi-vitamins and calcium C to make our immune system stronger.
Stay home
Stay safe
Stay healthy.
Neelum Wali is a blogger, social and peace activist hailing from Gupis valley of Gilgit