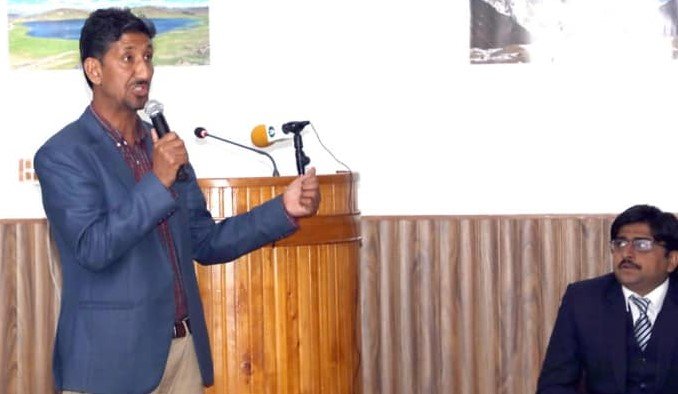 SKARDU: Participants of a conference have stressed the need for coordinated efforts and measures for the promotion of tourism in Baltistan that will help create jobs and earn the much-needed foreign exchange.
They were of the view that the federal as well as regional governments can earn a substantial revenue by developing tourism in Gilgit-Baltistan.
The first ever tourism conference arranged by Baltistan administration aimed at exploring the avenues of investment, tourism potential in Baltistan division in generally especially in the districts of Ghanche and Kharmang which have been opened for foreign and local tourists by the federal government.
Among the attendees were scholars and notables of the region, senior minister Haji Akbar Taban, GB Council standing committee chairman Ashraf Sada, public accounts committee chairman Capt (retd) Sikandar, tourism secretary Asim Nawaz Tiwana, noted mountain climbers, tour operators, hoteliers, civil and military officials.
Addressing the conference GB Legislative Assembly Speaker Fida Nashad said, Gilgit-Baltistan despite being bestowed with huge natural beauty and resources, has been neglected. Successive governments did nothing to develop this most important sector.
However, for the last few years, the regional government had been making efforts for its promotion, he noted.
He lauded the government's decision of lifting ban on entry of local and domestic tourists to Kharmang and Tchorbat Ghanche districts up to 10km from the Line of Control.
However, he suggested that opening of Tchorbat-Nobra and Skardu-Kargil routes can promote tourism in Baltistan, for which the federal government should take measures.
He was of the view that closure of these routes are unjust as the people of Gilgit-Baltistan are patriotic.
Criticizing the Pakistan International airlines (PIA) decision of increase in airfare, Mr Nashad demanded its withdrawal and further cut in it.
Senior minister Taban said, the people of Baltistan are peaceful and tourist friendly. However, he suggested relaxation of some religious dress codes such as veil for women. Tourist-friendly environment can boost the industry in the region.
Earlier, Commissioner Hamza Salik said, Baltistan is the most peaceful area in the world.
Baltistan and Tibet are the Third Pole of the world because of the massive concentration of high mountains and glaciers outside the Polar region. "Four out of world's 14 peaks of over 8,000-meter high are located in Baltistan, attracting hundreds of mountain climbers every year," he commented.
That's why winter expedition is allowed to attempt these peaks. Two famous rivers — Shyoke and the might Indus — provide rafting opportunities for adventure-loving people.
He further said that Baltistan is being opened up for investment in tourism sector.
Skardu deputy commissioner Naveed Ahmad said, latest tourism app is being introduced to provide information about the region and facilitate tourists. A tourist information booklet about Baltistan is being published. "Sarfa Ranga cold desert jeep rally has gaining popularity in the world. This year, apart from jeep rally, basant kite flying and paragliding competitions are also being included in the event to attract more tourists," shared DC Naveed.
"New tourist destinations, trekking routes and spots are being explored to promote tourism in Baltistan," he informed.
Noted historian and author Yousuf Hussainabadi, Baltistan Association of Adventure Tourism general secretary Wazir Shamshad Hussain, tourism experts Faisal Jamil, Fahd Mumtaz and IT expert Kacho Mehboob highlighted potential, opportunities and gave suggestions for promotions of tourism.
Representatives of Special Communication Organization and banking sectors appraised the audience of their contributions in promoting tourism in the region.